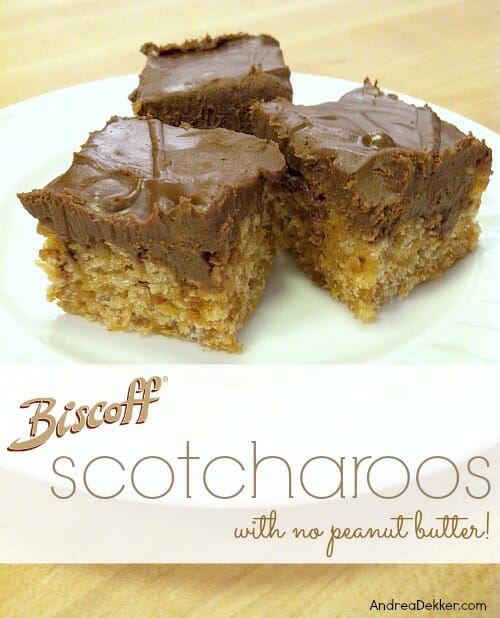 If Dave and I had our way, peanut butter and peanuts would be a food group all on their own. Seriously, we can't get enough of it!
If you looked in our pantry right now (and almost any day) you would see 2 open containers of peanut butter, 3 open containers of peanuts (all different varieties), peanut butter M&M's, Resse's peanut butter cups, Monster Cookies, and Rice Chex Bars.
And if you looked in our freezer, you would find several more bags of Resse's and at least 3 containers of Chocolate Moose Tracks ice cream (Dave's ultimate favorite).
However, even though we could literally eat peanut butter with a spoon, we have a couple extended family members and close friends who are severely allergic to anything containing peanuts… so I always have to be super careful whenever I make food I know they will eat.
I've also been getting several reader requests to share a few recipes with peanut butter substitutes — or at least share a way to "re-make" all my many peanut butter-laden dessert recipes.
So today, I'm super excited to be partnering with Biscoff to share their yummy new nut-free peanut butter substitute.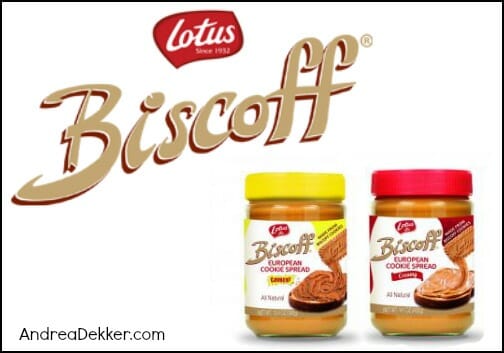 DISCLOSURE: This post is sponsored by Biscoff which means I received free products and monetary compensation for sharing my thoughts with you. My intense love of peanut butter and this new yummy spread are all my own! Read my full disclosure policy for more information.
First things first…
What exactly is Biscoff Spread?
Biscoff Spread is a nut-free spread made in Lembeke, Belguim from original Biscoff Cookies.
Biscoff Spread was first introduced to the US in 2011. It's made from all-natural ingredients, has no artificial color or preservatives, no trans-fats, no cholesterol, it's vegan, and of course, it has no nuts!
Yes, it is totally NUT FREE — and for those with questions, you can read more about the spread here or discover where you can buy this spread in a store near you.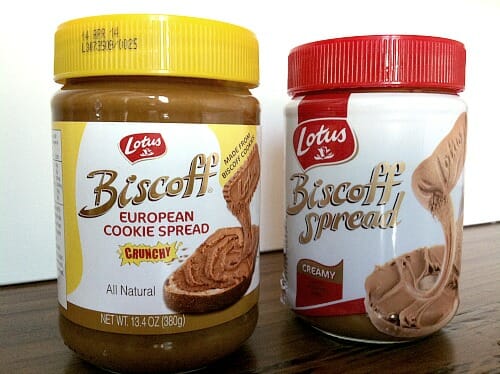 Since Dave and I are such huge fans of peanut butter, I new a peanut butter substitute would be a hard "sell" for us. But after testing it on toast, sandwiches, with apple slices, and in a variety of baked goods, I can confidently say that Dave and I BOTH give it 2 thumbs up!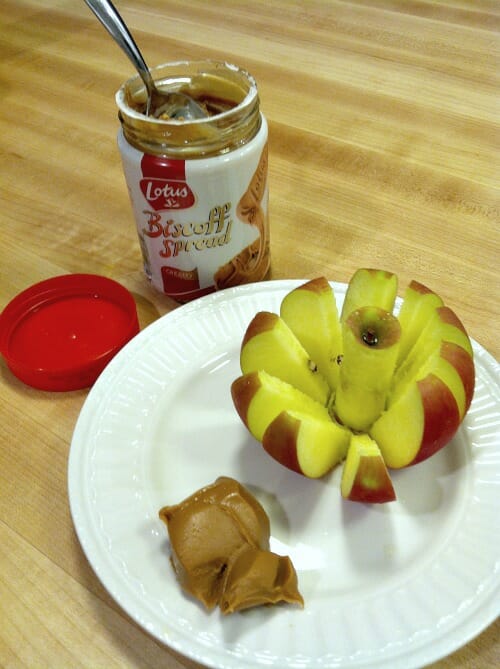 We've previously tried a few other peanut butter substitutes but actually ended up throwing most of the jars away (and you know how much I hate wasting food) because we just couldn't eat them.
I think the big thing with all the other peanut butter substitutes was the weird texture. Even if it doesn't taste exactly like peanut butter (and how can it if it's not made from peanuts) I NEED the texture to still be thick, silky, creamy, and gooey.
Biscoff Spread is all of the above!
It's definitely sweater than traditional peanut butter, but the texture is 100% spot on. It looks like peanut butter, it feels like peanut butter, and it bakes like peanut butter (which was a huge bonus for me.)
..
So after Dave and I mutually agreed that Biscoff Spread was an awesome peanut butter substitute, I decided to whip up a batch of our most favorite peanut buttery treat — and use Biscoff Spread instead of peanut butter.
The results = super yummy Scotcharoos that anyone with a peanut allergy can eat, and anyone without a peanut allergy will still want to eat!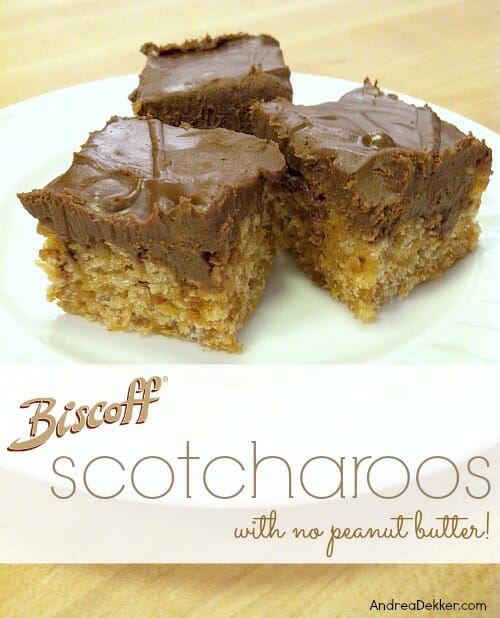 Recipe for Biscoff Scotcharoos:
INGREDIENTS:
6 c. Rice Krispies
1 c. corn syrup
1 c. white sugar
3 T. butter or margarin
1 c. Biscoff Spread (creamy or crunchy work well)
TOPPING INGREDIENTS:
1 c. Biscoff Spread (creamy is best for this)
1 c. semi sweet chocolate chips
DIRECTIONS:
Generously butter a 9×13 inch baking pan (or line with wax paper). Set aside.
In a large bowl, measure out 6 c. of Rice Krispy cereal. Set aside.
In a small sauce pan, mix together corn syrup, sugar, and butter.
Cook over medium heat until mixture comes to a gentle boil.
Remove from heat, and stir in Biscoff spread until fully incorporated.
Pour mixture over Rice Krispies and stir until fully combined.
Transfer mixture into 9×13 inch pan and use wax paper to press it down firmly into the pan.
In the same saucepan, melt chocolate chips and Biscoff spread over medium low heat until smooth.
Spread chocolate mixture over top of bars and let cool (I put my in the fridge if it's really warm.)
Cut into squares and enjoy!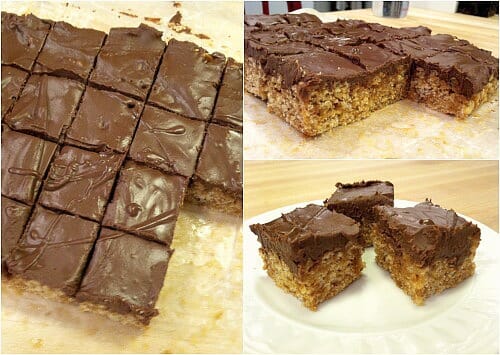 I'm so excited to have finally found a really delicious peanut butter substitute that will allow me to bake some of my favorite treats for our family and friends with peanut allergies.
If you'd like more delicious recipes made with Biscoff Spread, check out the Biscoff Pinterest page and follow my Biscoff Pinterest board.
Have you ever tried Biscoff Spread? What did you think?