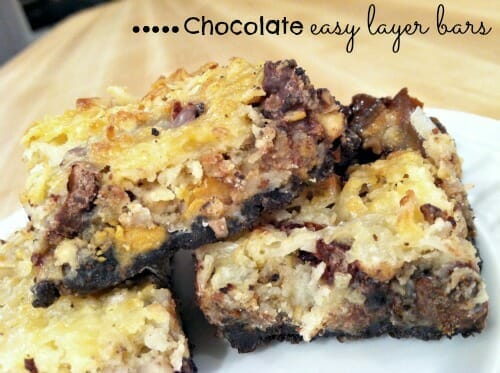 One of my favorite "sweet treat" recipes on my blog is the recipe for Easy Layer Bars.
Some people call them 7-layer bars — but I prefer "Easy Layer Bars" because often, they don't really have 7 layers and that bugs me. Plus, they really are just SO easy to whip up. I make at least one or two batches every month, cut them up into small bars, and divide them up into small containers for the freezer. Then, when we run out, we just pull another container out of the freezer.
I love that the ingredients in this recipe are so easy to mix and match — I just use whatever sweet and salty toppings I have in my house.
However, the other day, I didn't have any graham crackers… so I started looking through my pantry for something I could substitute to make the crust. I found a package of WhoNu? cookies. These cookies are good, but nothing in comparison to Oreos, so Dave and I weren't eating them as ferociously as we would eat Oreos.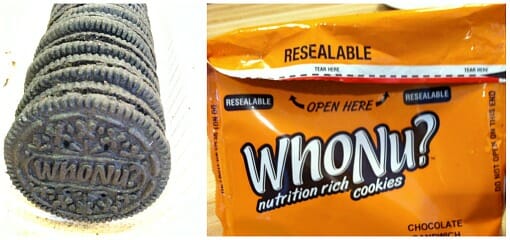 So I figured that since Oreos are used in place of graham crackers for pie crusts and desserts, why not use up our WhoNu? cookies before they went stale?
The result… totally delicious, Chocolate Easy Layer Bars!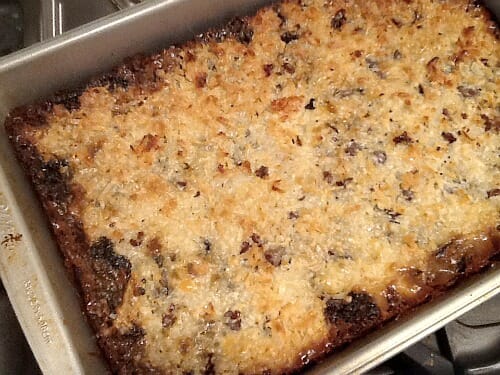 I've already made them two more times (with regular Oreos as that's all we had) so our freezer is stocked!
Seriously, these are SO good!
Recipe for Chocolate Easy Layer Bars:
To print this recipe, click the Clean Print button at the top of the post.
Ingredients For the Crust
2 c. crushed Oreo or WhoNu? cookies
1/2 c. melted butter
Ingredients For the Topping
2 c. any variety of chocolate, butterscotch, white chocolate, or peanut butter chips
1/2 c. chopped nuts
1 c. sweetened, shredded coconut
1 16 oz. can sweetened condensed milk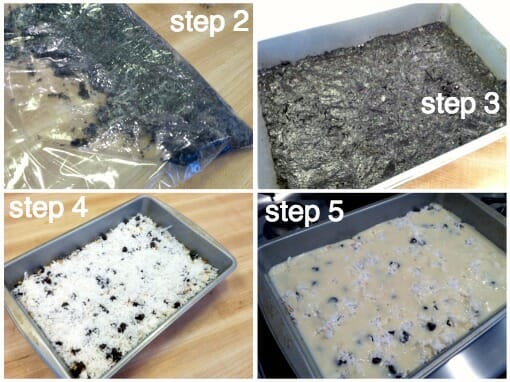 Directions
Melt butter in a medium bowl
Add cookie crumbs and mix well
Press crumb mixture into a 9″ x 13″ pan
Sprinkle sweet and salty toppings of your choice over the crust (adding shredded coconut last)
Pour sweetened condensed milk over the top — covering as evenly as possible
Bake at 350*F for 25 minutes or until coconut is toasted
Cut into bars and enjoy now or freeze for later
I think one of my favorite things about this dessert is that it LOOKS so fancy and time-consuming, even though it usually only takes about 15 minutes of hands-on work before I put it in the oven!
What's your choice… chocolate or graham cracker crust?
Visit my virtual recipe box for more simple, delicious, family friendly, recipes!