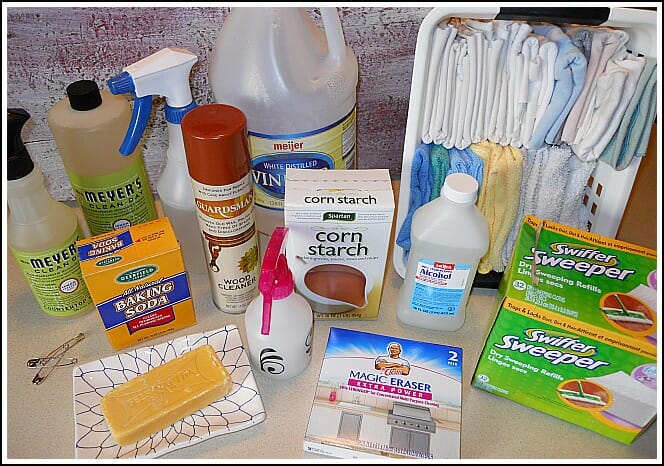 Ever since I've had my own home, I've experimented with SO many different ideas, schedules, and routines — all in attempts to simplify the cleaning process.
I tried implementing specific chores on specific days, but that didn't work because I ended up cleaning things that weren't even dirty and doing tiny loads of laundry JUST because that was the day I had "scheduled" to do those tasks.
I tried doing all the cleaning on one day, but that didn't work because if I skipped one day, that meant nothing would be cleaned for another whole week.
I tried using cute printable sheets to check off what I'd done, but that just seemed like a waste of time and I'd often rush through the jobs just so I could cross something off the list and move on to the next thing.
I tried cleaning one whole room every couple of days, but that didn't work because I like to clean the kitchen and bathrooms more often than the bedrooms.
Our house was always clean enough, but I never felt like these self-imposed schedules or systems were a good fit for my daily life… and for some reason (probably because I'm a Type-A) I felt like I NEEDED to have a cleaning schedule in order to make the cleaning process most efficient.
However over the past year, I've come to realize that the best cleaning "routine" for ME is no routine at all. (Yes, you read that right!)
My cleaning routine is basically, clean whatever needs to be cleaned, whenever it needs to be cleaned — and as time allows.
It's not perfect, and I realize this won't work for every family, but it's working for us… for now!
photo source
My general cleaning routine.
Please notice that I said "GENERAL". This is just approximately how often I clean certain areas of our home… it's definitely not set in stone.
FLOORS and SURFACES:
Vacuum Carpets = 1-2 times per week. (keep in mind we have no pets, only 1 child, and we usually take off our shoes)
Sweep Hard Floors = 1-2 times per week.
Mop Hard Floors = whenever I think of it and/or have time (a.k.a. not very often!)
Dust = once a month (I know this might sound bad, but our house honestly isn't that dusty)
Windows = once a year or as needed (our windows flip in so it's pretty easy to quickly spot clean them)
KITCHEN and BATHROOMS:
Kitchen Counters = I wipe them down while I cook, and then usually a good cleaning every night
Appliances = I clean them with stainless steel polish as needed (like every other week)
Sink = I give it a good cleaning once a week (more about my sink here)
Bathroom Counters = I wipe them down as needed and do a full-bathroom cleaning every 2 weeks
Toilets = Every 2 weeks or whenever company comes (this might sound gross, but I'm the only one who uses them all day)
Showers = Usually once a month — but I'll be honest, I've skipped the last couple of months!
LAUNDRY:
Whites = usually 2 loads per week (this includes all towels and some bed linens)
Everything else = usually 2 loads per week (and no, I don't sort colors)
Sheets = I wash our pillow cases every week, but our sheets usually only once a month
Blankets, pillows, rugs = twice a year or as needed
NOTE: I also wash almost anything that is supposed to be dry-cleaned at home
So that's it — our "not-so-routine" cleaning routine!
As I mentioned above, this is very general, and definitely not set in stone. There are times when we have guests staying with us, so the bathrooms get cleaned much more frequently. There are other times when I might decide to wash all the sheets, blankets, comforters, pillows, winter gear, all in one week — and then the washing machine goes non-stop!
I actually don't mind cleaning — if there's nothing better to do. However, since my days are often jam-packed, the "routine" that works best for me is simply to clean whatever is dirty, whenever it's dirty, whenever I can make the time!
What type of cleaning routine works for you?