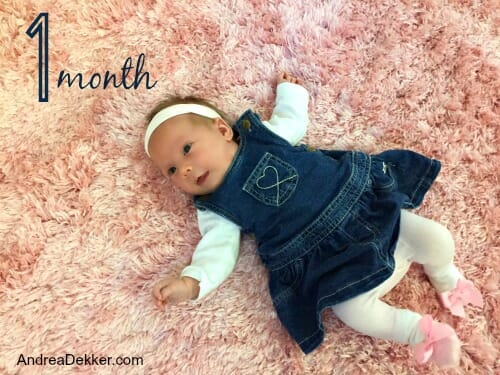 We celebrated one month with Clara yesterday!
So far, she seems to be a mix between Nora and Simon — fairly fussy and restless during the day (Nora) but sleeps well at night (Simon). She even gave me a solid 7-hour stretch of sleep one night last week!!
She wants to be held ALLLLLLL the time, so my baby carrier is definitely coming in handy.
In my opinion, she still looks COMPLETELY different than all 3 of our other babies — mainly because she has a lot of hair, darker skin, and no dimples. That said, it looks like she will have blue eyes like the rest of them.
Clara enjoys eating, sleeping, and creating lots of laundry for me to wash! 🙂
Personally, I haven't done a whole lot of anything this past month — well, besides laundry!
We've slowly been eating through my stash of freezer meals, I've written a few blog posts, ordered pictures, and gotten groceries a couple of times. Other than that, I've been at home, holding a baby most of my waking hours.
I'm certainly glad the newborn stage doesn't last forever, but I suppose this isn't the worst job in the world!
As for the rest of the family…
Dave had a short week of school last week for Teacher Convention and he surprised the kids with donuts for breakfast one of the mornings he was home (seriously, food is definitely our kids' love language!)
He's been such a huge help entertaining and playing with the older 3 kids… and waking up with them in the middle of the night! I wish teachers got a 6-week paternity leave from school (in addition to their 10 weeks off in the summer — ha!!) It's so nice that he can regularly be home by 3:30 every afternoon because it means we can eat dinner early and get the kids to bed early.
Nora is still in love with school and riding the bus. She started reading basically overnight and is so excited to learn new words. It's amazing how quickly she picked up reading (especially after I made very little progress trying to "help" her read over the summer).
She is eagerly anticipating Halloween and her upcoming SIXTH birthday. She wants to be a gumball machine for Halloween and have a Little Mermaid birthday party — we'll see how I do with both of those!
She lost another tooth and has a few more wiggly ones — and, all-of-a-sudden, she seems SO TALL!
Nora's current "hobbies" are playing with the neighbor girls, Perler Beads, writing a book about birds, collecting leaves, anything with Shopkins, and chewing gum.
Simon is still as silly and sweet as ever.
He loves kissing Clara, and always compliments me on her cute outfits. EVERY single day, he says, "Isn't Clara just the cutest? Don't you just love her SO much, mom?"
Simon is obsessed with Spiderman, Batman, and Superman right now. We found him a sweet Batman costume for Halloween for just a few bucks online — he is SOOOOOOO excited!
All of that sweetness aside, Simon has definitley given me a glimpse into the "Terrible Threes" — he's such a stinker when he wants to be, and he's super strong so he can actually hurt people if he's not careful.
He had his first dentist appointment earlier this week — he did amazing. On the way home he said, "wasn't it so good how I went to the dentist like a big boy?"
Simon loves singing, everything blue, pretending to do "homework", stuffing his backpack full of random things, eating goodies, and coloring in the lines.
And last night at dinner, Simon ended his prayer with "A-lady" instead of "Amen" — he did it totally casually and looked at Dave and me like we were crazy for busting out laughing. That's Simon for you!
James is one of the happiest kids I know, and a mama's boy all the way. Although he loves "New Baby Cwara", he regularly wants me to hold him, he's always begging to sit on my lap, and whenever he doesn't get his way, he cries and says, "I just need you mommy".
James is a pro at copying everything his older siblings do, and he's probably the most coordinated of our kids, so he can usually keep up with whatever they do.
As I've mentioned before, Simon and James play so well together 90% of the time. They wake up and immediately want to go outside to ride bikes or play in the sandbox — it's so sweet for me to watch, and very convenient on the days when Nora is in school!
James loves breakfast foods (especially eggs), the color yellow, bubbles, singing, riding his bike, reading with mom, spiky hair, and drawing angry faces 🙂
We have been enjoying the warm sunny Fall weather and playing outside a lot. I'm so thankful for our long driveway and big yard so I can let my kids play outside without constant supervision.
The kids each picked a pumpkin from my parents' garden — so they got the pumpkin patch experience without the need to drive to a crowded, touristy pumpkin patch and pay a ridiculous high price for pumpkins! Definitely my style!
I'll be back to full-time blogging next week Wednesday with my Favorite Things for November!
Have a great weekend and a Happy Halloween — I'd love to know what costumes you're making or buying this year!