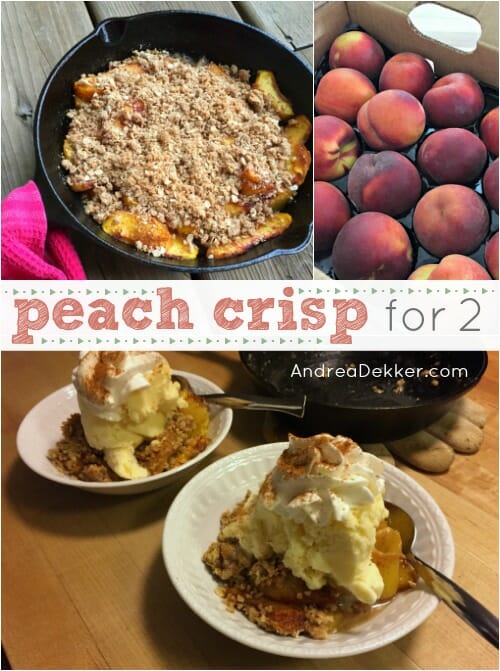 It's peach season… and our family LOVES peaches!
We've been eating them fresh at almost every meal, on yogurt, on ice cream, in pie, in salsa, with chicken, and even on flatbread (refer to the end of the post for recipes!)
This year, we got the bulk of our peaches from the Washington State Stone Fruit Growers… and just like our cherry shipment earlier this summer, they were sent straight from Yakima, Washington (close to where Dave grew up)!
Wow, are they yummy!
Definitely the sweetest fresh peaches I've had in a long time… and perfect for a sweet evening snack (just for Dave and me!)
Our kids aren't big pie, crisp, or cobbler fans (seriously, what's wrong with them!) and since those desserts are definitely "best fresh", I always wait to make them until we have company.
However, Dave and I both wanted some peach crisp the other day… so I made a little bitty batch in my cast iron skillet, and not one bite of it went to waste!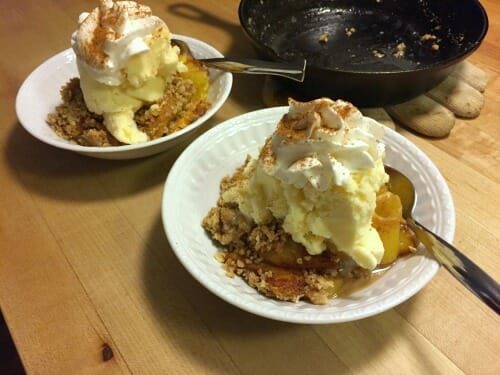 Recipe for Peach Crisp (for 2)
INGREDIENTS:
3 firm but ripe peaches; peeled and sliced
cinnamon to sprinkle over peaches
4 T. oats
3 T. flour
2 T. brown sugar
1/4 t. cinnamon
2 T. chopped pecans (optional)
2 T. cold butter
DIRECTIONS:
Preheat oven to 350ºF
Grease a small baking dish or small cast iron skillet and fill with peaches
Sprinkle cinnamon over peaches (you can add a bit of sugar too but our peaches were SO sweet)
In a small bowl, mix oats, flour, brown sugar, and 1/4 t. cinnamon
"Cut in" butter with your fingers until mixture is crumbly
Sprinkle oat mixture over peaches
Bake in preheated oven for 30 minutes (or until topping is crunchy)
Serve immediately with ice cream and/or whipped cream with another sprinkle of cinnamon!
Oh my word… it was SO good!
The warm peach crisp paired with the cold (melty) ice cream, the crunchy oat topping, and lots of cinnamon was such a yummy treat for our evening snack (we definitely don't have this every night!)
Thanks to our surplus of delicious Washington State stone fruits, we might have to splurge on this snack at least once more before peach season is over!
A Few More Peach Recipes:
What are your favorite peach recipes?
Visit my virtual recipe box for more simple, delicious, family friendly recipes!