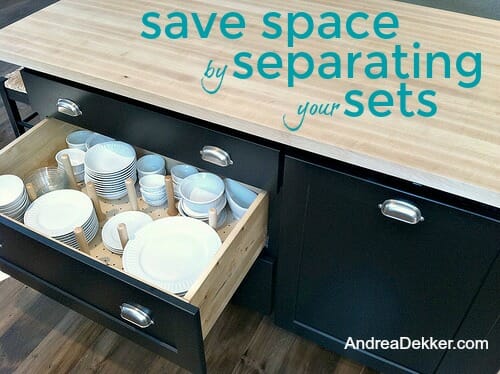 If you're like most people I know (including myself a few years ago), you have gotten sucked into buying a full set of something based on a store sale, just to get the few pieces you really want or need…
pots and pans
knives
bedding
picture frames
luggage
wrapping paper
children's clothing
dishes
etc. etc.
And if you're like most people I know (including myself a few years ago), you only use a few pieces of the set, while the rest of the items take up valuable space in your home.
you use your favorite frying pan and big stock pot daily, while the other 5+ pans are collecting dust
you have 3 favorite knives and rarely touch the other 8+
you just wanted the duvet cover but had to buy the full bed set even though you already had sheets you liked
you wanted a couple 8″ x 10″ picture frames, but they came packaged together with a bunch of other sizes you didn't need
you wanted a nice carry on and medium size piece of luggage but it was more economical to just buy the entire 7-piece set
you needed a roll of blue wrapping paper, but the store only sold the blue with silver, pink, and white
you wanted a couple cute shirts for your child, but every option came with matching or coordinating pants (and you had enough pants)
My list could go on and on and on… so many things come in "sets" these days!
(I love mixing and matching bedding versus buying a full set of matching items)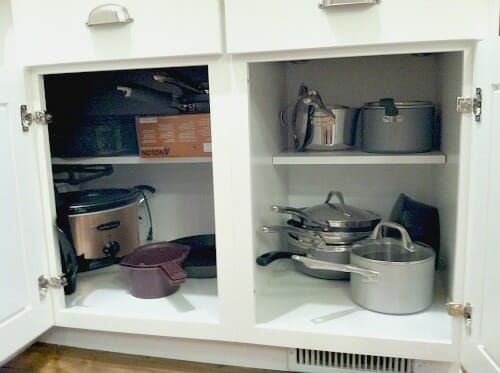 (I've gotten rid of SO many pans that came as a set and now only have my favorites)
.
If you find yourself nodding to any of the statements above, take a moment to think about HOW MUCH SPACE you are potentially wasting by storing pieces of sets you don't use, need, want, or love.
And think how much extra space you could have if you ONLY kept the items you actually used and needed versus storing the entire set of something?
Although there was a time when I kept full sets of things together "just because", I have now freed up so much space in my kitchen, my storage room, my bedroom, my kid's closets, and more after parting with the items from sets I didn't want, use, need, or love.
No more holding onto unused items in our house… even if they are technically part of a set!
.
Now, if I want something specific, I rarely buy it in a set (even if it is cheaper per item to buy the set). Instead, I just buy the exact item I need — one paring knife, one shirt, one picture frame, one blanket, one bag or suitcase, etc.
It's a different way to think about things because we are so used to everything coming in sets, but if you can look past the advertising and past the store sales, you'll most likely find that you save money, time, and space in the long-run by ONLY buying (and storing) the items you actually need versus a complete set of something you don't!
(it would have been cheaper to buy a full set of baking pans, but I wouldn't have gotten the exact sizes I wanted… so I bought each pan individually)
(my favorite mix and match frames that I spray painted black)
(no matching knife set for me — only the knives I actually use)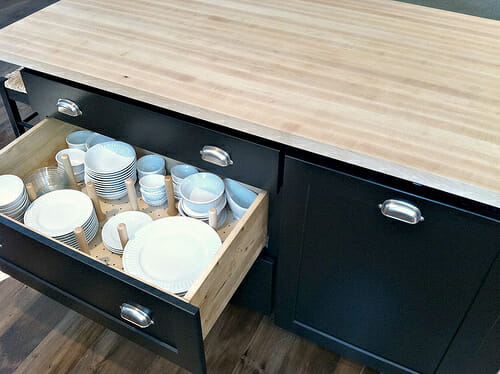 (even my dishes are not a matching set — they are just all white!)
.
If you're looking for a relatively quick and simple way to purge a handful of items from your home, I would encourage you to break up some of your "sets" and only keep the pieces you actually use and need.
Your single pieces of luggage, 3 lone pans, a half set of knives, pillow shams without a matching comforter, and infant pants without the matching tops will certainly still be welcomed at your local thrift store… and you could probably even sell them if you wanted to take the time.
There are so many people (like me) who jump at the opportunity to buy single items instead of full matching sets, so not only will you clear some of your own unused clutter, you'll also help other non-set-buyers out there 🙂
Are you a fan of "sets" or do you prefer single items?