I am a huge fan of list making!
I love having a plan for the upcoming hours, days, weeks and even months…it makes me feel organized and productive!
These lists give me a chance to relax, concentrate on the most important things, prevent lots of wasted time, and even allow for more free time when my list is complete. Although things don't always work out as planned, and everything on the list isn't always complete, it's still nice to feel like I am organized and ready to go.
However, when I have SO many things to do or I'm struggling to stay focused, I find that it's helpful to create a Top 5 List.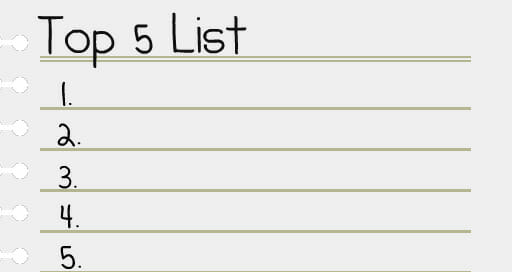 What is a Top 5 List?
It's a list of your top 5 MOST important tasks right now.
What are the most important things for you to accomplish TODAY?
What are your most pressing deadlines?
What are you most stressed about?
What has to get done, no matter what?
These items should go on your top 5 list.
NOTE: Don't go crazy — There's a reason it's called a Top 5 and not a Top 50! Limit your list to the 5 MOST important tasks and finish those before you make another list.
Create Your Top 5 List:
Grab a pad of paper and a pen
Take a few minutes to write your Top 5 List
Each night, before you go to bed, make your Top 5 List for the next day. I guarantee you will sleep better!
OK, so I've made my Top 5 List for today and I'm ready to get to work… wish me luck!
What's on your Top 5 List today?