Updated: October 2019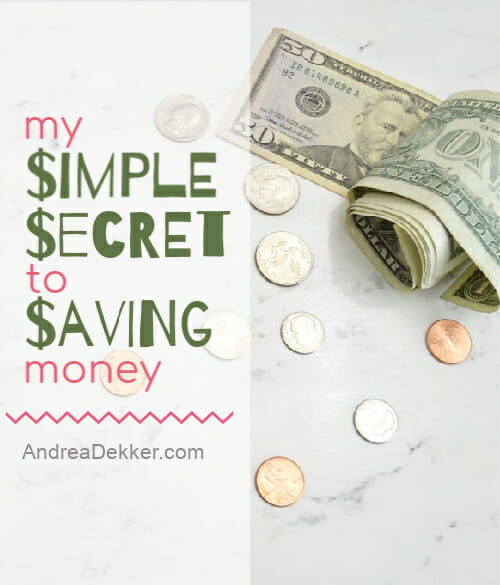 Earlier this week, I shared my simple secret to getting more done, and today, I'm back with my simple secret to saving money!
Right before Thanksgiving Day, I posted a list of 10 things we don't spend money on. It's my most popular post to date, and I STILL get loads of questions asking how we are able to save so much money and what my "secret is".
Want to know my simple secret to saving money?
–> Don't Shop!
I know it's probably not the advice you were looking for, and it's certainly not a revolutionary idea — but it DOES work!
I think you would all agree that you'll save more money by not shopping than by shopping…even if you do shop the sales and use coupons.
Even if you can get something free after rebate, you're still using gas to get to the store, and you still have time invested in driving, shopping, filling out the rebate, etc. etc.
Don't get me wrong though; I'm a HUGE fan of sales, coupons, and rebates if I actually USE the products, but I'm not going to waste my time, money, and energy just to get a free product I don't even want or need.
How to "Not Shop"
You might be wondering how I get by without shopping — well, the truth is, I DO go shopping, just not very often.
I've made a list of some general categories to show you how I've been able to save time and money by not shopping for certain items.
1. GROCERIES:
I try to go grocery shopping every other week which forces me to plan a little further in advance, but it saves me a bunch of time on the off week, and it saves money on impulse purchases.
If we start to run low on milk, bread, or eggs; I usually ask Dave to stop by after school because I know he'll get in and out as fast as possible and won't make any other purchases!
2. CLOTHING:
This is one area that I have REALLY cut back on over the last couple of years. It all started in 2009 when I set a goal not to spend any money on clothing for the entire year — and I followed through on my goal!
Since then, I've hardly purchased any clothing, simply because I realize I don't need that much stuff.
We live very close to a huge shopping mall, but I honestly can't tell you the last time I've been inside. I save so much time and money by not shopping for clothes — you should give it a try!
3. HOUSEHOLD SUPPLIES:
Since I'm big on cleaning and organizing, it's really easy for me to go crazy buying cleaning supplies, cute bins and baskets, and other decorative touches for our home.
However, before I even allow myself to step foot in a store, I ask a few questions first:
Can I make it myself? Recently, I started using vinegar in place of expensive chemical cleaners.
Can I use something I already have? Here are my ideas for using what you have.
Can I buy it used? I'm obsessed with thrift stores, garage sales, and Craigslist.
Do I absolutely need this? Most of the time, the answer is "NO" so I don't purchase the item.
4. FURNITURE:
I don't think we own one piece of furniture from an actual furniture store. Everything we have comes from garage sales, Craigslist, or the side of the road!
I've found a new hobby of fixing up furniture which has saved us a bundle. Now, when we look for something new, I don't even consider a store…I just go right to Craigslist.
However, I set restrictions for myself with online shopping too — I only purchase items that I need AND that are really cheap. If I feel even a little bit hesitant, I don't buy it.
5. LUXURY ITEMS:
I would consider fancy electronics, toys, games, jewelry, kitchen gadgets, collections, antiques, etc. to fall into this category…and I can assure you, we don't shop for any of these items!
Refer here if you don't believe me!
Give my Simple Secret to Saving Money a try!
I know there are situations when you really do NEED to purchase something — and that's fine.
However, if you are seriously looking to cut back on your spending, I'd encourage you to stay away from malls, outlets stores, online stores, and even grocery stores.
If you aren't shopping, you won't be tempted to spend!
Will you be shopping this weekend?