How I Stretch Our Groceries for 2-3 Weeks!
posted by Andrea | 02/4/2019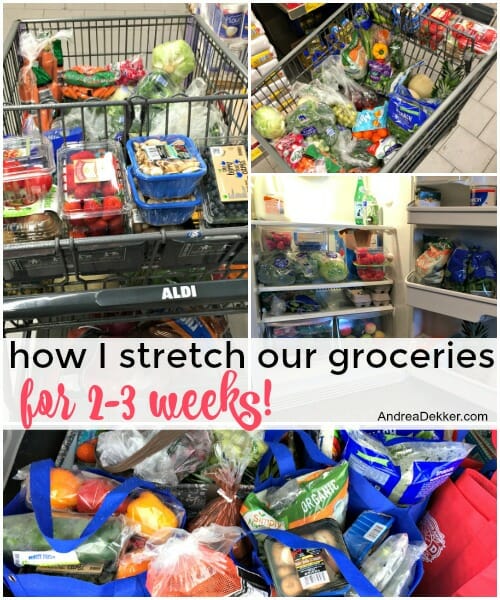 Over the past 12-18 months — as our family has tried to eat significantly more fresh produce — I've been asked over and over and over again how I make this work without going back to the grocery store every other day.
Well, believe it or not, I often only get groceries every 2 to 3 weeks!
So how do I stretch our produce and other perishable items for 2-3 weeks?
My simple answer: We have an extra refrigerator, and we eat a huge variety!
.
Obviously, if I'm going to buy 2-3 weeks worth of fresh fruits and veggies for our family of 6 (and many guests), we NEED extra cold storage in order to keep everything fresh. Thankfully, we've had an extra refrigerator ever since we finished our kitchen renovation back in 2012!
Our extra fridge:
This baby is getting old, but it has come in handy for hosting parties, holiday gatherings, storing extra garden surplus, and stock-piling 2-3 weeks worth of produce, dairy, eggs, etc. when I get back from my huge grocery haul!
This allows us plenty of space in our kitchen refrigerator for the fruits and veggies we'll use in the next 36-48 hours — along with various leftovers, meats, cheese, snacks, beverages, condiments, and foods I have already prepared for upcoming meals.
Both refrigerators are STUFFED full after unpacking the groceries; and they are both VERY empty by the time I'm ready to head back to the store again.
We also have "cold storage" in our basement. This is where we store potatoes, sweet potatoes, onions, squash, apples, etc. It's especially cold in the winter months!
.
Eating a variety of produce:
Along with having an extra refrigerator, I make a point to prepare and serve our produce in order from "most perishable" to "least perishable" — assuring we eat a large variety of produce AND that our produce doesn't go bad before we have a chance to eat it.
For example, we'll start by eating berries, kiwi, grapes, bananas, cucumbers, tomatoes, beans, sliced mushrooms, spinach, arugula, etc.
Then we'll add in pineapple, oranges, melons, pomegranates, avocados, peas, peppers, zucchini, whole mushrooms, head lettuce, etc.
As our stock pile starts to dwindle, we'll rely more on apples, oranges, broccoli, cauliflower, beets, squash, kale, etc.
Foods like onions, potatoes, sweet potatoes, carrots, celery, squash, apples, pineapple, melons, and even fresh herbs will keep for WEEKS if properly stored and kept cold. We eat these throughout the 3 weeks with no issues at all.
And if we really run stuck, I always have my home-canned tomatoes as well as frozen corn and peas!
IF the fresh produce looks like it's starting to go bad, I immediately wash it, chop it up, and put it in the freezer. This does not happen all that often, but I have several zip-top bags in the freezer for bits of peppers, celery, zucchini, berries, bananas, apples, grapes, spinach, etc.
We use these bits and pieces for breads, muffins, soups, quiche, and smoothies — produce is rarely ever wasted in our house and we end up eating a huge variety of different fruits, veggies, and greens!
.
Here's a look at what I buy to feed our family for roughly 2-3 weeks.
I've been asked countless times to share exactly what I buy from the grocery store — and while my grocery cart obviously looks different every trip (depending on what's "on sale" and "in season") this is a fairly accurate picture of what I buy and what we eat every couple of weeks.
FRUITS:
strawberries — 3-5 pounds (depending on price)
blackberries, raspberries, and/or blue berries — 2-6 pints of each (depending on price)
green and red grapes — several pounds of each
bananas 15-20 (I purchase these throughout the 2-3 week period)
clementine oranges — two 5 pound bags
avocados — 6-10
kiwi — 1 box of 6
pomegranates — 3-4 (when in season)
pineapple — 3
muskmelon — 3
apples 6-10 pounds**
**We buy apples by the bushel from our local orchard from August through February. I also use these apples can our applesauce on a yearly basis. From March through July, I buy 6-10 pounds of store-bought apples in addition to everything listed below.
VEGGIES:
mushrooms — 4-6 containers
green beans — several pounds**
snap peas — a large bag
Roma tomatoes — 1 box of 6**
cherry tomatoes — 2 pounds**
green peppers — 3
red peppers — 3
orange peppers — 3
yellow peppers — 3
zucchini (green) — 6**
zucchini (yellow) — 3**
mini cucumbers — 3 pounds (I purchase more after a week or so)
large cucumbers — 3
Brussels Sprouts — 4-6 pounds
beets (with greens) — 3 bunches (9-12 good-size beets)
radishes — 2-3 bags
cabbage — 3 heads
broccoli — 4 packages
cauliflower — 4 heads
celery — 2 bunches
carrots — 6-9 pounds
baby carrots — 3 pounds
green onions — a lot!
yellow onions — 5 pounds
red onions — 5 pounds
sweet onions — 3 pounds
sweet potatoes — 10 pounds
russet potatoes — 10 – 20 pounds
spaghetti squash — 2**
butternut squash — 3**
corn and peas (a couple bags, frozen)
**In the summer/fall, we grow tons of zucchini, squash, tomatoes, cherry tomatoes, beans, herbs, etc. so that helps to cut costs on produce from June/July through October! During the rest of the year, these are the veggies I buy almost every time I hit the grocery store.
GREENS:
spinach — 2 large bags
arugula — 1 bag
romaine lettuce — 6 heads
kale — 2 bags
beet greens (from the beets listed above)
cilantro — 1 large bunch
parsley — 1 large bunch
As I mentioned above, this is still an estimation.
It all depends on what items are on sale, what items are in season, what items the store has stocked, what the produce looks like in the store, etc. etc. However, this is a pretty accurate picture of what my Aldi shopping cart looks like every 2-3 weeks (and yes, the cashier often asks if I'm a vegetarian!)
My Aldi bill is usually around $125 every 2-3 weeks for ALL that fresh produce — and produce is definitely the main thing I buy at Aldi.
Sometimes I get yogurt or eggs if we're running low. Other times I might buy a few condiments, baking supplies, or dried goods, but it's mainly produce!
DAIRY + EGGS:
We buy a TON of dairy and eggs every month as well — you'd be surprised how long these items last.
Eggs, milk, and cheese easily have long refrigerator life, so there is usually no need to head back to the store for more of any of these items.
We've actually started buying a few dozen eggs each week from friends at church who now have more chickens and enough eggs to sell. However, I still need to supplement with store bought eggs as we often go through 6-12 eggs a day.
I get almost all our dairy and eggs from Costco.
eggs — 5-7 dozen (I divide them into single dozen containers at home)
plain Greek yogurt — 3 tubs (3 pounds each)
plain yogurt — one 4 pound tub
cottage cheese — 2 large tubs (3 pounds each)
Cheddar cheese — 2 blocks of Tillamook (2.5 pounds each)
Colby jack cheese — 2 blocks (2 pounds each)
Feta cheese — 2 large containers (I divide them into smaller containers at home)
heavy cream — 2 pints
butter — 4 pounds
hummus — 1 large container
milk — 3 gallons (we buy this from Meijer)
I spend right around $200 at Costco every month — I try to go to Costco on a different week than I go to Aldi and I'll pick up more tomatoes, cucumbers, and bananas if we need more.
I also buy peanut butter, maple syrup, salsa, vitamins, toilet paper, and paper towels from Costco.
EVERYTHING ELSE:
To be perfectly honest, there isn't much else I buy from the grocery store these days as I'm making our own bread and we're still eating through our huge pantry and freezer stash of snacks, condiments, and meats.
If I need something special, I just add it to my list and pick it up the next time I'm at a grocery store — but this is rare.
I buy my household cleaning products, soaps, lotions, toiletries, diapers, wipes, etc. from Grove.co. They deliver to my house every month — it's fantastic!
I also place a large order with Country Life Natural Foods every 6 months or so. This is where I buy all my wheat berries, oats, beans, rice, legumes, seeds, dried fruit, spices, honey, etc. They have excellent bulk pricing and free delivery on large enough orders.
Or, Dave and I will ask our parents to watch the kids while we drive the 45 minutes to pick up our order from the local Country Life store. We go out for lunch and it's like a little grocery shopping 'day date'!
QUICK PICK-UPS:
If we are in desperate need of something, we do have a small, more-expensive grocery store within walking distance of our house.
Ironically, they always have really good prices on eggs and bananas, so when the weather is nice, the kids and I will often walk or ride bikes to that store just for something to do. We'll pick up a bunch of bananas, a couple dozen eggs, and maybe let the kids pick out a snack, and then we'll ride home again!
.
MEAT PURCHASES:
UPDATE: I didn't specifically address meat in this post as I was mainly focused on produce — but I've already gotten several questions about what meat we buy…
Beef: Dave's parents have gifted us a quarter of a cow every other year, and that has been more than enough beef to cover our needs for 2 years.
Pork, bacon, sausage, chicken, fish = I have gotten almost all our pork, bacon, sausage, chicken and fish from Zaycon Fresh (for free using referral credits) however, they are no longer in business so I will eventually need to start purchasing more of this. I had stocked up A LOT before they went out of business, so I'll be good on meat for a while. Eventually, this will add more cost to my budget below, but for now, we have enjoyed spending very little money on meat!
Lunch meat: We rarely buy lunch meat anymore, aside from a specific type of deli turkey for Dave's sandwiches — this is factored into my monthly Meijer budget below.
Summer sausage, pepperoni, hot dogs, and other "processed meats": This is also factored into my Meijer and Costco budgets below — I just buy them as-needed or when they go on sale.
.
Rough Cost Breakdown:
Aldi = $125 every 2-3 weeks ($2166 – $3250 per year)
Costco = $200 every month ($2400 per year)
Meijer = $20-$100 every 2-3 weeks, or as needed for items Aldi doesn't sell…and Meijer milk! ($350-$2600 per year)
Grove = free with affiliate credit
Eggs from church friends = $10-$15 per month ($120 – $180 per year)
Apples and other produce from local growers = ($200-$300 per year)
Bulk Food = $200-$250 every 6 months ($400 – $500 per year)
If I did the various calculations correctly, this breaks down to ROUGHLY $110 – $175 per week on groceries.
Of course, I don't actually shop "weekly". Some weeks I literally spend nothing on groceries and other weeks I'll spend $350 or more — it just depends on the week, what stores I go to, and how long it's been since I shopped last!
Either way, I'm satisfied with that weekly estimate — especially considering the enormous amount of fresh produce I'm buying, and the fact that we regularly invite people over for dinner and make food to bring to others.
NOTE: This monthly budget template is a great FREE resource to help you map out your finances.
As I mentioned above, this is not an exact science by any means. If there is a great sale on some type of produce, I'll definitely buy more and we'll eat that instead of other fruits and veggies (or I'll put a bunch of it in the freezer for later).
We also don't need to buy as much produce in the summer and fall due to our garden — so our numbers are lower in the summer and higher in the winter.
The point of this post is not to hem and haw over what a grocery budget should be for a family of 6 — it's to show that if you are organized with how you prepare your foods (and if you have extra cold storage) it is VERY POSSIBLE to eat fresh foods without spending huge amounts of time shopping every other day (and without wasting food).
Believe me, I would not be able to stay on top of serving my family fresh fruits and veggies at every meal if it required multiple weekly grocery trips! You know how much I hate grocery shopping — and this is just one more way I've managed to stretch out our trips to the store!
And speaking of "serving my family fresh produce"… I'll be back TOMORROW with a very long and detailed post of exactly how I store, prep, and serve all the produce I buy every 2-3 weeks!
Want to read more about my grocery shopping over the years?
Here are a few previous Grocery Shopping posts:
May 2018 (my Aldi shopping experiment)
Do you have any tips to stretch the time between trips to the grocery store?