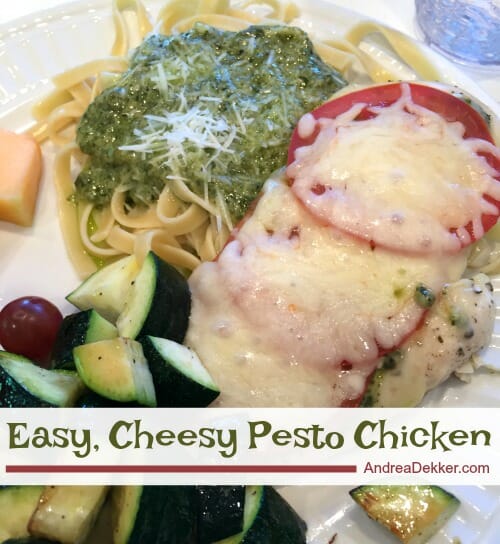 A couple weeks ago, I was showing the kids a YouTube video when a commercial for an easy chicken recipe "interrupted" our video.
The kids were annoyed… but I made some quick mental notes as the recipe looked fantastic (and really REALLY simple!)
The next day, I made my own version of this cheesy pesto chicken — and boy was it tasty. I boiled some fettuccine noodles while the chicken baked and served up this super simple, summer time meal in less than 30 minutes from start to finish.
It was a huge hit with our entire family!
Recipe for Easy Cheesy Pesto Chicken
serves 4 (or more if you have little kiddos!)
INGREDIENTS:
2 large chicken breasts; cut in half widthwise to make them thinner
salt and pepper to taste
pesto sauce (I used roughly 14 oz. for the chicken AND the pasta — probably only 4 0z. for the chicken)
2 tomatoes, sliced
1/2 c. mozzarella cheese
DIRECTIONS:
Preheat oven to 350ºF. Grease a 9″ x 13″ baking dish or line with foil.
Place chicken breasts in baking dish. Season with salt and pepper
Spread roughly 1 to 2 T. of prepared pesto sauce on each chicken breast.
Bake in preheated oven for 15 minutes.
Remove from oven, layer chicken with sliced tomatoes and cheese.
Bake for another 5-8 minutes, or until cheese is melted and chicken is cooked through
Serve with pasta (and additional sauce) or a big salad.
See… it really is THAT simple!
In fact, the most time-consuming part was preheating the oven… and the most 'difficult' was trying to evenly slice the chicken breasts in half so they would be thinner and bake faster.
All 3 kids gobbled this up, along with the pasta — even though Simon exclaimed he would not eat green pasta. I told him it was kind of like "green eggs and ham" so he figured he should try it. He quickly changed his mind and proclaimed me "the best cooker mom". 🙂
We will definitely enjoy this a few more times throughout the summer months… and one of these times, I might just have to make my own pesto sauce from scratch!
Do you make your own pesto sauce?
Visit my virtual recipe box for more simple, delicious, family friendly recipes!