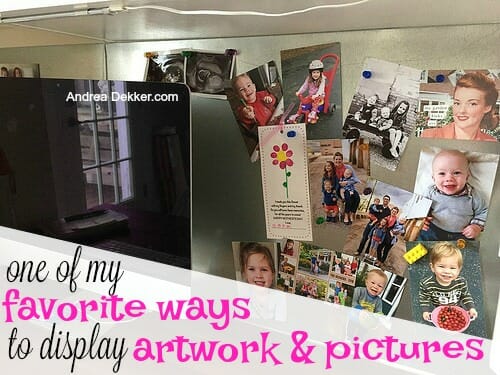 One of the questions I get most often (outside of clothes clutter questions) is how I display kid's artwork and snapshot photos.
Both types of paper clutter seem to multiply quickly — and they both fall under the "emotional clutter" category, so they are often difficult to purge!
Over the years, I've personally tried many different ways to display photos and artwork, but time and time again, I always end up reverting back to my most favorite (super simple) way…
Magnetic boards!
I love how simple and easy it is to add something new, remove something old, move things around for a different look, etc. etc.
Plus, it's SO easy for kids to hang up their own artwork or photos (which means one less thing I'm required to do!)
We've always had several smaller magnetic boards in various places in our home — specifically on the refrigerator for the kid's play kitchen and a on one wall of their play area under the stairs.
The kids love both of these magnetic areas — and so do I!
Recently, I added two more, much larger magnetic areas to our home… one in my office, and one in our kitchen.
Both magnetic areas are roughly 2 ft. x 6 ft. and offer SO much display surface for our kids' favorite pieces of art and for all the "gifts" they want me to hang by my computer. 🙂
Where did I get the metal?
I've looked at hardware stores, craft stores, Amazon, and more — but the only place I've had good luck finding the specific sizes of metal I need for my various projects is to call up our local heating and cooling company and order the specific sizes of sheet metal. I also asked them to "crimp" the edges a quarter of an inch so they aren't sharp (that stuff is SOOOOOO sharp!)
Their office is just down the road from our house, so I can easily stop by and pick up my order. However, this past time, the 6 ft. pieces were so big that the company simply delivered them when they came out to add another heat duct to a bedroom upstairs.
I use heavy-duty 2-sided mounting tape to hang the metal on the wall… the whole process usually takes me less than 10 minutes.
I realize it might look a little cluttered to some of you, and you're right, it IS a little cluttered. However, it's such a simple, easy, practical system for our family right now that I'm willing to put up with a little bit of clutter.
The kids know that once the magnetic boards are filled up, it's time to purge. Although they don't love tossing their beloved art projects or pictures, it's always fun to make room for new pieces, so they willingly purge on a regular basis to keep the magnetic boards from getting too full.
What about magnetic paint?
Honestly, I've tried this stuff a few times with ZERO luck. I've stirred and stirred and stirred, painted several thin coats, and not even our strongest magnets stick to it.
NOTE: If you have successfully used a specific brand of magnetic paint, let me know in the comments!
Plus the paint seems more "permanent" to me (it's really hard to paint over black magnetic paint). I like that if we ever wanted to remove our magnetic boards, we can just scrape it off with a putty knife and use a little goo-gone to clean up the sticky residue.
What about your refrigerator?
Ironically, I do NOT like stuff on my refrigerator (at least not the front!) Plus, we wanted a stainless steel fridge and true stainless steel is not magnetic.
Previously, we used poster putty to stick drawings and artwork to the side of the fridge, but apparently my children go crazy with poster putty and it always ends up in the carpet 🙂
I REALLY love how the magnetic board looks on the side of the cabinet surrounding our refrigerator. It seems more custom to me!
What's my next magnetic project?
Last week, I found three 18″ x 24″ solid wood, matching frames for $1 each at our local thrift store. They are amazing — and will look so great painted. I'm planning to paint one for each kid and already have sheets of metal cut to go inside the frames. Then they'll each have their own little space for a few pictures or art projects (the perfect addition to their "new" bedrooms).
.
Of course, there are many other ways to display artwork and pictures (here are a few more of my ideas), but they all require ME to hang the new drawings and pictures up.
When I use magnetic boards placed low enough that my kids can easily reach them, they can do it all themselves — and they get so much satisfaction from that!
What are YOUR favorite ways to display artwork and photos?