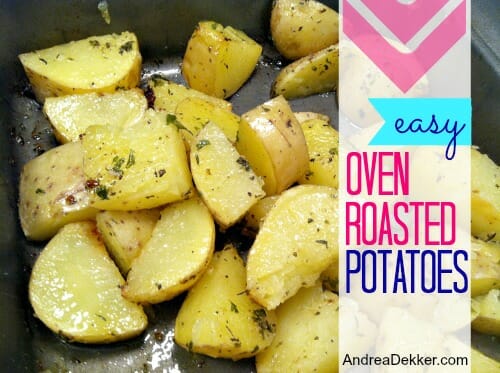 As I've mentioned before, we are BIG potato-lovers over here.
We love pretty much all forms of potatoes — and our love of spuds must have rubbed off on Nora, because although she's struggled with many eating issues, potatoes are one thing she will (almost) always gobble up!
Because of this, I'm always on the look out for quick and simple potato recipes to add to our weekly menus.
Today's recipe most definitely fits my "quick" and "simple" week-day meal requirements, but is delicious enough to serve for a more lavish weekend dinner with company… and yes, Nora likes them 🙂
Recipe for Easy Oven Roasted Potatoes
NOTE: I used a 9″x9″ pan with 3 medium potatoes and it was MORE than enough for our family of 3 with a good amount left over.
INGREDIENTS:
potatoes (I used 3 medium white potatoes, but red skin potatoes taste awesome with this recipe too)
1/2 stick butter
salt and pepper to taste
a variety of your favorite herbs (I used a few shakes of garlic powder, dried onion, basil, parsley, rosemary, thyme, and sage)
DIRECTIONS:
Preheat oven to 350*F
Scrub the potato skins until they are very clean.
Put butter in rimmed baking pan (I used a 9″x9″ pan); then put pan in preheating oven to melt the butter.
While butter is melting, cut potatoes into large bite-size chunks. Sprinkle liberally with salt and pepper.
Remove pan with melted butter from oven and shake in desired seasonings (you really can't go wrong here — so just add a few shakes of any flavor you love with potatoes.)
Add potato chunks to pan with the cut side down in the butter and herbs.
Bake for 30-40 minutes or until potatoes are very tender (this will depend somewhat on the type of potatoes you use and how small or large you cut them — so just check them a few times.)
Stir potatoes in pan (or dump them into a bowl) to mix up all the butter and herbs.
Eat and enjoy!
We've served this side dish with grilled meat, slow-cooker meals, roasts, and even a ham dinner.
It's so good, it's so easy, and (as with all my recipes) there is not one "right" way to make them. If your family loves garlic and chives, try that. if you hate sage or rosemary, leave them out. Mix and match your favorite flavors — or for pickier eaters, just go with butter and salt!
The worst thing you could possibly do is over-cook them a little bit — in which case they would literally melt in your mouth (and that doesn't sound too bad!)
What is your favorite potato side dish?
Visit my virtual recipe box for more simple, delicious, family friendly recipes!