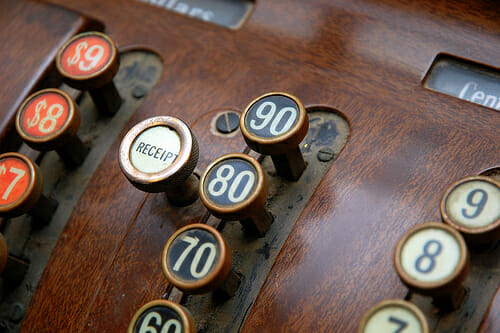 The other day, someone asked me what my favorite Starbucks drink was. I probably had a really stupid look on my face while I stood there trying to rack my brain for a decent answer… until I finally said, "you know, I don't think I've ever purchased a drink from Starbucks before."
I could tell they were shocked — to be perfectly honest, I was kind of shocked too. After all, Starbucks has over 87,000 possible drink combinations (source), so you think I'd be able to find something I like.
After that conversation, I started thinking about other relatively normal things that I've never ever spent money on… and I came up with quite a list!
Obviously, there are TONS of random things I've never spent money on, but below is a list of pretty normal every-day things that I've never (to my recollection) spent money on,
1. Starbucks (or any other coffee house)
I don't drink coffee… ever. I never have and I have no desire to start. In fact, up until about 2 years ago, Dave never drank coffee either. Now he drinks plain black coffee in the mornings (made at home.)
I also don't like tea, lattes, cappuccino, or any other hot beverage — besides an occasional mug of hot chocolate. And since I make my own homemade hot chocolate mix, I have no reason to leave my house, waste gas money, and pay $3 or more for a cup of hot chocolate.
So as far as I can remember (which is pretty far!) I've never spent money on a drink (or anything else) at Starbucks or any other coffee house.
Crazy, I know!
2. Perfume
I've received plenty of lotions and perfumes as gifts, and I've also redeemed plenty of freebie coupons at Bath and Body and Victoria's Secret, but I'm fairly confident that in my 28 years of life, I've never spent my own cash on perfume.
3. Exercise
I don't even like to exercise (and you all know I don't like spending money unnecessarily) so I'm certainly not going to spend money to exercise 🙂
I've never purchased a gym membership of any type, I've never purchased any amount of exercise equipment, and I've never purchased any exercise DVD's (although I have rented some from our library at times).
4. Alcohol at Restaurants
To be perfectly honest, we rarely ever spend money on alcohol at home — not because we have anything against it, but simply because it can be pricy, unhealthy, and addicting — and it's just not necessary (in my opinion).
We usually have a few beers in the house for Dave, and we'll buy some wine coolers or fruity drinks if we're entertaining, but that's about it. Aside from REALLY fruity wine coolers where you can't taste the alcohol, I've never really acquired a taste for alcoholic drinks — and since I don't like spending money to exercise, I figure I probably shouldn't spend the money for extra calories either.
So as I was thinking of things to add to this list, I realized that I've never spent any of my own money on alcohol at a restaurant. There have been a couple times when we've been taken out and the people paying insisted we order a drink (which I graciously choked down)… but that's about it.
5. Dry Cleaning
Yes, I work from home — but I used to work in an office every day, and Dave wears a button-up shirt almost every day to school — so I'm still not sure how I've avoided this expense for my entire life — probably because I try to wash everything at home. Or maybe it's because I try to buy wrinkle-free clothing as much as possible and because Dave diligently irons his school clothes every week — sometimes every night.
As an added bonus, I've also never been to a laundromat — so sheltered, I know!
6. Delivery Service
We don't order lots of take out food or pizza, but when we do, we always just drive to pick it up. We live super close to any restaurant we would order from, so it seems silly to pay someone else to deliver it to our house when it takes less than 10 minutes for us to pick it up ourselves.
I guess I just figure that if I'm not willing to make dinner, I should at least be willing to go pick it up.
7. Manicures or Pedicures
I don't have very attractive nails, so I've never been big on painting my nails because I feel like it draws more attention to my hands. I also have extremely ticklish feet and the idea of someone else touching my feet is just way too much for me.
My cousin gave me an at-home freebie manicure the day before our wedding, and I did win a free manicure coupon to a local beauty salon (which I used several years ago) but to date, I've never spent money on a manicure or pedicure.
I've also never spent money on a massage, but I wouldn't mind getting a massage someday… if I had a coupon.
8. Pets
OK, so I won't say that we'll never get a pet — but I will say that we probably won't get a pet for a VERY long time. And if we do, it will be because our children beg us for years and years — or because I suddenly turn soft.
I'm not against pets (Dave and I both had dogs growing up); I just honestly think they are a huge waste of money — sorry animal lovers!
The food, the vet bills, the cost of leaving them while on vacation, etc. etc. Not to mention the time and energy involved in caring for a pet on top of everything else I do on a daily basis — and the messes they make. No thanks!
For the record, 2 of our siblings have huge shedding dogs and the other 2 siblings are both on the lookout for a dog to buy — yes, we think they are all nuts 🙂
9. Concert Tickets
Yes, I've been to high school band and choir concerts, and I've been to freebie concerts in the park. I also won concert tickets for a Point of Grace Christmas concert about 5 years ago — but I've never paid for concert tickets.
And if I'm really being honest, besides that Point of Grace concert, I've never even been to a professional concert.
10. Valet Parking
I just assumed that Dave and I don't really have the lifestyle to warrant paying for valet parking (after all, I don't think Culver's or Arby's offers that service yet). However, I was shocked to find out that many of our friends have paid for valet parking for different events. I don't know, maybe we're weird (or just cheap) but the thought of paying someone else simply to park my car so I don't have to walk is a little much for me (at least at this point in my life!)
11. Lottery Tickets
Dave is a math teacher — we know the odds of winning are horrible and that buying lottery tickets is basically just throwing our money away.
So although I've frequently thought about how sweet it would be if we ever won the Mega Million, I've never actually let myself purchase a ticket (so unfortunately, I don't think we'll win any time soon.)
.
Although some of you might think I'm a totally boring bump-on-a-log after reading this post… I promise Dave and I do lots of fun things. Seriously, I've never felt like I was deprived or lived a boring life — at least not before writing this post!
And I'm certain there are plenty of things we spend money on that some of you think is crazy — right?
So I'm curious, what would be on your list of things of things you've never spent money on?