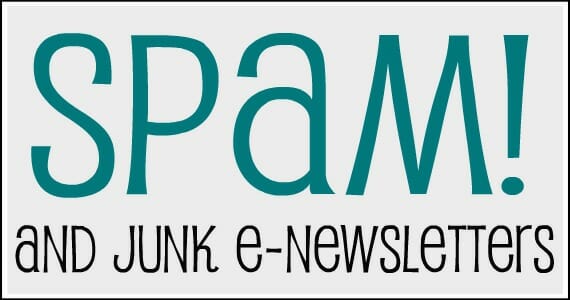 We're talking about email clutter — again!
Two weeks ago I mentioned how I'm clearing some of my email clutter in an effort to check my email less. Since then, I've received even more questions about email clutter — specifically SPAM and e-newsletter subscriptions.
Unfortunately, I don't have a magic wand that I can wave to make it all magically disappear…but I do have a VERY simple solution that should drastically reduce the amount of SPAM and junk e-newsletters in your Inbox!
Unsubscribe:
I received the following idea from mom2fur — ingenious!

I took her advice, searched for "unsubscribe", and got almost 100 emails!! It took me about a half hour, but I unsubscribed to all the newsletters and email blasts I didn't want, and I've already seen a HUGE decrease in the number of spamy e-newsletters I get.
Thanks mom2fur!
Since I unsubscribed a week ago, I've already saved several minutes each time I check my email…which will really add up.
What are your tricks for reducing SPAM?