It's that time of year again… time to start preparing my home and garden for cold West Michigan winter.
This is not necessarily something I look forward to — but it saves me lots of time the following spring when I want to get outside and start planting flowers. The whole process really isn't THAT bad, and we spread it out over a few weekends.
Need a few ideas to get started?
Here are a few things we do to prepare our home and garden for cold months ahead.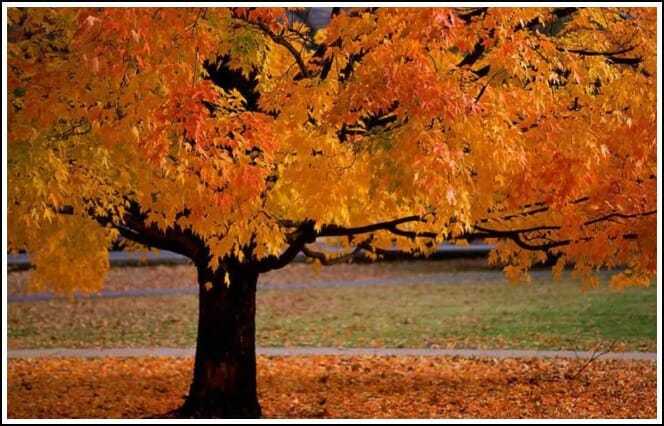 1. Clean up the Yard:
I always do a final weeding, cut down any dying perennials, pull out my annuals, and spread another layer of Preen before it gets too cold. We lower our mowing deck to get the grass nice and short so the morning dew will evaporate faster and the grass won't rot. Our mower also sucks up all our leaves so we usually don't have to rake!

It's also a good time to trim back your shrubs and prune your trees.
2. Clean up your Home Exterior:
Have you checked your gutters lately? We always get a bunch of leaves in our gutters so we try to clean them out each fall.

I also like to quickly sweep off my porch and wash some of my bigger windows before it gets too cold. Even though they will get dirty again, it's nice to let the sun shine in through a few clean windows!
3. Attack the Shed and Garage:
You might be tempted to leave your shed a mess; after all, you won't be using it again until next Spring. However, won't it feel great to walk into a nicely organized shed after a long winter and get right to work?

If your garage is a mess, clean it out now (before it gets too cold) so your vehicles can actually park inside!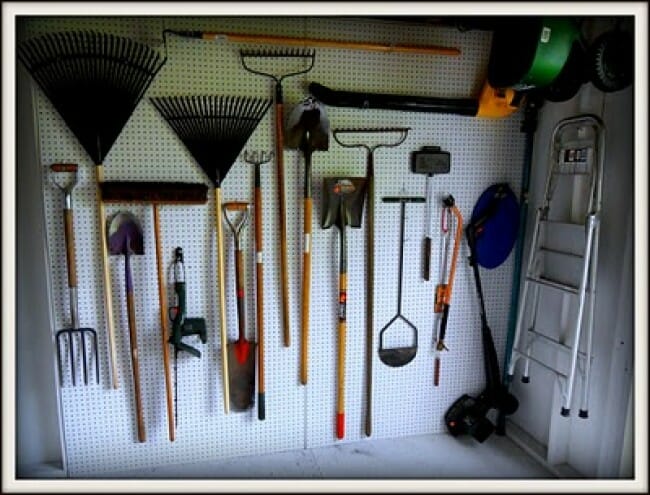 4. Bring it Inside:
Bring in your outdoor furniture, terracotta planters, tomato cages, etc. You don't want your furniture to get all grimy or your favorite pots to freeze and crack.
5. Hibernate your Gardening Tools:
It's a sad day when I put my gardening stuff away, but it has to be done. The fall is a great time to clean, fix, and sharpen yard tools. While your at it, toss the ones you no longer use. Don't forget to drain your garden hoses and bring those into your shed so they don't freeze and split.

Wipe down your lawn mower, sharpen the blades, empty the gas, and change the oil so it's ready to go next spring.
6. Keep the Cool Air Outside:
Check the caulking on your windows and doors and put up some weather stripping or door strips under the outside doors. These little things will help lower your heat bills this winter.
7. Check the Furnace and Filters:
Have you changed the filters in your furnace lately? I remember the first year in our home…neither of us even thought about changing the filter (I don't even think we knew how!) My dad came over and showed us how to do it — let' just say the filter was definitely well used!

If your furnace is older, it might not be a bad idea to have it checked or at least cleaned. It will work more efficiently and keep your heating bills down.
8. Get your Winter Wear Out of Storage.
We limit our clothes to one closet each, but if you have multiple closets, now is a great time to switch out your seasonal clothes and organize your entryway to make room for all your mittens, hats, scarves and jackets…oh and don't forget the boots!

As you go through your winter wear, take the time to donate anything that you don't want, use, need, or love.
9. Put up Exterior Holiday Decor:
There is nothing worse than trying to string lights or put up exterior decorations when it's FREEZING outside (believe me…I've done it!) Pick a sunny fall afternoon and get things set up now. You don't have to turn the lights on…but at least they will be ready to go when they holidays arrive.

Plus, I know I'll have better things to do the day after Thanksgiving (shopping anyone??)
10. What did I Miss?
What do you do to prepare your home for Fall?