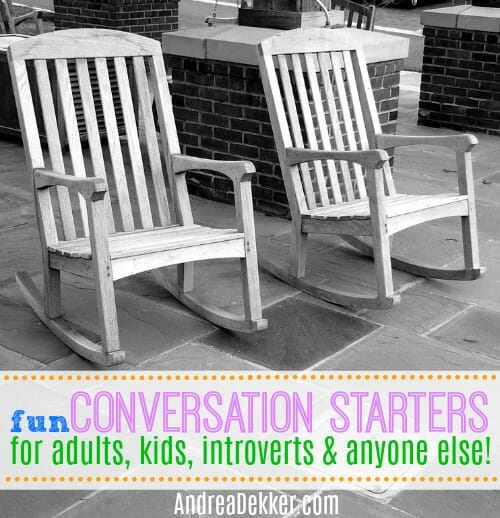 As self-proclaimed introverts, Dave and I are not much for small-talk.
We can manage boring small-talk conversations just fine, and I certainly wouldn't ever consider us to be "socially awkward"; however, with the holiday party season just around the corner, I thought it might be fun to come up with a list of conversation starters for anyone who would rather not discuss the weather or work with every new person they encounter!
This list is in no particular order and certainly is not exhaustive of all options.
I'd LOVE to have you add to my list in the comments below!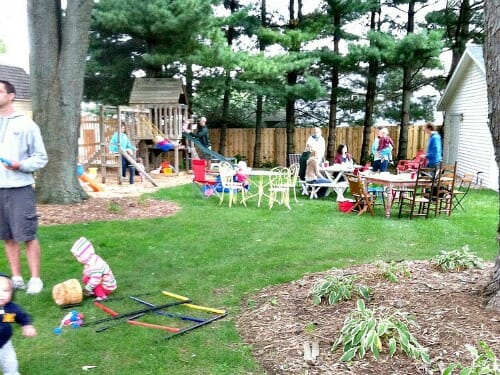 Fun Conversation Starters for Adults:
I love your bag/dress/coat/shoes/accessory! Where did you find it?
What did you order (food/drink)? Have you had it before? If so, what do you like about it so much?
How did you end up here (at the event)? Is it your first time here?
Do you know many people here? If so, how do you know them?
What non-work projects are you involved in right now?
What do you do in your spare time?
Do you have any vacations or weekend trips planned for the next few months?
What are your favorite holiday traditions?
What was your first job? (And then be prepared to share your first job)
What was the first car you drove?
What's something you're really excited about?
What is the best (or worst) vacation you've ever been on?
What's your favorite season?
Are you a night-owl or an early-bird?
What would your "perfect weekend" look like?
What is one food/drink you couldn't live without?
Are you a "book person" or a "movie person"? What is a favorite book/movie you read/watched lately?
What's on your Netflix list right now?
What were you like in high school or college?
How did you meet your spouse / significant other?
What's the most unexpected thing that ever happened to you?
What music do you enjoy listening to?
What's one of your crazy habits?
Do you prefer coffee or tea? What is your favorite drink?
What is your favorite board game / card game?
Fun Conversation Starters Kids:
If you find yourself at the kids' table this year, or if you just need a breather from Crazy Uncle Cal, here are 20 conversations starters for kids!
What was the funniest part of your day?
What is one thing you are REALLY good at?
What new fact did you learn today?
What subject is the hardest and/or easiest for you?
What is the most popular thing to do at recess?
What did you eat for breakfast / lunch / snack today?
What was the silliest thing that happened at church?
Do you know any Bible verses or poems? Can you say them to me?
Did you make a new friend today? What was their name?
If you could create a new planet, what would you name it and what would it be like?
If you could change your name, what would you name yourself? Why?
If you were given a million dollars, what would you buy?
If you could create a new color, what would it look like and what would you name it?
If you could change the rules of the world, what ones would you change? Why?
If you could have dinner (or a playdate) with anyone, who would it be? Why?
What's one place you'd like to travel to one day?
What's your biggest dream you wish could come true?
What's your favorite book / TV show / movie / game?
What's your favorite thing about your house / yard / bedroom / classroom / school / church?
What's your favorite ice cream flavor?
I realize these won't all be applicable to every event, party, outing, meeting, or situation — but hopefully they will be helpful to think through the next time you get caught in the middle of a lengthy conversation about the weather, your work, or worse… politics!
A few more thoughts:
don't ask overly personal questions if you don't know the person well
limit straight "yes" or "no" questions
avoid all questions about money, religion, and politics
make eye contact
don't talk with food in your mouth
don't monopolize the conversation
actually listen to the person's response — that will help you gauge what direction the conversation is headed
always have a reason to excuse yourself from a conversation you want to leave. 🙂
What are YOUR favorite conversation starters?