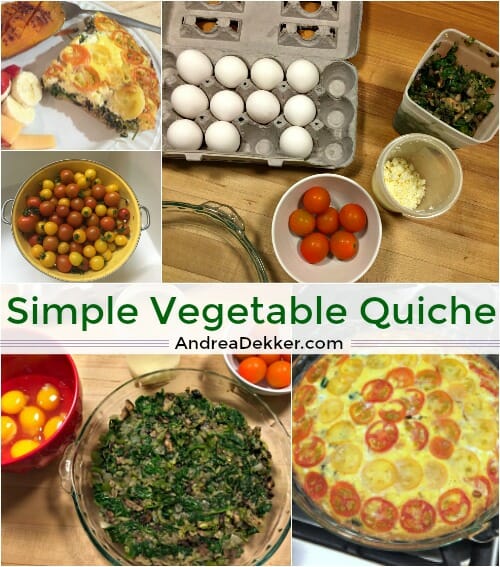 Ever since Dave and I started waking up at 4:00am (about 2 months ago) we have been enjoying much more productivity, and many more delicious homemade breakfasts.
Quiche has been one of my favorite breakfasts to make this fall as it's so easy to just pop in the oven and continue getting ready, doing laundry, or working on a blog post while it bakes. The kids wake up to the yummy smells, and since I often assemble the quiche the night before, we can all enjoy a hot breakfast together with minimal effort on my part.
Our kids all LOOOOOOOOVE eggs — although they prefer ham, sausage, and cheese quiche over this vegetable version! I'll often make 2 pie pans of quiche at the same time — one with meat, potatoes, and cheese, the other with veggies. I serve them both with fresh fruit, toast or muffins (and sweet potatoes for me and Clara!)
We all like leftover quiche as well — so we'll eat the leftovers with pancakes or french toast the next day.
Even though no one in our family is gluten-free or low-carb, this veggie quiche fits the bill for both. The veggies serve as somewhat of a crust, and the tomatoes on top add a fantastic pop of color!
If you're looking for a really yummy way to incorporate lots of veggies into your breakfast, give this Vegetable Quiche a try!
Recipe for Simple Vegetable Quiche
Serves 4-6
INGREDIENTS:
2 T. oil or butter
2 medium zucchini or squash; shredded
1 medium yellow onion; diced
8 oz. mushrooms; diced
2 c. spinach; chopped
salt and pepper to taste
1 t. Italian seasonings (optional — feel free to season veggies however you prefer)
8 large eggs
1/4 c. feta cheese (or more if you prefer)
tomatoes; thinly sliced
DIRECTIONS:
Preheat oven to 375ºF. Spray a 9″ glass pie pan with cooking spray; set aside.
Heat oil in a large frying pan and sauté veggies until soft (I always do this ahead of time). Add salt, pepper, and seasonings part way through cooking.
Place cooked veggies in the bottom of greased pie pan.
In a medium bowl, beat eggs. Pour over veggies.
Sprinkle cheese over egg.
Thinly slice tomatoes and lay over cheese in a decorative pattern.
Bake in preheated oven for 45-60 minutes, or until middle is set.
Let sit for 5-10 minutes before serving.
I've played with the spices and seasonings a bit — but I always come back to Italian seasonings (Basil, Oregano, Garlic, etc.) I just love that combo with the feta cheese and tomatoes.
I'm a big veggie lover (yes, even for breakfast), so I realize this recipe might not be for everyone. However, this quiche has truly been one of my most favorite breakfast dishes since our zucchini and tomato plants started over-producing back in July, so I wanted to share it on the blog!
Even if you don't normally eat vegetables for breakfast, I'd encourage you to give this recipe a try sometime — you might be surprised how tasty it is!
What are your favorite quiche ingredients?
Visit my virtual recipe box for more simple, delicious, family friendly recipes!