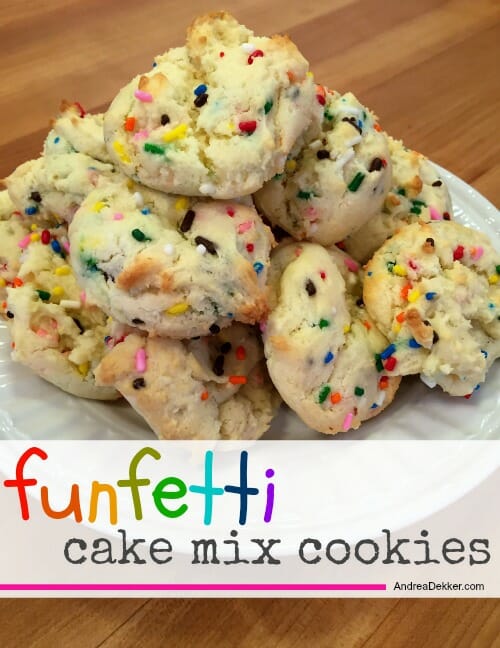 Nora has been begging me to make "sprinkle cookies" for almost a month, but since I've been trying to clean out the freezer for our impending arrival of chicken and beef, we've been eating all the frozen baked goods first.
Now than many of the frozen goodies are gone, we decided it was time for Funfetti Cake Mix Cookies (a.k.a. sprinkle cookies)… and Simon even got in on the fun this time!
Although I still prefer chocolate chips in my cookies, these Funfetti sprinkle cookies are quite delicious for a change. They are SUPER soft and chewy… and in my experience, they are not overly crumbly (always a bonus with kids).
If you're looking for a fun and easy recipe to make with kids, or just a festive spring-colored treat, these cake-mix cookies should do the trick!
Recipe for Funfetti Cake Mix Cookies
makes 2 -3 dozen cookies
INGREDIENTS:
1 boxed cake mix (you can use any type but I used the Funfetti mix for extra color and sprinkles!)
1 tsp. baking powder
2 eggs
1/3 c. vegetable oil
1 tsp. vanilla extract
1/4 c. sprinkles (the soft sprinkles, not the crunchy ones)
DIRECTIONS:
Preheat oven to 350ºF
In a medium bowl, mix all ingredients (except sprinkles) until well combined
Add in sprinkles and stir until just combined
Scoop rounded spoonfuls onto parchment-lined cookie sheets
Bake in preheated oven for 8-10 minutes (they should NOT get brown)
Cool on baking sheets for a few minutes and then cool completely on a wire rack
Store in a tightly sealed container
This dough is quite "firm", so it was difficult for Simon to stir — but he had so much fun shaking his sprinkles that he really didn't care. If you feel the dough is too thick, you can add another tablespoon of oil (or even water) to make it easier to mix.
And, the only reason I suggest waiting to add the sprinkles until the very end is so that the colors from the sprinkles don't "bleed" into the cookie dough.
Also, this basic recipe works with almost any cake mix — simply omit the water called for on the boxed cake mix and add the baking powder (and mix-ins of choice) and you have yummy, soft, chewy cookies!
What are your favorite colorful treats?
Visit my virtual recipe box for more simple, delicious, family friendly recipes!