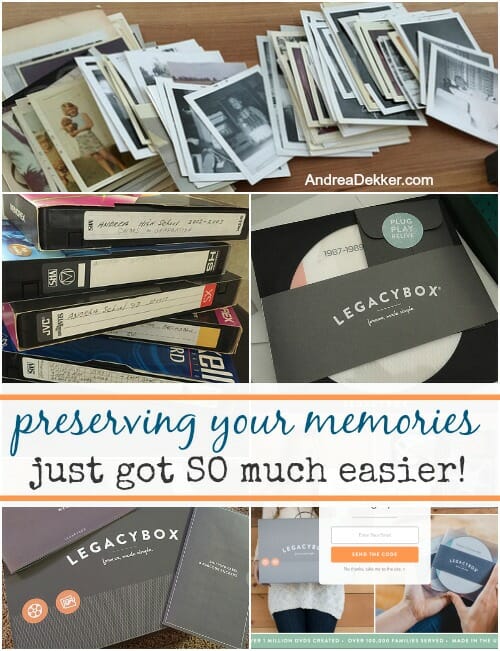 I've never been an overly-sentimental person and I've always hated paper clutter (including photo and memorabilia clutter) so it's probably not a huge surprise that I have digitally preserved all of our old photos and memorabilia in attempts to drastically reduce the amount of extra paper we have laying around our home.
In fact, digitizing all our old photos was one of the first "projects" Dave and I tackled after we were married!
I think we were both totally overwhelmed at the thought of digitizing all our childhood photos from birth through college (when we both got digital cameras), but once we found our groove, we were able to finish in only a few weeks!
Since then, the amount of time, effort, and energy required for me to keep our digital photos organized (and create our digital photo albums) is so small that it has actually turned into a fun hobby for me instead of a daunting to-do that looms overhead until I finally get around to doing it.
So while I can relate to the massive numbers of emails and comments I get from readers who are totally overwhelmed with the thought of digitizing and organizing their photos and other memorabilia, I also know that once it's done… everything is SO much easier!
It's just the "getting it done" part that's the problem!
.
Maybe you don't have a scanner. Maybe you don't have a great computer. Maybe you don't know how to use a scanner. Maybe you just don't have the time or energy to tackle this type of project. Maybe it's just too overwhelming for you to even comprehend right now.
Does this sound like you?
Well… what if I told you there was an easier way?
What if I told you about an amazing company who sends you a "magical box"… and all you have to do is fill that box with all your photos, VHS tapes, 8-tracks, and other outdated forms of media, ship it back to the company, and wait a few weeks for your new, up-to-date, digitally preserved memories to show up at your doorstep…
Would that seem slightly less overwhelming for you?
If so, you're in luck!
Meet Legacybox!
Legacybox is a brand that preserves all of your outdated memories — tapes, film, photos, and audio — converting them into digital files and DVDs.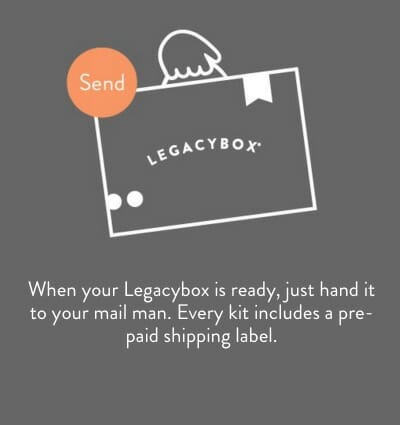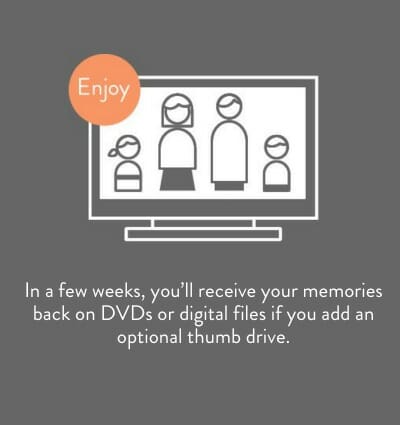 .
Although Dave and I have already digitized all of our photos and memories, we have had the opportunity to work with Legacybox over the past couple of months as we helped my parents digitize many of their favorite memories.
We gave my parents a Legacybox for Christmas, and after helping them sort through photos and gather up a bunch of favorite home videos, they are now enjoying digital versions of all their favorite childhood photos and updated DVD versions of the old VHS tapes my dad recorded of our family vacations, piano recitals, sporting events, holiday parties, and choir concerts!
I know both my parents were completely overwhelmed at the thought of trying to digitize their own memories, so this Christmas gift was a great opportunity for them to quickly and easily update and digitize the majority of their old photos and VHS tapes without much effort on their part.
Nora and Simon have had a blast looking through pictures of Grandma and Grandpa when they were little kids (I saved a copy of the digital photos to my computer too) and watching DVDs of me when I was their age — running down the hallway with my sisters to open presents on Christmas morning, singing in the choirs at school, playing soccer, softball, volleyball, etc.
Of course, it's been really fun for me to watch those home videos with them too (OK, so maybe I'm just a little sentimental!)
Just for fun, I thought I'd share one picture of each of my parents when they were young… do you see any family resemblances in me or in my children? I suppose we'll need to dig up pictures of Dave's parents to see if there is any resemblance there too!
.
How It Works:
When you're ready, Legacybox will send you a crush-proof box along with VERY simple instructions and everything else you need to start preserving your memories.
All you need to do is gather up your memories, place one of the included barcode labels on each piece of media you send in (you can group photos together into groups of 25), and then put all the media inside the box.
The barcode labels assure that all your items are safe and secure throughout the entire process, and frequent email updates allow you to constantly stay "in-the-loop".
Once you attach the included postage-paid shipping label, you hand the box to your mail carrier or bring it to your local post office! That's it!
The hard part (at least for me) is waiting while Legacybox digitizes everything 🙂
Thankfully, Legacybox sends regular emails updating you on the status of your order, informing you of an estimated timeline, and letting you know when your box has been shipped back to you.
And of course, all your original memories are returned, along with the new digital copies — for those of you who ARE sentimental and want to keep all the paper photos!
Ready to Preserve Your Memories?
If you're sick and tired of waiting for "someday" when you'll finally have the time and energy to digitize and preserve your memories, it might be time to order your Legacybox.
For a limited time, YOU can get a whopping 40% off your first Legacybox using the code ANDREA at checkout!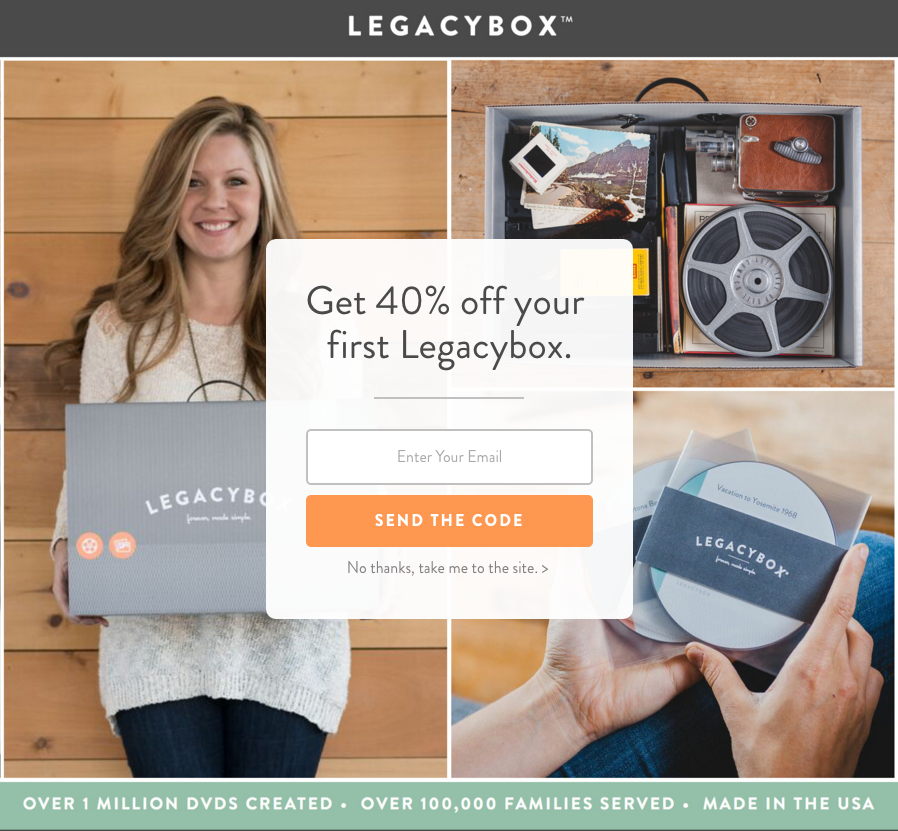 In just a few weeks, you could be enjoying and reliving all your favorite memories over and over again like we have been with my parents and my children!
.
A big thanks to Legacybox for sponsoring this post and making it possible for me to provide all of the content on my blog free of charge! My opinions are 100% my own! Please see my full disclosure policy and contact me with any questions you have.