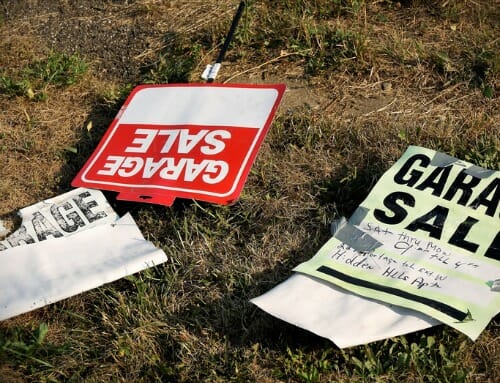 Garage sale season is here!
I'm a big fan of shopping garage sales and have found many fabulous deals over the years… and in my opinion, there are 3 variables that can make or break your garage sales.
None of these things are difficult to do, but they will make a difference in your bottom line — I guarantee it!
1. Have LOTS of items to sell.
Fill your garage and your driveway with items to sell… and put some of the bigger items out by the road to draw people in. If it looks like you only have 1 or 2 tables of things in your garage, I'll keep driving.
If you can't come up with enough items to sell, consider joining forces with friends, relatives, or neighbors to offer a larger selection.
2. Set reasonable prices.
Even if your items are in perfect condition — and even if they have the original tags/warranty/receipts/ etc., they are still at a garage sale… and the prices must reflect that.
If you're not sure what a reasonable price is, I'd suggest looking for similar items on Craigslist and then setting your price lower than that (you can usually get more for an item on Craigslist than at a garage sale).
When in doubt, lower your price. If you truly don't want the item anymore, it's better to get a few dollars for it now than to hold onto it for another year. You might also consider offering a 50% discount the last day of the sale — just to clear things out.
3. Get the word out.
Craigslist is my personal preference for free advertising. Post an ad (with photos) the day before your sale and then again during your sale. Post clear directions to the sale, the hours of the sale, and list of general categories of items that will be at the sale.
Put signs out on main streets near your home and then clearly mark your home with balloons on the mailbox or a large sign in the front yard — there is nothing more annoying to me than not being able to find the right home!
If you're planning a garage sale for this Spring, Summer, or Fall, keep these tips in mind. You might also want to read this post about Gearing up for Garage Sale Season… and this post about Using Craigslist Effectively.
Are you a veteran garage sale seller? What are your best tips?