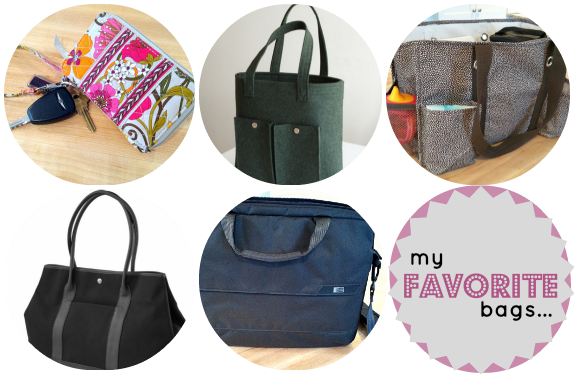 As a work-from-home mom, I wear a lot of different "hats" every single day. I might get groceries or stop by a neighbors house for a playdate in the morning, head to a coffee shop to work while the babysitter is around in the afternoon, and then run a few more errands before a meeting at church in the evening.
I'm certain most of you can relate 🙂
Over the past several months — basically since my "mom hat" unearthed itself — I've noticed that each of my different hats apparently requires a different bag.
Yes, I pride myself on simplicity, but I'm also a huge fan of efficiency, organization… and cute handbags! And I've found that by having different bags packed and ready to go for all the different things I do each day, I save myself a whole bunch of time, energy, and stress — and I rarely forget anything (which is a huge accomplishment for me).
So while some of you might be thinking, "it would be a lot easier just to have one bag," I personally have found that in my own life multiple bags is the key to successfully wearing multiple hats.
If you're wondering what some of my favorite bags are — keep reading!
DISCLOSURE: This post is NOT sponsored in any way — if you see me in person, I WILL be carrying one of these bags! However some of the links below are affiliate links — which means I may get a VERY small percentage of the sale if you make a purchase through my links. However, I hope you know that I'm only promoting the bags below because I use them EVERY SINGLE DAY! Read my full disclosure policy for more information.
My Wristlet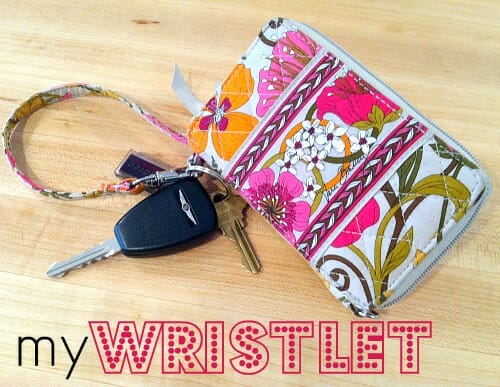 I'm not sure if this really counts as a "bag" since it actually serves as my wallet — but you will rarely see me outside my house without my wristlet. My Vera Bradley All-In-One Wristlet allows me to carry all my essentials on my wrist — cash, credit card, drivers license, business cards, gum, chapstick, a pen, and keys.
And while there are times when I just leave the house with my wristlet (like if I'm taking Nora for a walk, running a quick errand, etc.) I usually toss my wristlet into one of the bags below…
My Every Day Bag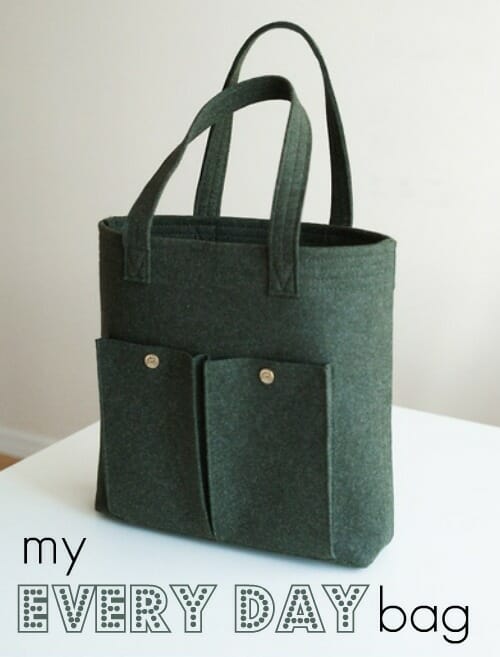 This is the bag I take with me MOST of the time — at the grocery store, to the bank, to a basketball game, to the mall, etc. It has plenty of room for baby essentials (a few diapers, wipes, and snacks) as well as my wristlet, water bottle, sunglasses, etc.
It's the Invite.L Felt Shopper bag. I've been using it for almost a year now and have no complaints. (Their website is kind of difficult to navigate, but you can purchase the bag through this link.)
The smaller bags I keep inside my every day bag are Nesting Pouches from Better Life Bag. They are awesome for all sorts of stuff — you can read more about how I use them in this post.
I'm currently using the larger pouch to hold diapers and wipes and the smaller pouch to hold snacks. Everything (including my wristlet and water bottle) fits so nicely into my everyday bag — and I love that this bag is a "normal" size. I have the essentials, but nothing more,so I don't feel like I'm constantly lugging a toddler and a suitcase around town with me!
Plus, it looks really nice with almost every color… and it works well for every season (at least in my non-fashionista opinion).
My Diaper Bag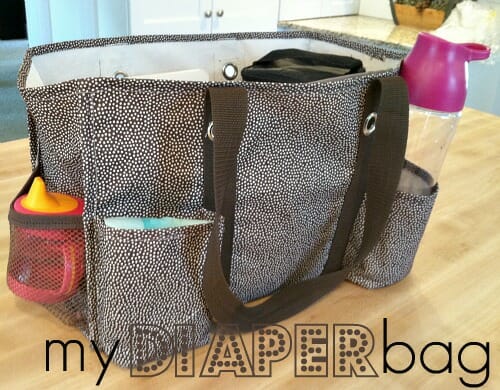 My diaper bag is a Thirty-One Organizing Utility Tote and it was given to me almost two years ago as a baby gift from my cousin. Although it's not specifically a diaper bag, I thought it would work well — and I'm extremely happy with how is has held up over the last several months.
There is literally a pocket for EVERYTHING — and I use this bag for times when we'll be away from home all day or traveling longer distances with Nora.
You can read more about how I organize our diaper bag in this post — but you can also see via the pictures below that it holds a lot of stuff.
I always keep the changing pad in our diaper bag, along with the matching zippered pouch filled with diapers and wipes, a small cooler (the black bag), medicine, a sippy cup, books, snacks, etc.
Then when it's time to leave, I throw in an extra change of clothes, a few toys, my wristlet, my water bottle, and maybe a DVD if we'll be in the car for a while.
I know that everything is packed and ready to go at a moments notice (like when we're running late and rushing to get out the door). I've also gotten in a really good habit of unloading and restocking the diaper bag whenever we get home again, so I never feel like I'm going to forget something. That's a good feeling!
My Work Bag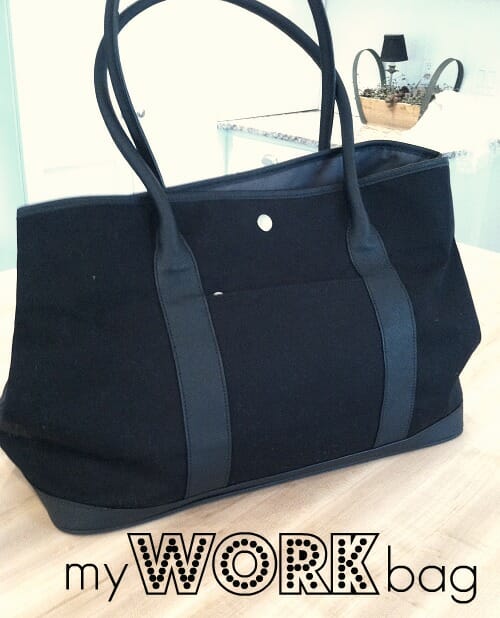 On the rare occasions when I can completely remove my mom hat (is that ever truly possible?) I use my snazzy grown-up looking "work bag". It's the Small Tote from the newish line of Martha Stewart products at Staples, and I recently got it as a gift.
It's black, so it looks good with everything — and even though it's called the "small tote" it's actually quite large. My work bag can easily accommodate my laptop, leather notebook, iPad, planner, wristlet, water bottle, sticky notes, charging cords, and a lot more.
There are lots of smaller pockets on the inside — including a sleeve that fits a 10″ tablet perfectly and an exterior pocket that's just the right size for most smart phones.
This bag is actually large enough to serve as a diaper bag… but not in my house 🙂
It's my work bag, and it's reserved for grown-up outings like coffee shops with free wifi, meetings with blogging friends, and anything else business related.
My Laptop Bag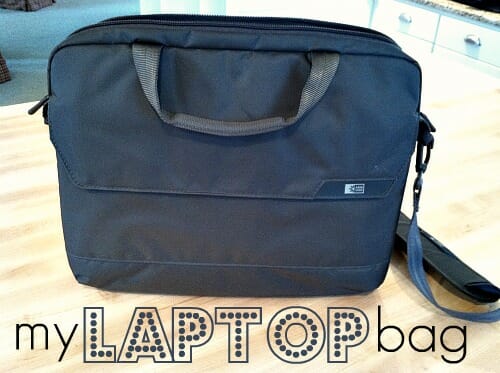 Since I do have a handful of male readers (who have probably all clicked away by now), I thought I would share my very gender-neutral laptop bag.
I've tried many different laptop bags and cases in the past — and this bag by Case Logic is hands-down my all-time favorite FAVORITE laptop bag. And yes, Dave likes it too!
It's slim, but still has lots of storage. It's nicely padded, but not overly huge. It has a fully adjustable (and removable) shoulder strap plus additional handles. It also has a felt padded pocket specifically for the iPad, and padded exterior zipped pocket for an iPhone.
You might be wondering why I would need both a work bag and a laptop bag… right? I use the laptop case as more protection when I'm traveling or when I JUST need to take my computer/iPad somewhere and don't necessarily need anything else. Sometimes I even put my laptop case IN my work bag so my laptop is still protected but I only need to carry one bag.
Plus, since we have more than one laptop in our home, it's nice to have more than one bag to transport those laptops.
So that's it (I think!)
I honestly do use each one of these bags on a weekly (sometimes daily) basis. And while it might seem a little crazy for a person who preaches "simplicity" to have so many bags, I truly feel that each bag serves a separate and very distinct purpose.
These bags help me to be more organized and more productive as I wear so many different "hats" each day — plus, they're cute!
What are some of your favorite bags?