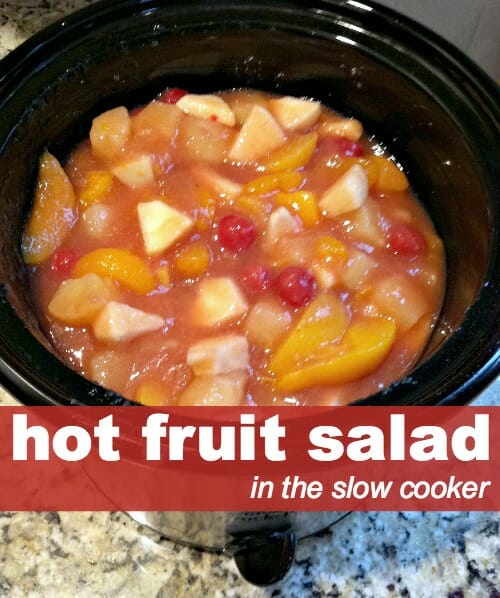 This recipe is one of my ALL-TIME favorite fruit salads — especially during the cold winter months.
And while I realize a "hot" fruit salad might not sound quite as appetizing as a "fresh" fruit salad, let me assure you, it's so delicious, you won't be able to stop eating it!
It's fabulous with breakfast, lunch, or dinner… and I regularly eat the leftovers cold as a mid-morning snack.
Plus, since it uses mostly non-perishable canned fruits, you can keep the ingredients in the pantry and make it whenever you want.
This recipe can simmer in a slow cooker for several hours, so it's often my go-to recipe when I'm asked to bring a dish for a church potluck, family gathering, holiday party, etc. It's so forgiving, and honestly, who doesn't like fruit!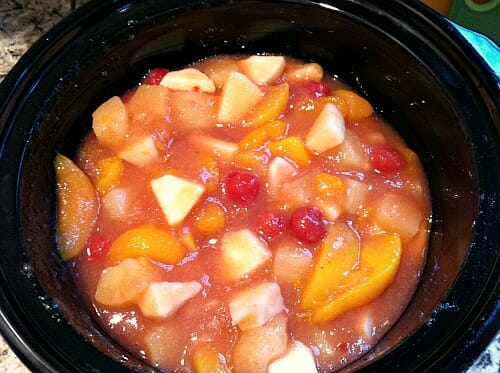 Recipe for Hot Fruit Salad
Makes about 15 servings (enough to fill my 5 qt slow cooker).
To print this recipe, simply click the "Clean Print" button at the top of this post.
INGREDIENTS:
1 20 oz. can pineapple chunks; drained
1 16 oz. can mandarine oranges; drained
1 16 oz. can sliced or chopped peaches; drained
1 16 oz. can sliced or chopped pears; drained
1 16 oz. can apricot halves; drained and chopped
1 large apple; peeled, cored, and chunked
1 20 oz. can cherry pie filling
1 20 oz. jar applesauce
1/4 c. brown sugar
2 t. cinnamon
As I mentioned above, this recipe is SO forgiving so just use whatever canned fruit you have in the house. I've already used 2 or 3 cans of peaches when I didn't have pears or apricots in the house; I've also added 1 or 2 sliced bananas for a little different flavor.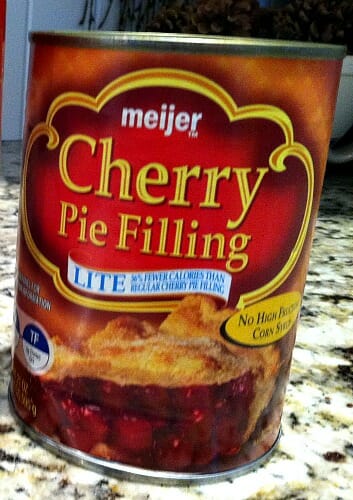 The key is to add the cherry pie filling as that is kind of the "glue" that holds everything together… so don't skip that ingredient 🙂
DIRECTIONS:
1. Dump all fruit in a slow cooker
2. Sprinkle brown sugar and cinnamon on top
3. Mix well
4. Turn slow cooker on low and cook until warm (about 3 hours, but you could let it sit longer if necessary)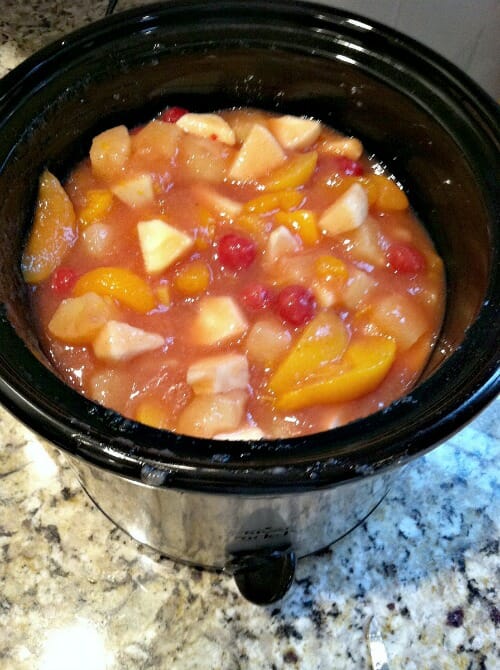 I think it would be impossible to mess up this recipe — in fact, you could even do this in the microwave or on the stovetop if you were short on time (just make sure you stir it regularly)
Serving Suggestions:
We eat this as a side dish with breakfast, lunch, or dinner (like you would serve a regular fruit salad as a side dish). I usually serve it in a small bowl so it doesn't run all over the plate. You can refrigerate any leftovers and eat them cold or warm them up in the microwave.
So the next time canned fruit is on sale, stock up and make a batch (or two) of this yummy hot fruit salad!
Have you ever made a fruit salad in your slow cooker?
Visit my virtual recipe box for more simple, delicious, family friendly, recipes!