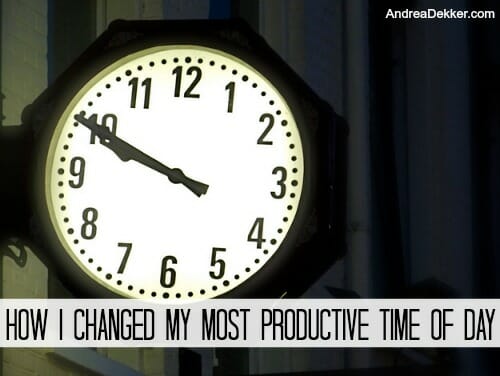 Over the past 12 months, I've been on a mission to change my most productive time of day from the early morning hours to later in the evening (keep reading to learn why.)
For those of you who are night owls, this concept might seem ridiculous. However, for those of you who (like me) are early birds, you understand all too well the difficulty of accomplishing anything productive after 9:00pm.
Dave and I are both early birds. We prefer to go to bed early, wake up early, and do most of our focus work in the wee hours of the morning.
For the first 5 1/2 years of our marriage, our perfectly productive schedule included going to bed by 10:00pm, waking up (often without an alarm) by 6:00am, and accomplishing more before noon than most people would in an entire day. This left us with several blissful evening hours available to work on house projects, yard projects, volunteer for local groups/organizations, and (gasp) just sit and relax.
Then we had a baby!
But not just any baby — a baby who refused to sleep. EVER.
Obviously we knew things would change with a baby around, but our naive pre-baby productive selves had absolutely NO idea just how humongous those changes would be.
For a long time (probably too long) I desperately tried to retain some shred of my old productive self. However, after months of little to no sleep, it was virtually impossible to continue waking up at 6:00am every morning.
Even if I did force myself to get up at 6:00, I wasn't nearly as productive because I was just SO tired.
I finally decided that if I was going to continue doing the job I loved, taking care of Nora, and staying sane in the process, I would have to change my most productive hours from the morning to the evening. I wasn't super optimistic that I could change, but I figured I had to give it a try.
So as I mentioned above, for the past year, I've consciously focused on changing my most productive time of day — and I'm happy to share that it worked!
I no longer think twice about staying up until 11:30 or midnight to finish my work… and I'm sleeping in as long as Nora lets me each morning. My days are less stressful, I'm happier, and I'm still ALMOST as productive as I was before Nora 🙂
Obviously, I'm not implying that it's better or worse to be more productive during the morning or evening hours — do whatever works for you! However, I do think it's interesting that I was actually able to change my most time of day, and I figured some of you might benefit from this idea too.
Here are 4 simple steps that helped me change my most productive time of day and LEARN be more productive at night.
1. I forced myself to stay in bed.
I've never enjoyed sleeping in. Ever. I absolutely hated middle school sleepovers because I was up at the crack of dawn while everyone else slept until noon. I woke up at 6:00am without an alarm every day for high school. And I was one of those weird college students who requested all 8:00am classes.
I know. Crazy! So you can probably imagine how difficult it was for me to learn to sleep in.
In fact, I could NOT sleep in. Even though my body was so tired, my brain was still waking up every day at 6:00. I figured that since I was awake, I might as well get up and get going — but after a while, I realized that wasn't such a good plan. I was basically exhausted all day long and didn't accomplish anything at night either because I was just too tired.
So even though it took a LONG time before I was actually able to sleep in, I forced myself to stay in bed, laying down, with my eyes closed until Nora woke up. Now I can easily stay sleeping until 7:00, 7:30, and even 8:00!
Nora often wakes up by 7:00, but there are some days where she sleeps until 8:30 — which means I also sleep until 8:30!
2. I changed the way I write my to-do lists.
I used to write all my focused tasks at the beginning of my to-do list so I could tackle them all first-thing in the morning. Then, after my focused tasks were finished, I would spend the rest of the day working on house projects, yard projects, running errands, cooking, baking, etc.
Now, I'm doing just the opposite — and it's working marvelously!
For example, after we wake up, I'll quickly start a load of laundry, clean out the dishwasher, and check my email while Nora watches an episode of Curious George. Then we'll go to the grocery store or run another errand. She has fun waving at everyone in the aisles of the store, "flirting" with the cashier, and riding in the car.
Then we'll play outside for a bit (I might pull a few weeds while playing), eat lunch, and take a walk. Since we can walk to many different places I need to go anyway, we might walk to the bank one day, the library another day, and hardware store a different day — which means I'm able to get a few things done while Nora enjoys lovely stroller rides, fresh air, and pointing out EVERY SINGLE car that passes us 😉
Obviously I don't spend all day working. We still have plenty of time to swing, blow bubbles, and read books. However, Nora is old enough that she can sometimes entertain herself for small amounts of time — which gives me short windows of opportunities to cross smaller tasks off my list. Glorious!
Then, once Dave gets home, I can do more of my focused work without constantly being interrupted.
3. I started taking a shower in the early evening.
I realize this might sound like more crazy talk, but honestly… it works!
I'll often take a shower soon after dinner (if we're not planning on doing more yard work at night), change into comfy clothes, and prepare to be productive. I suppose it's like anyone else who showers in the morning before work — it wakes me up, gives me a bit more energy, and gives me a chance to clear my head from everything else that has been going on during the day.
Plus, if the opportunity does arise where I can go to be early, I'm all ready.
4. I limited evening and weekend activities.
For the past year, Dave and I have both been pretty ruthless about keeping our nights and weekends free — partially because these are the times when I can actually get stuff done, but also because if we we're gone nights and weekends, we would NEVER see each other!
We have done more than our share of volunteer and committee work over the years, and I'm certain we will do more again in the future, but for right now, we're saying 'no' and letting other take their turn. Dave coached basketball and I'm on a 2 committees at church, but that's it. Other than that, we stay home as much as possible.
Obviously, we are not at the stage of life where soccer, t-ball, piano lessons, and youth group consume our nights and weekends — soon enough though 🙂 For now, we're enjoying our (somewhat) quiet nights and weekends at home — as well as the productive hours they offer.
When I look back over the past year, I can honestly say that these 4 changes have helped me to successfully learn to be more productive at night — and I did have to learn!
It wasn't easy, and there are still days when I wish I could wake up at 6am without an alarm. But for now, my lazy mornings and ultra-productive evenings are working well.
I still laugh every time a friend or family member calls me around 9:30pm asking if it's too late to call or if we're already in bed — little do they know, I'm in the middle of my work "day"!
Have you ever tried to change your most productive hours? How did it go for you?