I've mentioned before that I enjoy sending out Christmas cards each year — and I really do. I love finding the perfect picture, deciding what I want the card to say, including a brief yearly update, stuffing, stamping, hand-addressing them, etc. I thoroughly enjoy getting Christmas cards (or any type of card) in the mail and I love sending them too.
Obviously, thanks to email, scanners, and Facebook, I rarely need to send any snail mail these days — however along with my love for sending Christmas cards to friends and family, I also get way too excited about sending thank-you cards and birth announcements.
I love coming up with ideas for the cards, writing the notes, addressing the envelopes, and mailing them out.
The only thing I don't love about them is the price. It's ridiculous how much custom stationery can cost — even with a discount code or coupon. Plus, I've never been 100% satisfied with the un-customizable layouts. And of course, if you pay someone else to design the card for you, that's just another added expense.
So when Nora was born, I set out to design my own stationery — and much to my surprise, it was actually pretty simple. So simple that I've done it many times since then and saved myself a bunch of money in the process.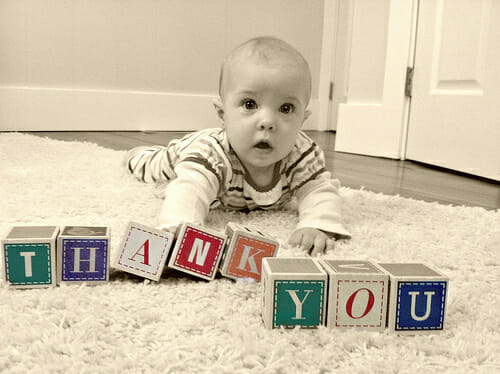 Here's how I did it.
I decided on the picture I wanted to use (vertical or horizontal) and then went to VistaPrint.com to check out the sizes they offer.
NOTE: This is not a sponsored post — I've just found that VistaPrint is one of the only places that allows me to upload my own fully customized design. Plus, they always have really great discount coupon codes!
Even though I upload my own design, I still have to start by choosing a specific type of stationery.
I chose "Birth Announcements" as that's what I was making, but you can obviously choose any type of stationery you want. It really doesn't matter since you'll be uploading your own complete design.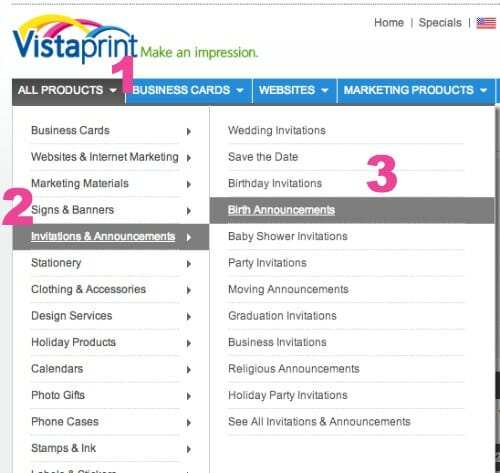 Once you choose a type of stationery (baby, wedding, holiday, etc) then you'll choose the size. I chose a 5″ x 7″ flat vertical card.
Then, you'll see the option to "upload a complete design". This is what you want to click on.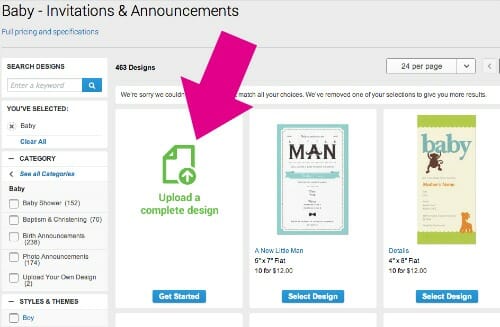 After that, you'll see the screen below — which gives you the option to "Download the Template for that design". This step is not 100% necessary, but it will make your design time go a little faster.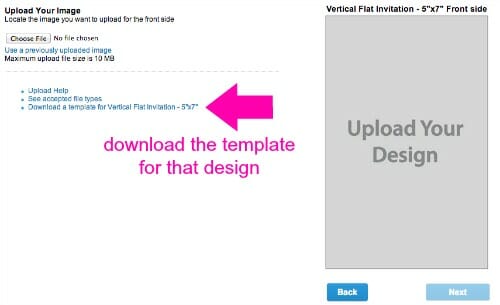 Once you have your template and know exactly what size you need to make your uploadable image, then you can go to your favorite photo editing program and get creative.
I use PicMonkey.com — simply because it's what I use to edit all the photos for my blog, it's free, and it's REALLY simple.
I've been using PicMonkey for a long time so I'm very comfortable playing around with it and have learned a lot about how to use their tools. It didn't take me long to come up with the following design for our baby announcement
Here's the front: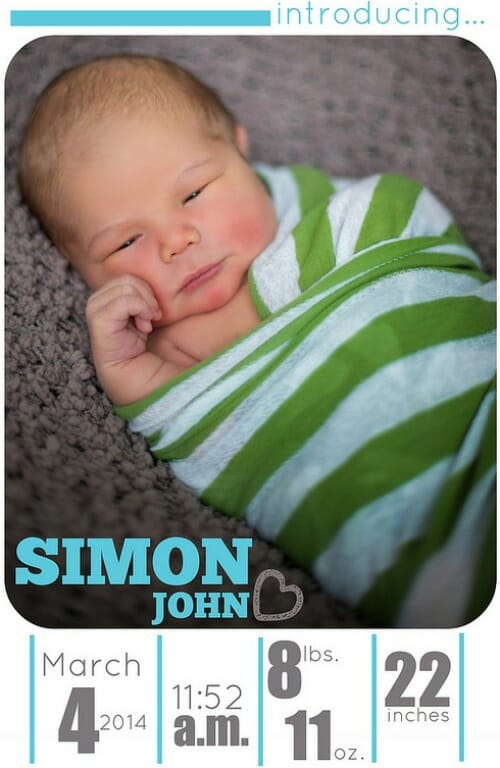 Here's the back: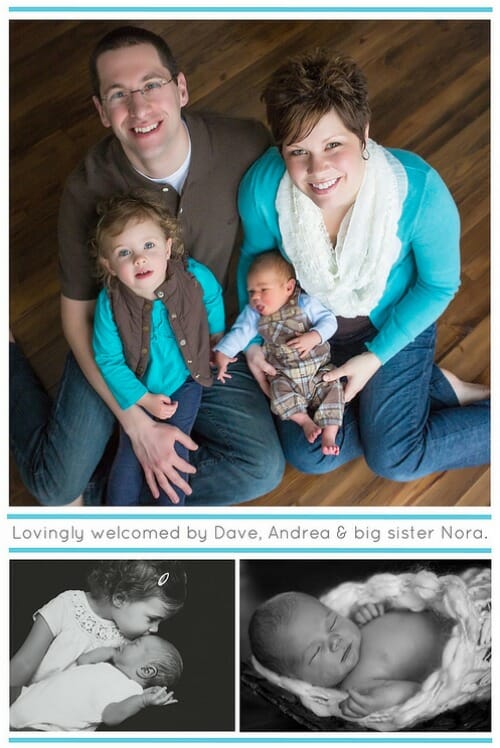 If you can't come up with a design idea, just go to Pinterest and search for whatever type of card you're trying to create. I'm certain you'll find HUNDREDS of ideas!
.
Once I had the card front and back created, I simply uploaded them into my blank card via the VistaPrint website and then added that item to my cart.
Since VistaPrint is always offering deals, I was able to get 80 birth announcements (full color on the front and back) with envelopes and shipping for right around $30 — which is probably 1/4th to 1/5th the cost of ordering custom birth announcements! Plus, I made them to my exact specifications!!
While I was at it, I went ahead and ordered some really basic thank-you notes.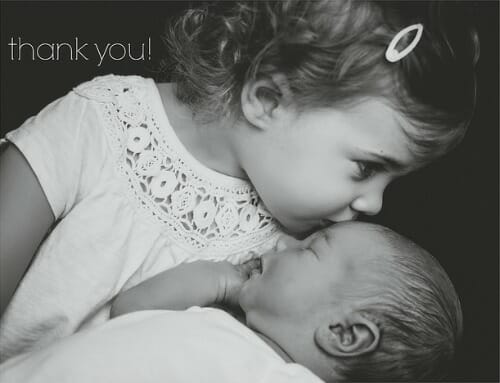 These cards literally took me less than 10 minutes to create — I just uploaded that picture and typed the words "Thank You" on it. I ordered these only one week after Simon's birth so I could use them for all the generous gifts and delicious meals we received.
I spent $15 total for 40 cards and envelopes. I honestly think it might have cost me more to buy packages of Thank You notes from Target!
So, if you're looking for inexpensive yet totally customized stationery for pretty much any occasion, consider designing it yourself and printing it through an inexpensive printer like VistaPrint.com
Do you have any other tips for frugal and personalized stationery?