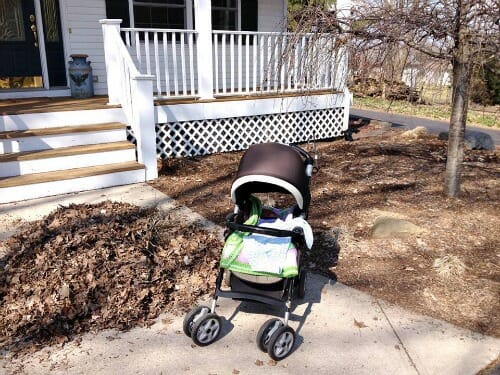 As some of you might remember, Dave and I spent a lot of time outside last summer — and not for relaxation purposes 🙂
On and off from May through August, we had various yard projects going on around our house.
We had 17 trees removed (two of which were massive beasts) and the stumps ground out
We removed thousands of pounds of dirt, stones, rocks, and other yard waste from our property
We dug up a huge (and very awkward) cement pad that was right in the middle of our back yard
We put up over 300 feet of wooden privacy fencing
We fixed and rearranged parts of our underground sprinkling system
We created a really fun play area for Nora — complete with swing set, trampoline, and kiddie pool
We planted hundreds of new bushes, perennials, and tree throughout our property
We spread over 25 yards of mulch
We revived our lawn and FINALLY figured out how to get rid of all the weeds and dead patches (this was honestly one of my favorite accomplishment of the summer!)
Here are two of my favorite before and after photos from our work last year…
BEFORE:
AFTER:
BEFORE:
AFTER:
.
Our 2014 Yard Project List:
You can read more about last year's projects in this post (there are also a bunch of before/after pictures in that post) but make sure you come back… because we have a BUNCH more landscaping projects to tackle this summer!
Here's a list of what we've already accomplished this year (most of it was done when Dave was home over spring break).
We had 7 more trees cut down and the stumps ground out
We cut back all our perennials, pruned our shrubs, and trimmed several other trees
We raked out all our planting beds and "cleaned up" the yard from any remaining leaves, branches, etc.
We filled a 10-yard dumpster to the brim with all our "spring clean-up" yard waste!
We spread the first application of fertilizer on our lawn
We spread Preen on all our flower beds
We spread another 8 yards of wood chips to "top dress" all our beds.
We changed the oil and oil filters in our mower and other yard equipment
We cleaned out our supplies from last year and stocked up on any other fertilizers and other yard products we'll need to maintain the yard this season.
I was absolutely thrilled with everything we were able to accomplish so far — especially with the cold snowy weather we've had. However, we still have a lot of landscape projects we HOPE to accomplish before school starts up again in the Fall.
Dig up our mailbox post and replace it with something new (it got smashed by a snowplow this winter)
Landscape a larger area around the mailbox
Landscape the area in the middle of our turnaround driveway (we had the huge dying maple tree cut down and now need to do something in that area)
Landscape the area in front of the fence we built last year
Put up about 150 feet of fencing on the driveway side of our property (this is why we had to get a bunch of trees cut down this year)
Landscape the areas on both sides of the driveway going back towards our garage (see diagram below)
Build one or two smaller raised beds and then plant a small vegetable garden
Extend the deck on the back of our house so we can actually use it (it's currently only 8′ x 10′ and we would hopefully be able to extend it to 14′ x 20′)
Enclose the current breezeway between our house and garage and turn it into a MASSIVE mudroom (this is not 100% for sure yet, but my fingers are definitely crossed that it will work out for this year!!)
The blue areas in the picture below are the areas we're hoping to relandscape this year…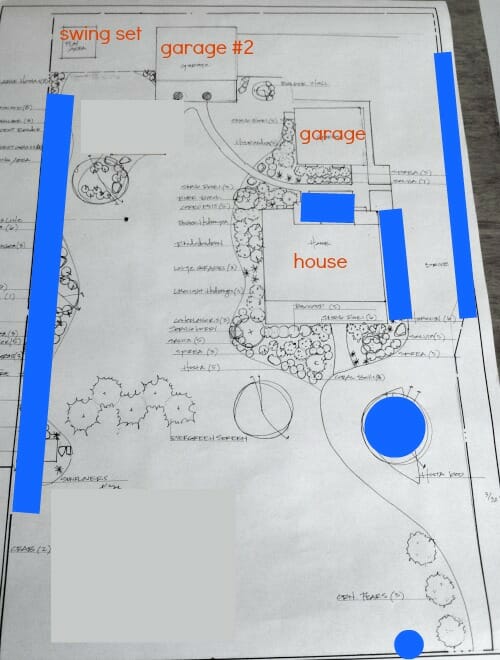 So we definitely have our work cut out for us — but since we'll have help with some of these projects (like the deck and the potential mudroom) it's really not as bad as it sounds.
I do realize that we'll have two kiddos to manage this summer — one of which is a still super tiny — so that will definitely slow us down a bit. However, I'd rather "dream big" and fall a little short!
Yard projects aren't always the easiest to document, but I'll continue sharing more updates and photos as we knock projects off our list — and I'm sure they'll be one big update at the end of the summer, just like I did last year.
Yay for spring finally arriving in West Michigan!