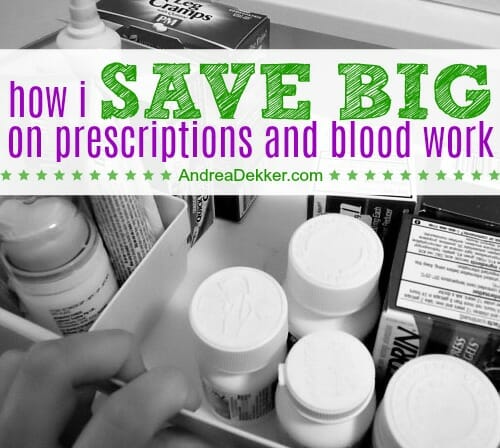 This post is NOT sponsored. As always, all opinions are my own!
Over the course of our married life, Dave and I have been blessed with very good health. We've hardly ever been sick, we usually only visit the doctor for routine checkups, and we've hardly had to fill any prescriptions or pay for any medically-related expenses.
This past summer, however, we had to fill several prescriptions for various ailments and random issues:
Swimmers ear for Nora
Double ear infection for Simon
Weird rash cream for James
Steroid pills for Dave's horrible Poison Ivy
Prescription-strength anti-itch cream for my slightly less horrible Poison Ivy
Generic brand pills for a Thyroid issue
I felt like every week we had a new prescription to fill — and I was SHOCKED by the prices of our local Meijer pharmacy.
Apparently, prescription drug prices are not regulated, so the cost of a prescription could differ by more than $100 between pharmacies!
To make matters worse, over the past 10 years, insurance companies have passed 25-80% more of the cost of drugs onto patients — resulting in more out-of-pocket expenses for me and for you!
Not cool!
.
How I Save on Prescriptions:
I asked one of my doctors to confirm we were getting the generic brands of all our prescriptions — which is when he told me about GoodRx.com as a way to save an INSANE amount of money on prescriptions with almost zero additional effort!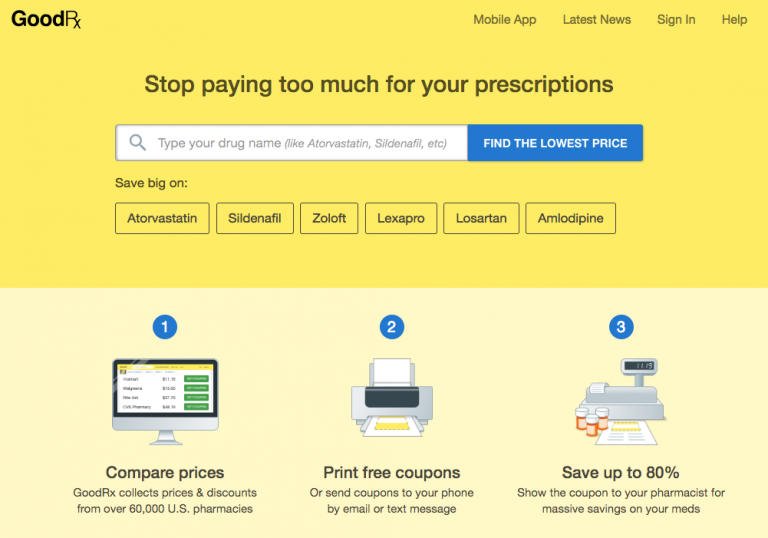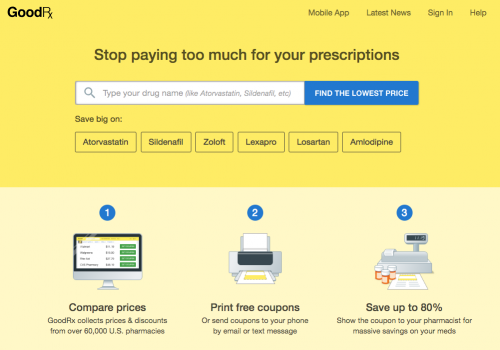 What is Good Rx?
GoodRx.com is a website that gathers current prices and discounts to help you find the lowest cost pharmacy for your prescriptions. GoodRx is 100% free. No personal information required.
I've used GoodRx.com a few times now… and saved roughly 75% on each prescription. The only "cost" to me was the fact that I had to drive to a different location than I normally would to pick up the prescription — but it was still local, and definitely worth the savings for me!
Here's a real-life screenshot of the difference in prices for one of our prescriptions.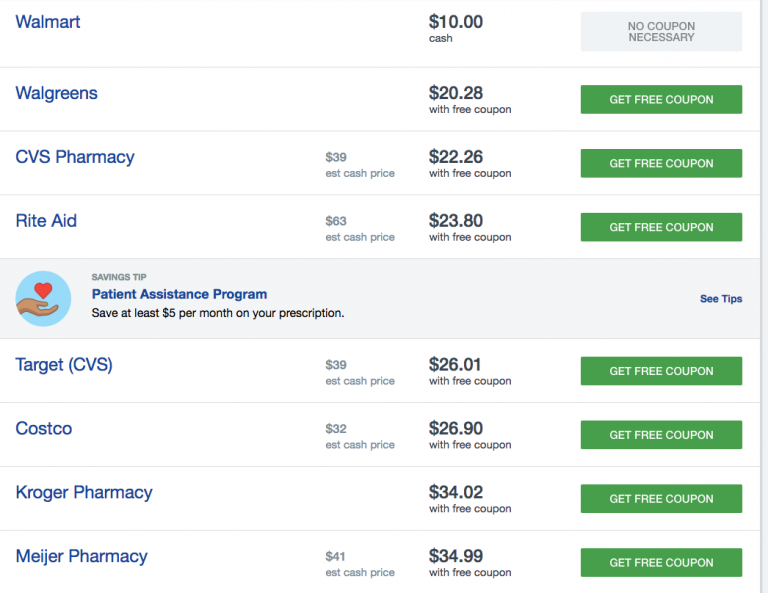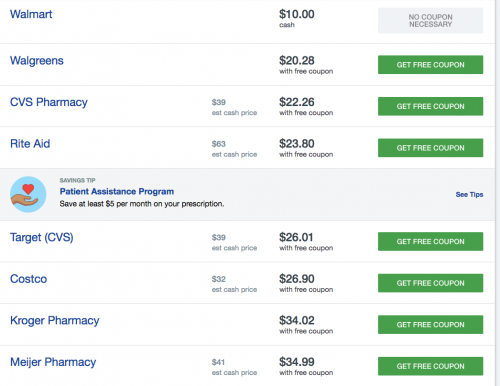 If you don't have the time or desire to "shop around" for different prices on your prescriptions, I would highly recommend using GoodRx to search for the best deal.
Also, one other money-saving tip my Doctor recommended is to ask your doctor for double-dosage pills and then cut them in half. For example, if you need 75mcg per day, have your doctor prescribe 150 mcg pills and cut the pills in half each day. Your price will not be doubled, so you'll get more bang for your buck.
.
How I Save on Blood Work:
Throughout my 4 pregnancies, I had to have periodic blood work done — and to save time, I always just had it done in the lab of my OBGYN… forking out an arm and a leg every time I got the bill.
When I was pregnant with James, I finally learned about Quest Diagnostics, a fantastic way to save BIG BUCKS on almost any type of blood work.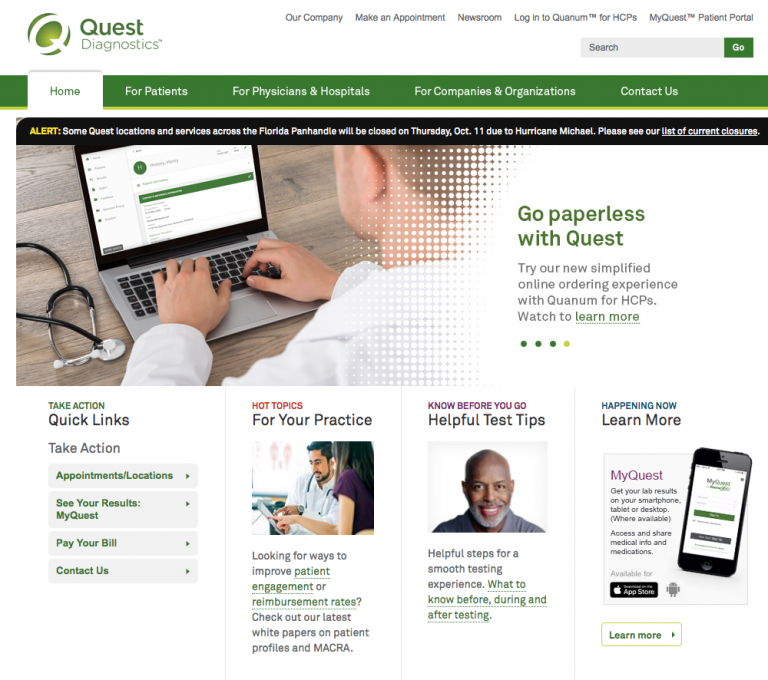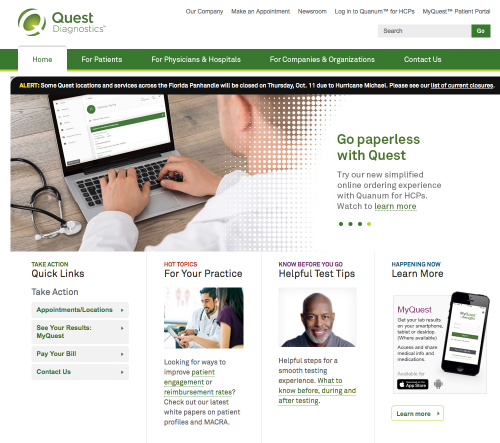 For reference, I was paying well over $100 out of pocket for blood work done through my OBGYN. However, when I switched to Quest Diagnostics, I paid rough $16 — and a few times there was no payment at all!
Another huge benefit of using Quest Diagnostics is that I can quickly and easily make my appointment online, and they open at 6:00am, which means I can get my blood drawn and be home again before 6:30 when Dave needs to leave for school!
I've had nothing but fantastic experiences with the staff at our local Quest Diagnostics office, and I will most likely never get my blood work done anywhere else.
.
As always, please consult your own doctor with any medical questions — but also make sure you ask them about GoodRx and Quest Diagnostics the next time you need to fill a prescription or get blood work done.
Dave and I have saved a BUNCH of money over the years, and I have a feeling you could too!