About 18 months ago, I posted pictures of our soon-to-be-baby's closet… and all the cute baby girl clothes inside. It was neat, organized, and everything was in its place — obviously, because there was no one to wear the clothing or mess anything up yet!
Now that Nora is officially 15 months old, I'm happy to say that although it took a bit of time to figure out a "system" that worked, Nora's clothes are still relatively organized.
It's not a fancy system — just a small closet, a dresser, and a few inexpensive organizing tools — but it works for us (at least for now!)
The Dresser:
I found this dresser on Craigslist for $40 — delivered to our home!
I painted it red and distressed it with white paint and some sanding… I just LOVE how it looks in Nora's room. Not only has it served as our changing table for the past 15 months, it also has TONS of storage! Oh, and here's a link to the simple DIY Photo Collage above her dresser.
TOP DRAWERS = Diapers + Miscellaneous
I keep the left drawer stocked with diapers and use the right drawer for hair accessories, lotion, diaper rash cream, other toiletries, and some medicine. There are also a few "toys" to keep Nora occupied and less squirmy while we change her diaper!
SECOND DRAWER = Pants + PJ's
I keep fleece pj's on the right, and the pants folded and organized on the left. I use clear plastic drawer organizers that are actually for adult socks.
This method is the same method I use to fold Dave and my t-shirts, because it allows us to see each pair of pants (or each t-shirt), the different color options, etc.
Here's a side view of how the pants are folded (in thirds).
I realize that most infant and toddler outfits come in "sets" with pants and a shirt, but I've found that I get SO much more use out of her clothing if I separate the outfits and mix/match pants and shirts.
Also, you'll see there are 3 "rows" of pants. I have them roughly organized by size so the ones on the left are still a little long, the ones in the middle fit perfectly, and the ones on the right are starting to get a bit short.
THIRD DRAWER = Clothes that are too big
We are VERY fortunate to get lots of hand-me-downs given to us from friends and family… and I've also used some credit to shop at online consignment shops like ThredUp. Because of this, I have a nice assortment of clothing for Spring, Summer, and even a few items for next Fall.
I keep ALL clothing, shoes, and accessories that are too big in the third drawer. Once the drawer is full, I stop accumulating more 🙂
Since this drawer is really easy to access, I can quickly scan the contents and pull out anything I think might fit.
BOTTOM DRAWER = Extra Diapers
Yes, we have lots and lots of extra diapers (there are more in the closet), but my mom and I majorly stock up when we find a deal, and then I don't need to buy diapers for months.
And for the record, I have nothing against cloth diapers; Dave and I just REALLY didn't want to wash diapers. I suppose we could probably save money in the long run, but we get ridiculously low prices on our diapers, I don't like doing laundry, and neither one of us likes dealing with poop any more than we absolutely have to. So for us, the time saving is worth any extra money we spend on disposable diapers 🙂
The Closet:
The closet has basically been functioning the same way for the past year… just with bigger clothes inside! Right now, the top shelves just hold more diapers, wipes, and a few toys/books that she needs to "grow into".
We keep her diaper bag on the "main shelf" for easy access and the laundry basket at the bottom — along with a little stool I use for reaching the top shelf when we need more diapers.
HANGING SPACE:
I hang almost all the shirts, just because we have plenty of hanging space and this makes them easy to see. I know it might sound a little over the top but I'm a huge advocate for using all the same hangers. Not only does it look really neat and organized, it also helps to save space because the hangers "fit together".
I purchased 2 packs of these children's huggable hangers before Nora was born and I'm extremely happy with them. The clothing never, ever slips off and they are very space-saving. We actually use the same hangers (adult size) in our closet.
I also hung a cloth shoe organizer from the bar and I use that to store all her onesies, sweaters, and other clothing that isn't as easy to hang.
The clear plastic drawers hold her socks, slippers, tights, hats, and gloves. Her shoes sit on top of the drawers.
BASKET STORAGE:
When we built Nora's closet, we specifically left enough room for the three baskets I received as a shower gift. We've used them for all sorts of different things over the past year, but right now, this is how we are using them:
LEFT BASKET = clothing that is too small and needs to be stored or returned to it's owner
MIDDLE BASKET = extra toiletries, medicine, burp cloths, bottles, etc.
RIGHT BASKET = extra bedding, baby blankets, extra changing pad covers, etc.
Eventually, we will most likely change this closet to have 2 hanging rods, but for now, I like the extra storage of the baskets and shelves.
Storage for Outgrown Clothing:
As I mentioned above, we are very fortunate to be able to borrow a large number of clothing from family and friends. We've also been lending out some of Nora's outgrown clothing. Because of this, we don't have a lot of outgrown items to store (win win!) Just an FYI, if you're wondering how I keep track of all the clothing we borrow and lend out — you can read about that here!
The 3 boxes below contain all our extra baby clothing (I put a baby wipes container next to them so you can get a feel for the size of the boxes — they are NOT big)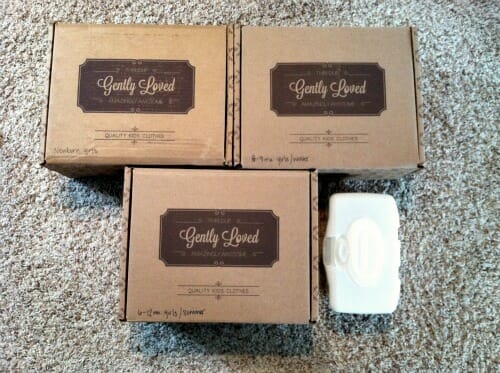 I found that the small but sturdy boxes from my ThredUp orders are the perfect size to store Nora's outgrown clothing. Plus, by giving myself a specific size allotment, I don't keep too many extra clothes that we might never need.
These boxes contain some of my favorite outfits and articles of clothing I want to hang onto in case we have another girl some day — and there are other gender-neutral items that will work for all future children (white onesies, extra burp cloths, baby hooded towels, infant slippers, swaddling blankets, etc)
The boxes are labeled by size/season and stored in an upstairs closet.
Newborn – 3 months
3-9 months winter/spring
6-12 months summer/fall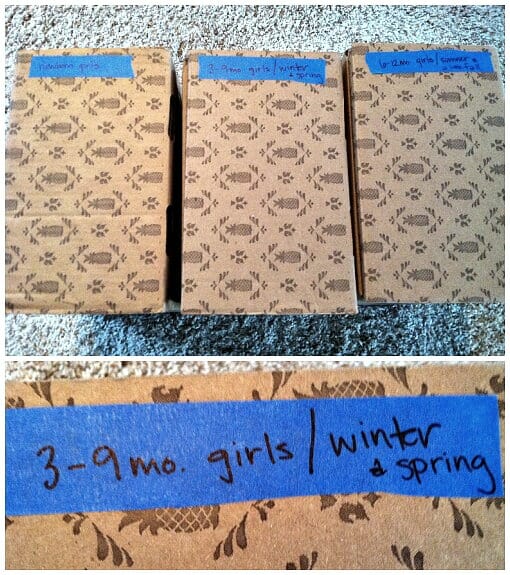 Obviously this system won't work forever — especially once her clothes start getting bigger, or once another child is introduced to the mix. But for now, this system is working well.
I've been very diligent not to accumulate or "hoard" too many baby things. Even though we're planning to have more children at some point, I just don't like the idea of storing so much stuff that others could be using instead. Who knows, we might never have another girl — in which case I would be wasting tons of space in our home storing items other families could be using.
Plus, we purchased everything from garage sales or Craigslist for pennies. When it's time for another baby, I'll have fun looking for more deals and steals — in the mean time, I'll enjoy all the extra space in our home 😉
Do you have any other tips for storing or organizing baby/kid's clothes?