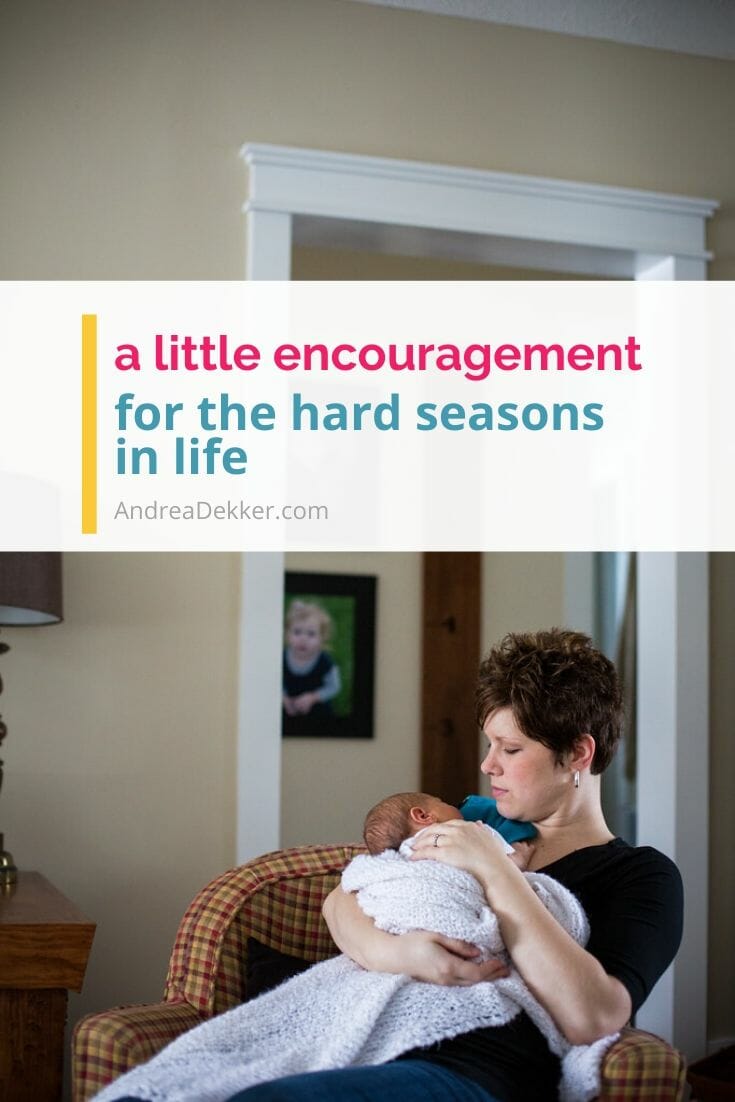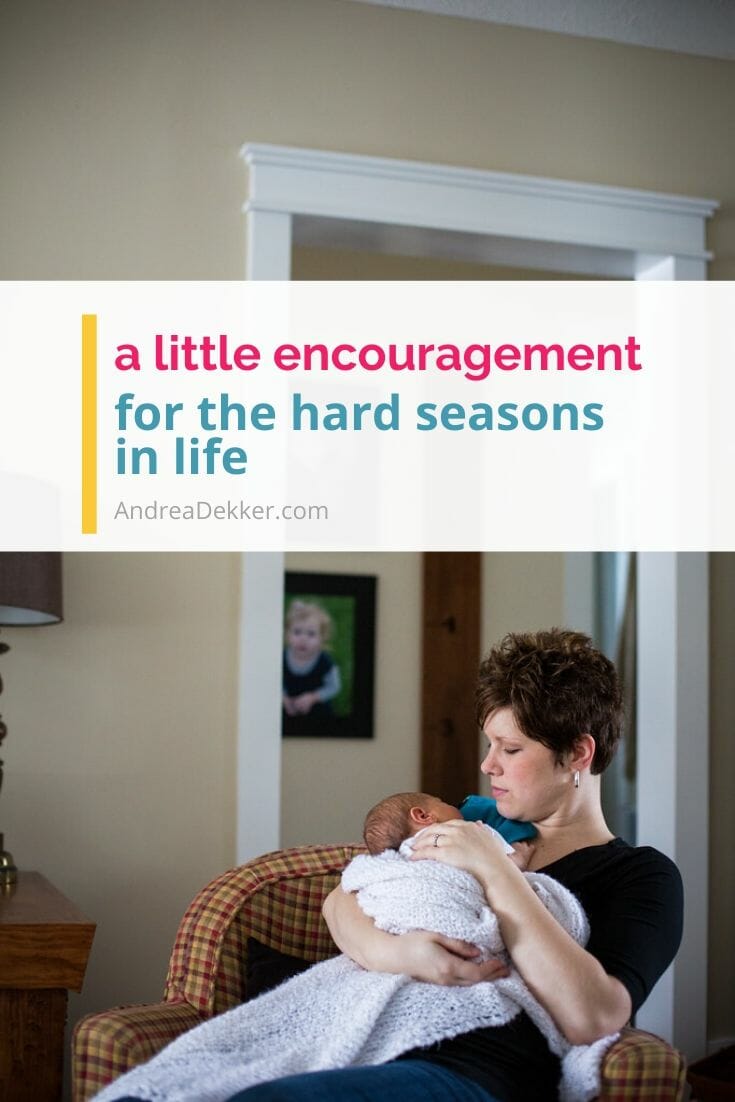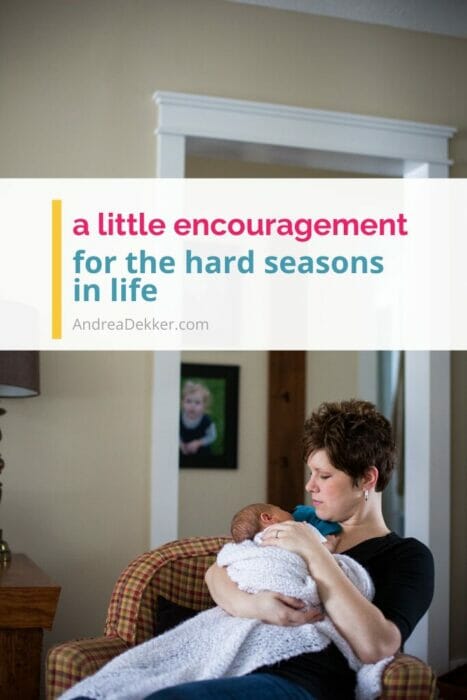 A couple of weeks ago, I loaded up all 4 kids for a morning outing to a local event (Nora didn't have school).
It didn't start until 9:30 so it was relatively easy for our early-rising family to get out the door in PLENTY of time for a 9:30 arrival. In fact, I had already finished 3 loads of laundry, we had all enjoyed a hot breakfast, AND I stopped by the grocery store (just for a few things) and the bank before arriving at the event with almost 10 minutes to spare!
Once the event started, 2 different moms with "only" 1 child each strolled in 10-15 minutes late, looking fairly frazzled and unkempt. One was eating a granola bar, the other was feeding her child a banana, as they apparently hadn't made time for breakfast yet.
Their tardiness truly didn't bother me or affect me in any way; I just kept doing what I was doing with my own children… but I do remember thinking: "sheesh, I got here early with 4 kids; they only had 1 child and were still late."
I'm horrible… I know!
.
Later in the morning, I started up a conversation with one of the moms. She made reference to the fact that she was late and said she couldn't imagine how she would ever arrive anywhere on time with more than one child (she was pregnant with #2 and noticed me playing with James and Clara).
I smiled and nodded, knowing this was NOT the time to share any advice (or the fact that I actually had 2 more children with me!)
Then she mentioned how clingy her toddler is and how impossible it is to get anything accomplished as he "just wants to be held all the time".
In an instant, I was brought back to when Nora was a toddler and I was pregnant with Simon… and how insanely difficult life felt back then.
How quickly we forget!
Honestly, I can't believe I could "forget" so quickly and easily — but at the same time, I'm certainly glad I've been able to push those memories WAY to the back of my brain!
At that time in my life, I vividly remember thinking, "There is no way I can have any more children! I can't even manage the one I've already got!"
Life was exhausting with Nora NEEDING ME every minute of every day (and night). I never got a break because even when other adults were around, she stayed by me for the majority of the time.
Dave was also much more involved in extra curricular activities at school and not home nearly as much as he is now.
And… we had no other children to entertain her. It was ALL ME!
.
Of course, after Simon was born, it was EVEN more challenging for a while because I had 2 children who weren't sleeping through the night and 2 children who needed me for almost everything during the day.
SIGH… I'm tired just thinking about it again!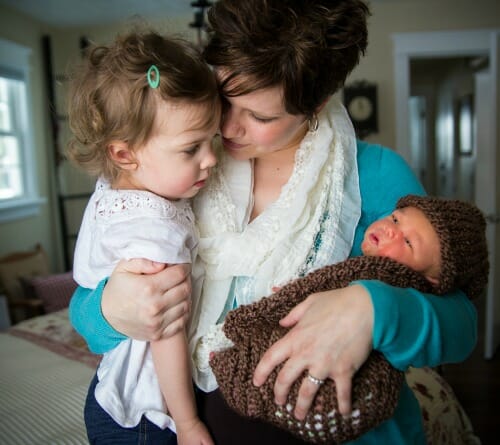 Fast-forward a few years… and my life as a mom looks COMPLETELY different!
My kids play SO well together and all look out for Clara — which means I can easily accomplish so much even when they are home.
They play games together, look at photo books together, play outside together, or listen while Nora reads to them.
Nora actually enjoys cleaning out the dishwasher and the boys think it's a special treat to "help" me set the table.
They are all fairly good at picking up and putting things away.
The older 3 can get ready completely on their own (Simon does James' hair — it's so cute! And Nora loves doing her own hair too.)
The older 3 all make their own beds (not well, but they do it).
They brush their own teeth, wash their own hands, and wipe their own butts!
They can get their own shoes/boots on and aside from helping James zip his coat, the older 3 can get ready to go outside all on their own.
They can buckle themselves into their car seats (I need to tighten James' straps for him)
They can eat by themselves without help from me — and I don't even need to cut up all their food anymore!
They go to bed easily, without crying or fussing… and they almost always sleep through the night!
They communicate and can actually tell me what's wrong instead of me trying to decipher what might be bothering them.
Seriously, I could add 50 more things to this list — it's just AMAZING to me how much easier life is with slightly older children who can do so many more things for themselves AND entertain each other!
.
How quickly we forget.
All of these thoughts flooded my brain in a split second as this other mom lamented the fact that she was late (yet again) for something with "only" one child.
I didn't say much as I've learned that's often the way to go when someone is "venting", but I did mention that the hardest part of my motherhood journey was the point she was at right then and there — pregnant with #2 and a super clingy, needy toddler to care for ALL DAY LONG.
She looked relieved and hesitantly asked, "So it DOES get easier?"
I smiled and said, "Most definitely! It's actually even FUN!"
We chatted for a bit longer and then went our separate ways… but I've continued to think about our conversation for the last 2 weeks.
.
Just a few short year ago, I would have been the frazzled pregnant mom, arriving late with my clingy toddler in tow. I would have been the mom looking at those parents with 3, 4, or 5 children, wondering how on earth they could keep them all alive while maintaining her own sanity.
Now, I'm "on the other side" of that super-difficult pregnant, newborn, clingy toddler stage of life, and WOW does it feel good!
.
The more I thought about it, the more I realized how quickly I've forgotten those overwhelming, want-to-give-up, life-is-hard feelings from previous years…
For example:
All the late nights and long hours I put in during the beginning years of starting and growing my business.
The ultra-frugal years we lived through with the goal of paying off student loans and our mortgage ASAP.
Dave's first couple years of teaching and coaching when he basically spent every spare moment at school or working on school-related things at home.
The first few years living in our farmhouse with construction debris EVERYWHERE, all the time!
The exhausting, I'm-going-to-die-if-I-don't-get-some-sleep newborn stage.
All of these situations felt very overwhelming and challenging when we were living through them, but now we can look back and better-appreciate where we are today as a result of those struggles.
I suppose I'm glad our brains tend to push memories of hard times to the side, but I DO hope I never fully forget how difficult different seasons of life were in an effort to better empathize with others.