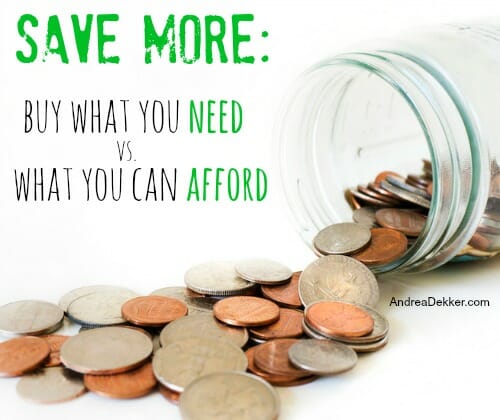 Today's post is a repost from a couple years ago — however, I wanted to re-share it as I've made it my goal to continually ask myself if I really NEED something before I buy it.

I guess I sort of got out of the habit of doing this for awhile, and I honestly can't believe how much of a difference it has made for me these past several months! Even as a fairly frugal person, I have saved SO much money by stopping, thinking, evaluating, and moving on instead of mindlessly putting another item into my shopping cart or basket.

Even if we can technically afford the item, even if I'd really like it, even if my kids are begging me for it, even if it's a super amazing bargain, I've often kept walking if the items are not things we actually need right now.

In general, I've been trying to stay away from all stores (including thrift stores and online shops) since Christmas… and I've been very successful. Aside from my grocery trips every 2-3 weeks and a couple Amazon purchases, I don't think I've spent money on anything extra since Christmas!

I've saved time, energy, space in our home, and (of course) money — it feels good to be stewarding my resources so positively!
Now… on to the repost!
As I mentioned a few weeks ago, I've had the luxury of watching HGTV for the past month due to Dave's Sling TV membership he purchased to watch March Madness.
I always get so excited to watch HGTV… but honestly, after 2-3 weeks, my cravings are sufficed and I'm ready to go back to my normal life of almost never watching TV (Netflix) after the kids are in bed.
I quickly tire of the same-old, same-old scenarios:
It looks like you've been pre-approved for a max budget of $xxx,xxx.
Let's look at 3 different houses.
The first 2 come in under budget but aren't "perfect".
This next house is over your budget but it has EVERYTHING you want.
OK, let's go with the house you can NOT afford so you get EVERYTHING you want.
Dave and I sit and stare in awe as these people (many of which are our age with young families) are burdened with gigantic mortgages and additional mortgage insurance because they can't even pay the 20% down-payment on the house that was over their max budget… but is just so "perfect".
What's the point of having a "max budget" if you are going to spend more than that amount anyway?
Just think how much money these people could save if they focused on simply buying what they NEEDED in a house versus all the things they wanted?
.
Now, obviously that's somewhat of an extreme example — but the concept holds true for so many different areas of our lives.
Yes, maybe we can afford another pair of jeans… but do we really NEED it?
Yes, maybe we can afford to buy our child that toy, game, techie thing, etc… but do they really NEED it?
Yes, maybe we can afford to go on a super fancy vacation… but do we really NEED a super fancy vacation?
Yes, maybe we can afford to buy a brand new car off the lot… but do we really NEED a brand new car?
Of course, we wouldn't have very full lives if we ONLY allowed ourselves to buy exactly what we needed to survive and nothing more. It's fun to splurge a little every now and then, it's exciting to try something new "just because", and it can be a special treat to do or buy something we might not normally do or buy.
But I do think we (myself included) could all save a lot of money if we simply stopped to ask "Do I NEED this?" versus "Can I AFFORD this?"
I hope that if we can't afford something, we turn away immediately… but even if we CAN afford something, I don't think we should necessarily buy it without a second thought.
Does that make sense?
So often, our society obsesses over what we can "afford" even though we most likely NEED far less than we can actually AFFORD to buy.
We save so we can "afford" a bigger house or nicer car.
We invest so we can "afford" a better retirement.
We accept a promotion at work so we can "afford" to send our kids to a private college or go on fancy vacation.
Even many of the frugal, money-saving blogs I follow talk frequently about not spending more than you can "afford" — but there are so many situations (at least in my own life) when I think "good grief, I totally do not NEED this, even though I can easily afford to buy it."
Again, I want to reiterate that I do NOT think we should deprive ourselves of every nicety and fun "extra", but I do think we could all pad our savings account a bit more and simplify our lives if we stopped to evaluate our actual needs versus what we can technically afford to buy.
Do you stop to think about what you actually need before making a purchase?
photo source (text added by me)