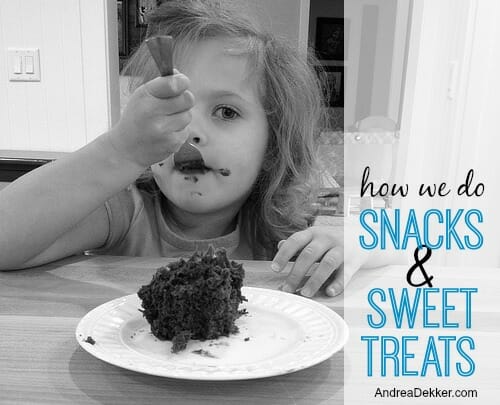 Over the past month, I've gotten many emails and questions about how we handle snacks and desserts in our home — and since the Dekkers are all BIG fans of snacks and sweets, I figured it would be a fairly simple post to share.
Plus, I had so much fun digging up all those cute "messy face" photos of my kids from past years!
SNACKS:
My general thought about snacks is that they are completely fine as long as kids are still eating their meals well.
Our kids are BIG snackers and I'm sure it's because Dave and I also have multiple snacks throughout the day.
I know I personally get somewhat light-headed if I'm hungry, so I've gotten used to taking snacks with me ALL the time (even when I was in high school and college). Now, I just pack extra snacks and drinks along for my kids!
We have a fairly regular eating and snacking schedule:
7:30 am (or whenever they wake up) = grapes and sliced cheese — weird, I know!
9:00 am = breakfast (I almost always make pancakes, eggs, or waffles)
10:00 – 10:30 am = salty or savory snack (veggie straws, crackers and cheese, pretzels, or goldfish)
2:30 pm = sweet and fruity snack (cookie, brownie or trail mix AND apples, grapes, berries, yogurt or frozen gogurt)
5:00 pm = dinner (and dessert)
7:30pm = banana for a bedtime snack
This has been our rough routine for quite some time and it seems to work really well for us.
They will often eat their morning "salty snack" while we are running errands (in the car or in the stroller) so I almost always pack this snack in their snack cups the night before. That way, I can simply grab their cups and waters and head out the door when we're ready to leave.
If we are just at home for this snack, I usually let them eat it in the livingroom while watching a TV show — the snack cups are still nice because I can just grab them out of the pantry cabinet and hand them out. (Here's a link to the snack cups we use — we LOVE them!)
At this point, we don't really have any snacks that are totally "off limits" to our kids. Even extremely non-nutritious snacks like candy, fruit snacks, and Cheetos are all eaten in moderation in our home.
We obviously don't allow snacking all day long, but we won't ban snacks from our home either. In my experience, when something is totally off limits, the kids want it even more and don't have the experience to choose proper portions or make more nutritious decisions later on in life.
SWEET TREATS:
Based on the large number of dessert recipes I share on my blog, it's probably pretty obvious that Dave and I are suckers for sweet treats!
And ever since I started sharing my Peek Into Our Week posts (which include the previous week's menu plan), I have gotten asked over and over again about the amount of baking I do on a weekly basis.
Yes, I bake alot. No, I do not bake every single day.
In general, I bake 2-3 times a week and divide up the baked goods between the pantry and the freezer.
For example:
If I make a pan of brownies, I'll put half of them in the pantry and cut up the other half for the freezer. I usually put 4 smaller brownies in a zip-top bag, and put those bags in the freezer. Then, if we want a brownie sundae for dessert one night, I'll just pull one bag of brownies out of the freezer, heat them in the microwave, add ice cream and toppings and we have a yummy dessert with almost no effort.
Also, any time I make cookie dough, I bake some of the cookies right away and divide the rest of the dough up into smaller freezer containers. Later, if we want cookies for a snack or dessert, I simply defrost one small container and bake 12-20 cookies at a time. This way, the cookies always taste freshly baked and they don't have time to get stale.
Even when I bake a cake, cupcakes, or muffins, one-half to two-thirds of the goodies goes straight into the freezer — all pre-portioned for easy defrosting later.
We usually have 2 or 3 different baked goods in our pantry at all times, and an even larger assortment in our freezer. This way, we can have little bits of various sweet treats and desserts all the time without baking all day long!
The kids know that they may request baked goods as part of their snack, and we almost always have something sweet after lunch and dinner (as long as they eat their meal first). To them, sweet treats are just one of the many food choices they have.
Oh yeah, and we definitely DO have a "candy cupboard"!
I realize this might sound like an insane amount of sweets to have in the house (I will be the first to admit we have A LOT of sweets in our house!) but it's how Dave and I were both raised as well.
Sweets were never really a huge temptation for us because they were always around. They were just part of our diet, and we learned how to handle them without going crazy and binge eating them all day long.
In the interest of honesty, I want to mention that we rarely ever prohibit our kids from having a snack that is offered to them from a friend or family member.
We feel like food is a very hospitable gesture, so even if someone gives our kids a cookie or candy right after they had a snack, I'll usually just say something like, "if you're hungry now, you may eat it; otherwise we will save it for later".
Often times, Nora will choose to save it for later if she's truly not hungry — Simon will almost always choose to eat it right away 🙂
And even if the treat is given to them right before a meal, I'll often say something like, "how about you eat half of it now and the other half after your meal."
Nora is pretty good about knowing when she is full and putting the snack away at that point. She also knows that if she doesn't eat her meals well, we will start to limit her snacks and desserts — so that is motivation for her to eat her meals well (Simon isn't quite old enough for this motivation yet).
I know there are probably lots of opinions about how many snacks kids should have and what types of foods they should be snacking on, but I personally don't want to make too many food decisions for my children. I want them to learn to think about what tastes good to them, what fills them up, what satisfies them, how they feel after eating too much of something, etc. etc.
I will set guidlines and boundaries ("Do you want grapes or strawberries with your veggie straws?" or "You may have a few M&M's after you eat the apple.") but I like them to learn to make decisions whenever possible.
Nora is just starting to realize that certain foods are more nutritious than others thanks to various things they are learning in school. I had to laugh the other day when she told me that we need to eat all the colors of the rainbow so we grow healthy and strong — and then proceeded to suggest that Skittles would be a very colorful food choice!
.
I guess food has always been something I'm not willing to fight or argue about with my kids. I had too many friends in high school whose parents were WAY too strict about what they could and could not eat. The kids ended up trading (or trashing) half their lunches at school and eating junk food instead.
And once kids go off to college and have a huge buffet of food choices in front of them at every meal, I can almost guarantee that the kid who was denied sweets for his entire life won't have the self-control to "just eat one".
.
So once again, when it comes to snacks and sweet treats, I fall smack in the middle of the "all things in moderation" camp!
My way certainly isn't the only way (or necessarily even the "right way") but it's working for our family right now so I don't plan to change anything anytime soon. However, I would like to know…
How do you do snacks and sweets in your house?