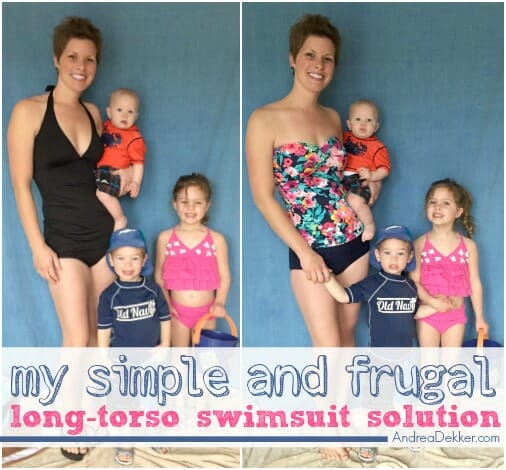 For my entire life, I have struggled to find a one-piece swimsuit that was even somewhat comfortable and not so awkwardly tight that the front stretched down as far as it could go.
I'm sure there are many long-torso gals out there who can relate to this look… somewhat OK for an 8 year old — not so much for an adult!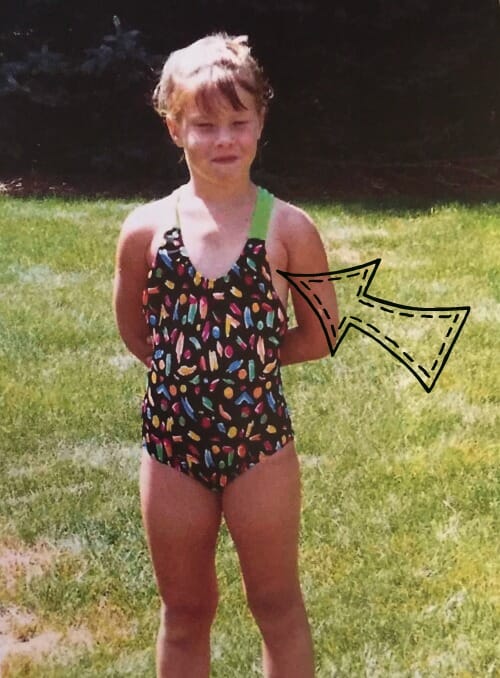 Although I usually just resorted to wearing 2-piece suits or tankinis, I actually ended up making 2 or 3 of my own one-piece suits in elementary school because I needed a one-piece for swimming lessons and for various school functions that prohibited 2-piece suits.
Ahhh… so much better!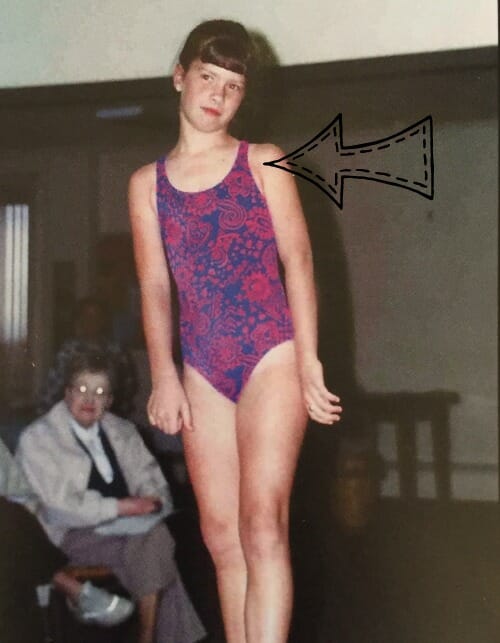 It's been a LONG time since I owned a comfortable one-piece suit though.
For the most part, I have been completely satisfied to wear a 2-piece suit or a tankini… until having 3 kids in 3.5 years!
I am not ashamed of my body in anyway — but I also don't need to be flaunting my stretch marks and wearing a swimsuit style that doesn't flatter my figure. And since most tankinis cut off right around the bellybutton area, leaving the lower few inches of my stomach totally exposed, I have had to re-think my swimsuit situation over the past couple of years.
For the last 3 years, I have been intently searching for a fabulous one-piece suit that was both cute and comfortable (I honestly didn't even care about the price, I just wanted ONE suit) and although I have searched and ordered and tried on and returned more one-piece suits than I can possibly keep track of, I have yet to find even one suit that fits me well enough to keep it.
Not ONE!
I have been making due with a cute "swim dress / top" that I got from Target back when I was pregnant with Nora. It is apparently supposed to be a 'dress' but it only goes down to my hip bone — however, it's much longer than a traditional tankini, and it was right around $11 in the clearance section!
I've been wearing it with bottoms I already have for that mix-and-match look that is very popular right now.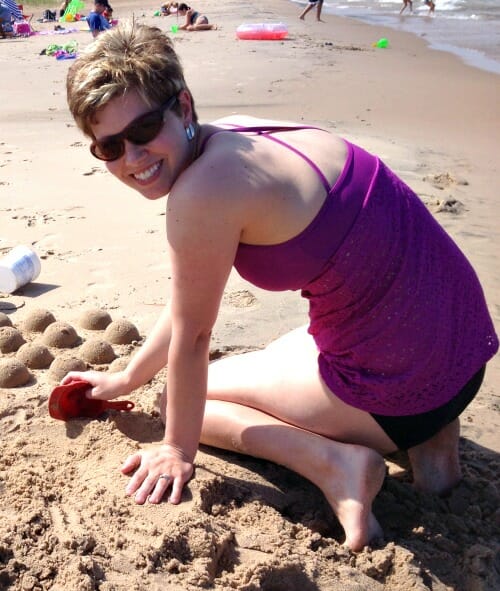 This suit even got extra "points" because it worked as a maternity suit too (I'm 6 months pregnant with James in the picture below).
As you can imagine, after wearing this top for the past 4 years (including 2 pregnancies) it's time for me to get something a little newer — and maybe not so stretched out 🙂
So, a couple months ago, I posted a plea on my Facebook page asking for any and all suggestions for swimsuits that fit a VERY VERY LONG torso. There were several very good suggestions — but I kept coming up empty handed and I was getting frustrated all over again.
Although I'm not one to easily admit defeat — I decided that I have simply spent too much time searching for a one-piece that will actually fit me, so I stopped looking.
Instead, I focused my attention on other options — and I actually visited the fabric store to look at swimsuit patterns I could make myself!
Thankfully, I found a solution before I took on the task of making my own suit!
My solution = High Waist Bikini Bottoms!
Thanks to Taylor Swift and other fashionable celebrities, the high waist bottoms are now in style and readily available at stores like Target!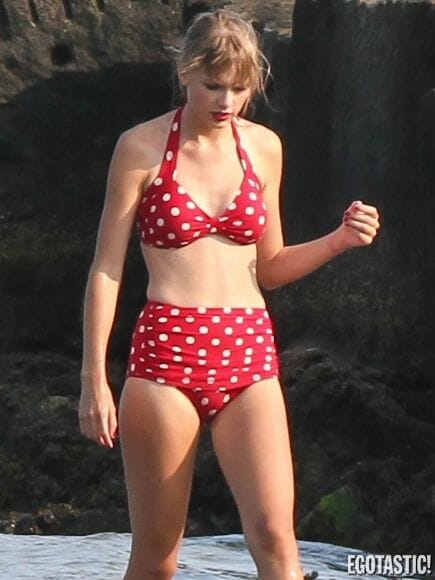 Although these bottoms are usually paired with cute bikini tops, I found that if I pair a high waist bottom with a tankini top, I get the look of a one-piece suit without hunching over to get the straps over my shoulders!
Plus, we all know that 2-piece suits have a huge advantage over one-pieces suits when it's time to use the bathroom!
My New Long-Torso-Approved Swimsuits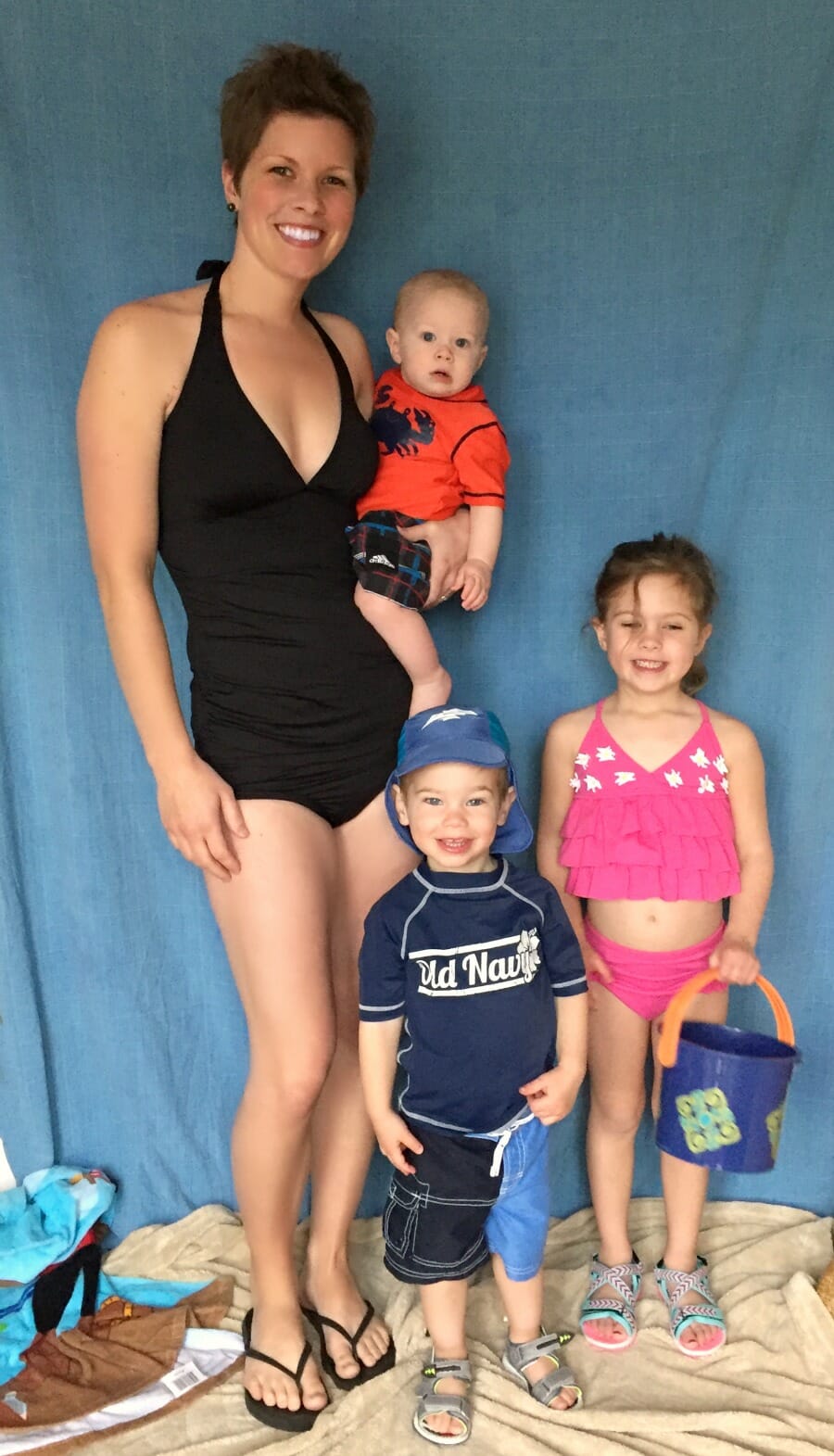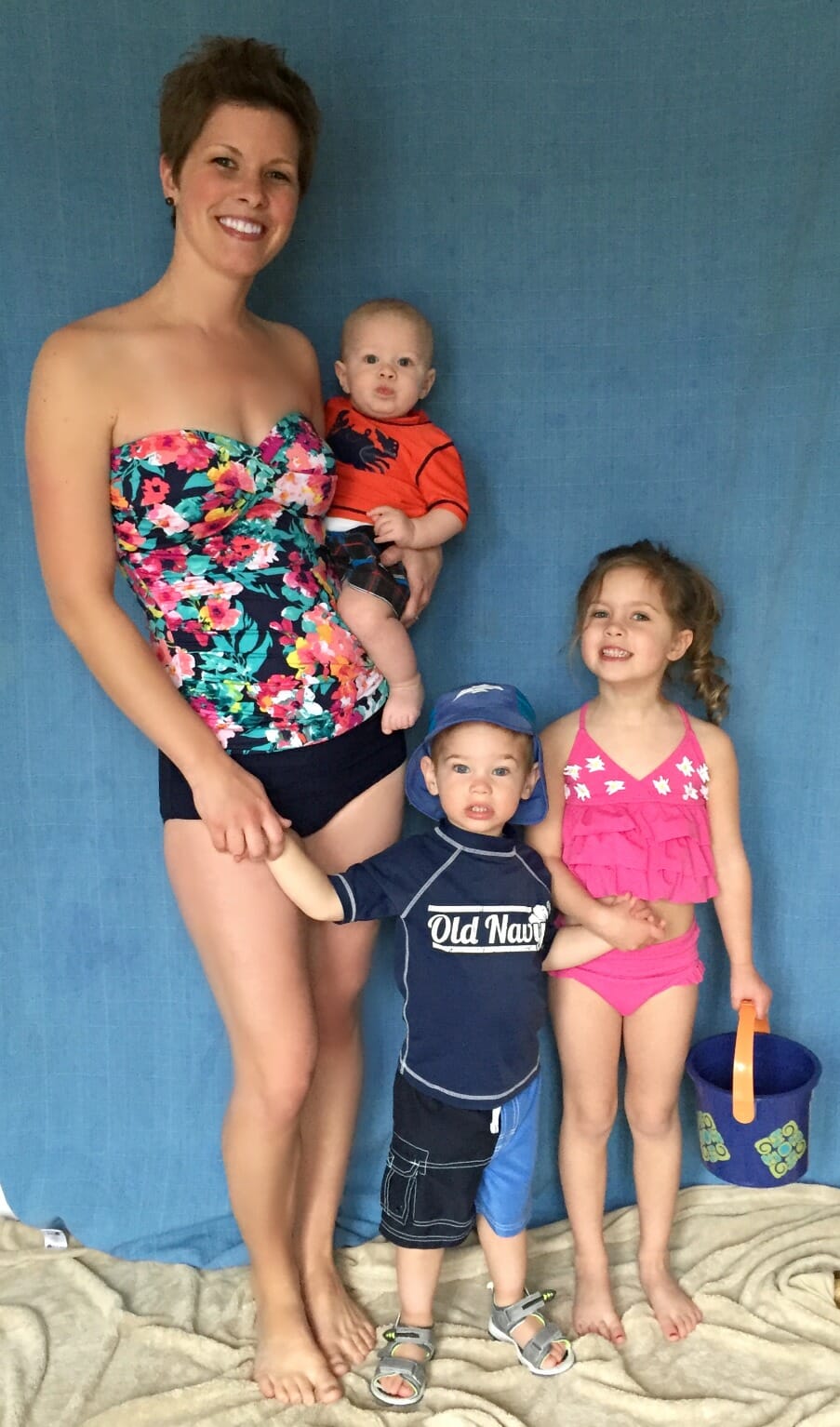 Doesn't the black suit look like a full one-piece? You can't even tell it's 2 separate pieces!
Oh, and if you're wondering about the photos, we recently got new swimsuits for the kids from friends or various second-hand sales — so over Spring Break, we pretended we were going somewhere fun and had an "everyone try on our new swimsuit" party in the living room. I think Nora stayed in her suit for a few hours after we took the pictures!
Where I Found My Swimsuits
I'm not sure how long this link will work, but here's the link to ALL the high waist bottoms available at Target right now (which is where I got mine).

I purchased this Merona bottom in both black and navy, and then purchased a black tankini halter top as well as a navy and pink floral strapless top.

Thanks to a special sale, a coupon code, and using Ebates, I got all 4 items for around $52 total!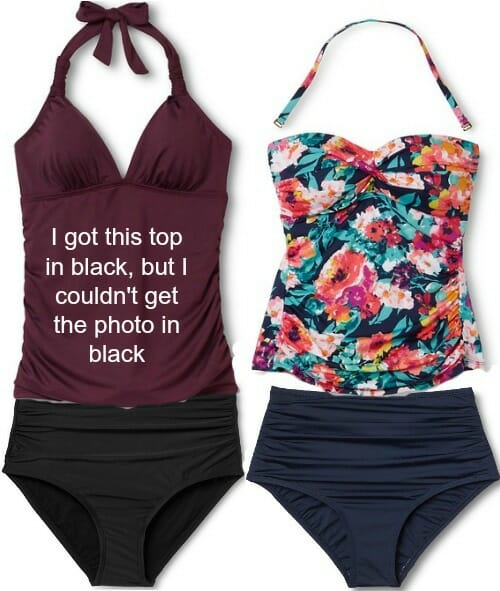 I now have TWO brand new suits that look cute, fit wonderfully, and feel great on me — and since they are 2 separate pieces, I can easily mix and match them with other tops or bottoms (if I find anything else I like in the future).
Also, if you've ever shopped for "extra long" or "tall" swimsuits, you know that finding 4 pieces for $52 is an absolutely insane deal — so yes, I'm just a little excited!
Thank you, Taylor Swift, for helping to bring back the high-waisted bottoms — they seem to be a perfectly simple AND frugal solution to my long-torso swimsuit woes.
Bring on the backyard swimming pool fun, my friends!
NOTE: here's the link to my massive post about our Costco pool (pictured below).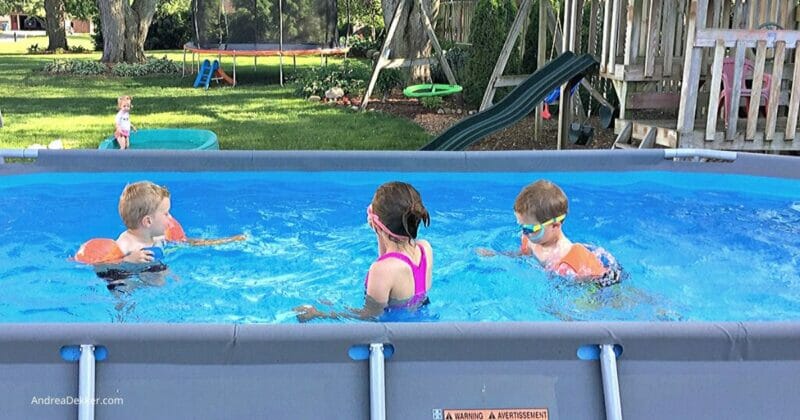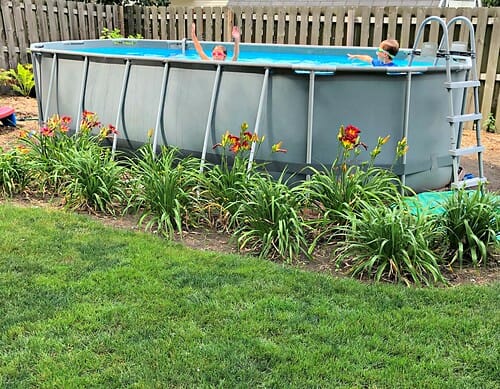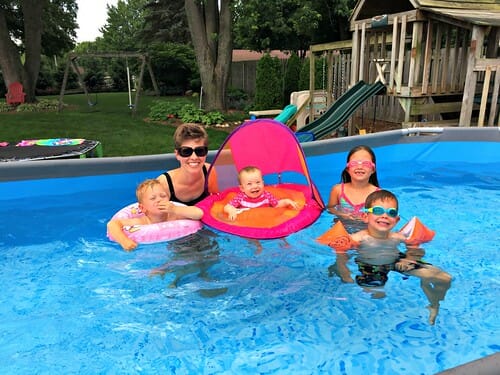 Do you have a long torso? If so, what swimsuit styles or brands have worked well for you?