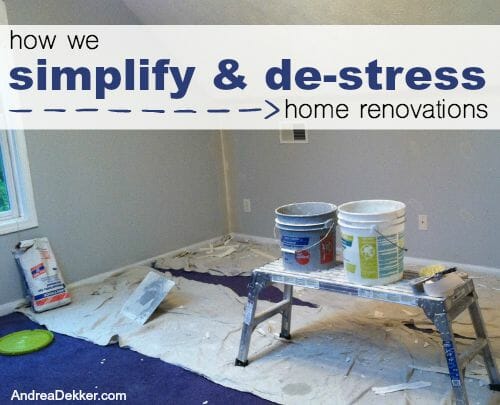 As many of you know, Dave and I have been faithfully working on renovating our 125 year old farmhouse for the past 4.5 years. It's definitely a labor of love, but we're hoping we will be able to enjoy all our renovations for many many years to come.
We have spent a ton of time, energy, and money renovating our house, and so far, I'm thrilled with how everything is turning out.
However, as I'm sure many of you realize, the process of living through constant renovations can be draining, stressful, crazy, and overwhelming at times (especially once kids enter the mix!)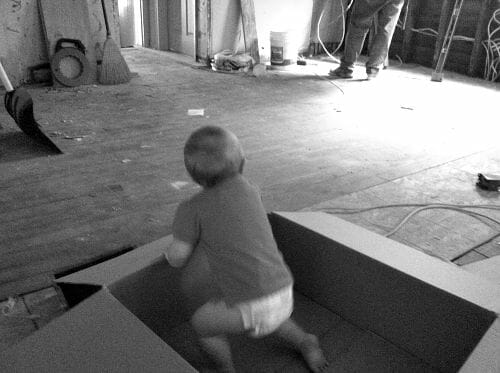 Recently, I've gotten a few reader questions about how we keep the rest of our lives running relatively smoothly in the midst of all our construction… so I thought that might be a good topic to write about.
As I thought about these questions, there were 5 ideas that came to mind regarding the things we've done to try and simplify and "de-stress" our home renovations.
1. We keep the construction area separated.
Whenever possible, we try our hardest to keep the construction area separated from the rest of our house. Obviously, this doesn't always work perfectly, but it's definitely the best way to keep the craziness, the chaos, and the mess out of the rest of our house and lives.
This might be as simple as closing a door and putting rugs down, or as elaborate as completely walling off the kitchen with heavy-duty plastic and only being able to access it by going around the house.
We also close the vents in the area we're working in, and tape off the return vents so they don't suck in the dusty air.
Although it's a little bit of extra prep work before we start a project, keeping the construction area as separated as possible really helps me keep my sanity (which is worth A LOT!)
2. We clean up our mess daily.
Most of our home improvement projects last for multiple days (sometimes weeks and months!) and I refuse to live in a huge mess for that entire time.
Depending on the area that's being renovated (and if we need to use that space or not) I might just do a quick clean up, or I'll scrub it super clean.
For example, when we were renovating our kitchen, we weren't actually using the kitchen, so we usually just picked up the mess and ran a shop vac over the floors. However, when we were renovating the upstairs bathroom, we were still using it throughout the renovation so I made sure to clean it up really well each time we were finished working.
Again, this might seem like a bunch of extra work, but for Dave and my sanity, a little cleanup is necessary for us to feel like our home and lives are not completely overrun by our projects.
3. We allow give and take in other areas of our lives.
Normally, we don't spend a lot going out to eat… but during home renovations, we allow more room in our budget for fast food, restaurants, and convenience food from the grocery store.
We also make sure we don't have a lot of extra time commitments during big renovations. Even fun time commitments like vacations or parties can add a lot of stress and busyness when we're just trying to plow through a renovation.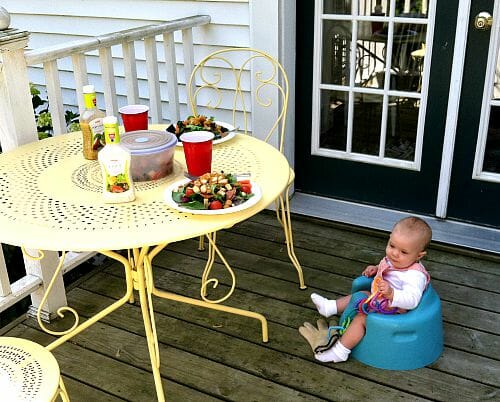 4. We set stopping points for projects, even if we aren't finished.
When we start a project, we usually give ourselves a target "stopping point" where we'll call it quits for a bit, even if we aren't totally finished.
It might be for a day, or even a whole week. We clean everything up and try to get our house back to "normal" for a bit. After our break, we get back to work and finish the project (usually with a lot more energy than we had before)
By giving ourselves a set stopping point, we can make sure our projects don't go on an and on forever, and also, make sure we don't burn ourselves out.
Also, we rarely work on big projects during the school year — especially big projects inside the house. This has always been important for us because Dave's schedule is just WAY too busy during the school year to fit house projects in without driving ourselves completely crazy.
5. We continually remind ourselves that it will be worth it in the end!
We've done enough renovations now to realize that although the renovation process can be horrible, messy, stressful, etc. it will be over eventually, and the end results will totally be worth the extra time, mess, energy, and stress.
As we continue to add more children to the mix, it gets harder and harder to find time for home renovations. Often, we'll work late at night when they are sleeping — and often, it's the last thing I want to do late at night. However, I know it will be worth it (it always is) so I keep plugging along.
See what I mean 🙂
Obviously, these 5 things don't always happen 100% of the time during every one of our home renovation projects; but for the most part, we try to implement them as much as possible because we know they help us feel more "normal" and less stressed during the crazy renovation process!
Are you in the middle of a home renovation? Are you a "veteran" renovator? If so, what are your tips to simplify and de-stress the process?