James is officially 1 month old today — and even for someone who doesn't particularly love the newborn phase of life, that month went by pretty fast!
As I mentioned before my summer blogging break, I'm not planning to do the same type of monthly updates I did with Nora and Simon. Instead, I'm just going to share more of a "Dekker Family Update" once each month — probably coinciding with James' monthly milestones.
I'll share a few pictures and updates of each kiddo, any big news from Dave and myself, and any house projects or life goals we're working towards. Hopefully, it will be a simple, concise, and fun way to keep you updated without requiring multiple posts each month!
Here with go…
JAMES @ 1 MONTH: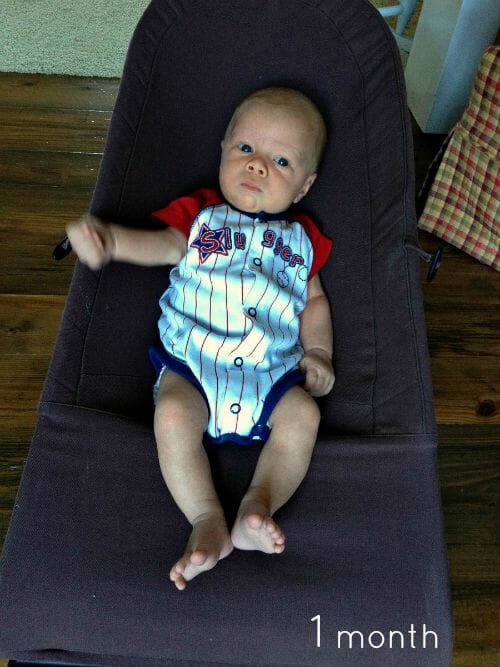 James' only skills so far are moving his head from side to side when he's on his tummy and lifting his head to look around when he's being held. He also excels at eating, burping, sleeping, pooping, crying, stretching and looking cute.
He's a tiny little peanut (still wearing newborn clothes that neither of my other 2 kids ever fit in!) but he's gaining weight and growing like crazy, so mama is not worried at all.
He is eating and sleeping really well (at least in my opinion) and although he does cry a lot, he's always happy if he's being held 🙂
So far, he's the best napper of all my kids, often taking 3 or 4 naps a day, with a long 3-hour afternoon nap that has been coinciding nicely with Simon's nap (glorious)!! I realize his "schedule" will be constantly changing for the next year, but it's been nice to have a relatively good sleeper again!
James is not a huge fan of the bouncer or swing yet (and he absolutely HATES his carseat)… but he loves my Boba baby carrier and the Moby wrap, so I wear him A LOT during the day. Part of me feels like I'd rather not get into the habit of letting him fall asleep in the carrier all the time — but the other part of me likes the fact that I have both my hands free to deal with Nora and Simon!
SIMON @ 17 MONTHS:
Simon is proving to be just as stubborn and strong-willed as Nora — but with less crying, less tantrums, less screaming, and a lot more smiling. He knows what he wants and he's not going to stop until he gets it.
He's one of the cutest little boys I know, and has perfected the art of "turning on the charm" when he needs to.
He's having so much fun walking, running, swimming, and playing outside (his favorite place to be). He has mastered going up and down stairs, walking on his tiptoes, climbing anything that can be climbed, and splashing in the bathtub (his 2nd favorite place to be). He knows a bunch of animal sounds and will point to various body parts when you ask, "Simon, where is your ________?"
He still honestly doesn't say ONE word yet — which is insane for me to process, because Nora was basically speaking in complete sentences at this point. Thankfully, Simon seems to fully understand everything we say to him. He's also very good at getting his point across by a series of different grunts, pointing, nodding yes or no, and using a few "signs" that we taught him via a baby sign language class I took online.
I realize he will talk eventually — but I'm SO anxious for him to be able to communicate better. I know how fun it is to hear Nora go on and on about various subjects and I can't wait to listen to all Simon's future conversations too!
NORA @ 3.5 YEARS:
Nora wants to be 4 SOOOOOOO badly.
Actually, she really wants to be 5 so she can say she's a "full hand" but I told her that 4 needs to come first. She asks almost every single day when she'll be 4, and she literally had a complete meltdown the other day when she realized that no matter how old she got, her cousin is always going to be older than her.
She talks about "going to school" all the time, and I think she is mentally ready… but not quite there emotionally. Plus, her birthday misses the preschool cut-off date, so she'll be home with mom and the boys for another year. I realize I could send her to 3-school if I wanted to… but there's really no part of me that wants to load up 3 kids multiple times a week just to bring Nora to 3-school for an hour or so.
We're looking into different playgroup options for her (and have some play dates set up with neighbors) — because that's what she REALLY needs to work on. Just learning to play with other kids without getting scared or shy or starting to cry incessantly because someone looked at her the wrong way 🙂
Other than that, she's the same old spunky, smart, stinker Nora that she's always been!
Her favorite activities are riding her "big girl bike", playing outside, swimming, playing in her kitchen upstairs, playing school, playing dress-up, playing babies… and singing. Boy does that girl LOVE to sing. She frequently has mini "concerts" for our family and sings from the steps off the living room while we all sit on the couch. She says, "attention ladies and gentlemen, I'm going to sing _______ for you now" and then belts out her favorite songs while holding a random book, pretending like she's reading the words.
Nora loves her brothers and is usually pretty helpful around the house. It's amazing how much she can do by herself at only 3.5 — just think of everything she can do once she's finally 4!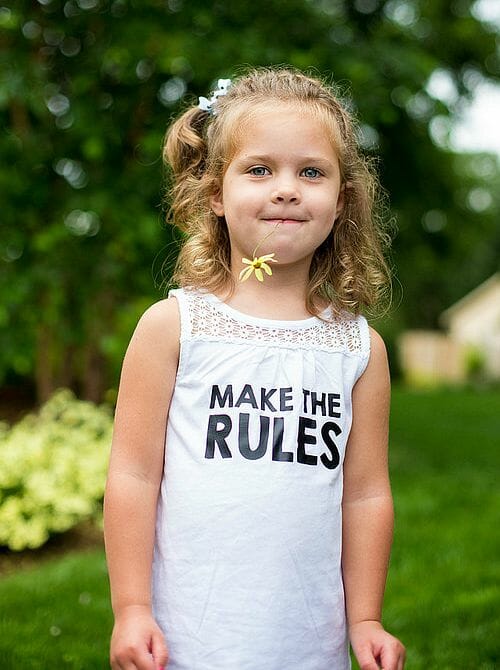 FAMILY:
In general, this summer has been very relaxing for our family. Aside from one local vacation with Dave's family, we have been home all summer long — which is what we like.
We worked on a ton of house and yard projects in June, and then enjoyed 2 weeks of "extra" free time in the beginning of July as we awaited James' arrival.
Once he finally decided to join our family, I enjoyed another week of rest and relaxation at home while Dave took the older 2 kids to the cottage with his family. James and I went to the cottage for a couple of days, but then came home again to peace and quiet. It was REALLY hard for me to let go and leave the older kids, but I'm so thankful for the one-on-one time I had to relax at home with James.
We're currently on a little break from house and yard projects right now, but hopefully we'll cross a few more things off our list this fall.
I've been dutifully plugging away at my digital photo books and have everything up-to-date through the beginning of August. My current system of adding the previous month's photos at the beginning of the current month seems to be working really well for me, and it seems much less overwhelming than some of the other methods I've tried over the years.
As much as I hate to admit it, the lazy days of summer are almost over for our family. Dave starts school meetings in 2 weeks and is back in school full time the day after Labor Day. That means no more pool-side parties with both mom and dad. No more leisurely afternoon naps (at least not for the grownups), no more sleeping in and getting donuts for breakfast. It's almost time to get back to reality… and I have to admit, I'm not quite ready for it yet!
I'm nervous as to how things will go with 3 kids home all day. I know it will take a bit to figure out our new normal and develop some type of routine — but I know we'll get there eventually.
It's been a fabulous summer, probably one of the most relaxing summers I've personally had in many years.
I'm so thankful for the time we had together at home this summer, I'm thankful for a helpful husband, for 3 healthy kids, and for a quick recovery for me after James was born.
I know the next 11 months will most likely fly by… and that I'm supposed to "enjoy every moment". However, right now, my main goal is just to survive every moment 🙂