A couple weeks ago, I was cleaning my shower the same way I always do… and I decided I was fed-up with the hard water spots covering our chrome shower fixtures.
Yes, Dave and I are the the only people who see the water spots and I promise, I really do clean our shower! But I hated looking at those nasty water spots and KNEW there had to be a relatively simple way to get rid of them.
Doesn't it just look horrible!
My homemade shower cleaner was not working on the hard water sport, so I decided to try a few other products I had in the house — none of them worked either.
So I turned to the Internet — only to find that lemons would supposedly do the trick.
Seriously?
Well, lemons just so happened to be on sale that week AND there was a $1 MPerks coupons at Meijer, so I figured that even if the lemons didn't work, I would still get to enjoy the lovely smell of lemons in my bathroom for just a few pennies.
The next day, I purchased a bag of lemons and got to work "cleaning" my shower.
To my surprise, IT WORKED!
Really well!
After just a few minutes, my chrome fixtures were sparkly clean once again.
Here's what I did…

Step 1: Cut a lemon in half
Step 2: Rub the cut side of the lemon over the faucet until you see the spots disappearing
Step 3: Rinse with water
Step 4: Dry with a soft cloth
Step 5: Enjoy your new-looking chrome fixtures with hardly any effort!
DONE!
I've always loved lemons… but now I have just one more reason to keep a few lemons in our fridge.
Oh, and if you're wondering what I did with the rest of the lemons — 3 words: Lemon Meringue Pie 🙂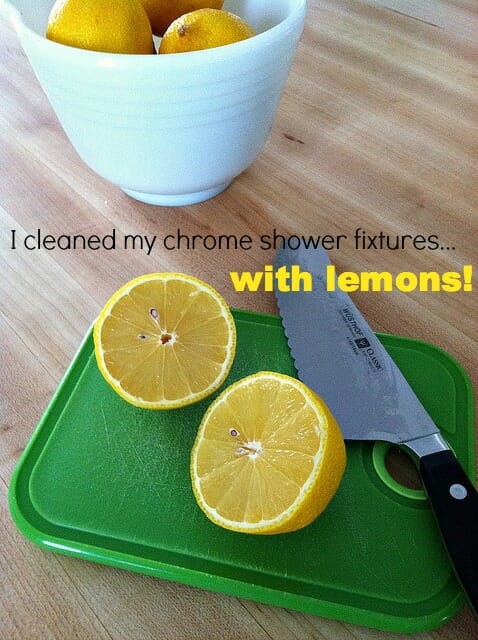 Lemons are a frugal way to naturally clean and disinfect so many areas of your home — plus your whole house will smell lovely while you clean!
If you share my love of lemons, then you'll definitely want to read the guest post I wrote for Life.YourWay.net — all about cleaning with lemons. Even I was surprised with the cleaning power of simple lemons — everything from clothing and copper to microwaves and food storage containers!
What a frugal, natural, and extremely simple way to clean 😉
Do you have any other secrets for cleaning with lemons?