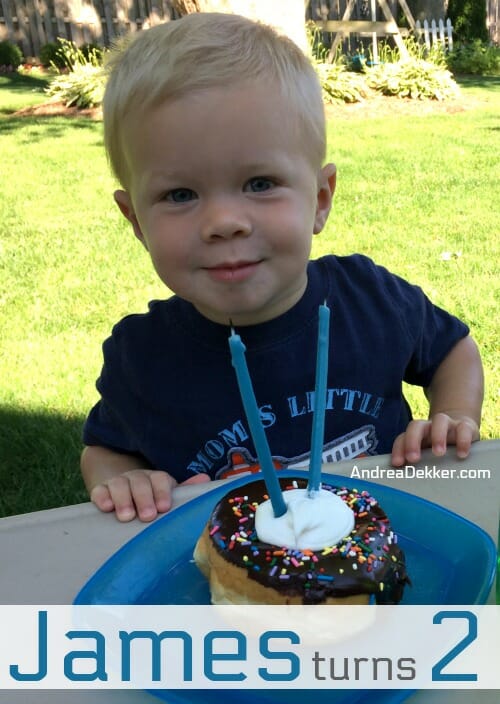 I know… I can hardly believe it either!
Our sweet little baby James turns TWO today!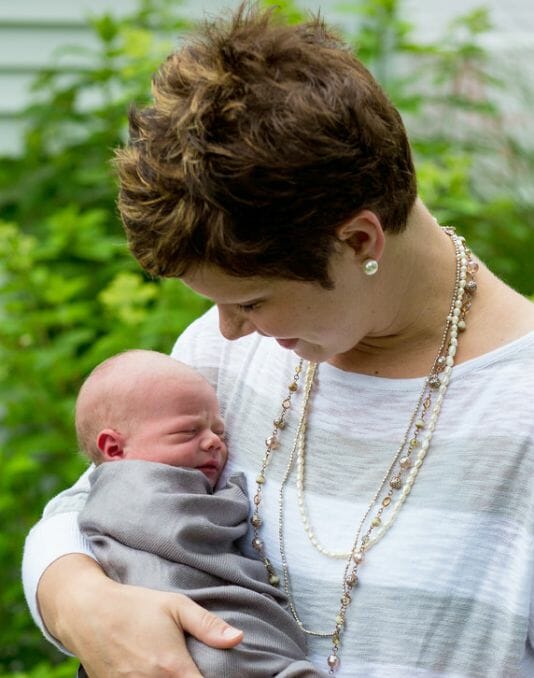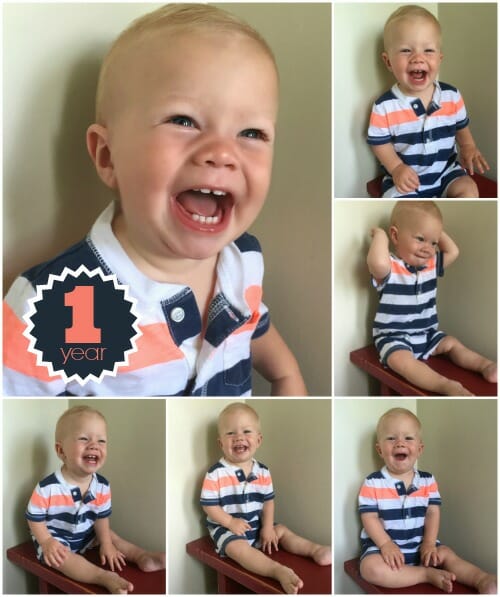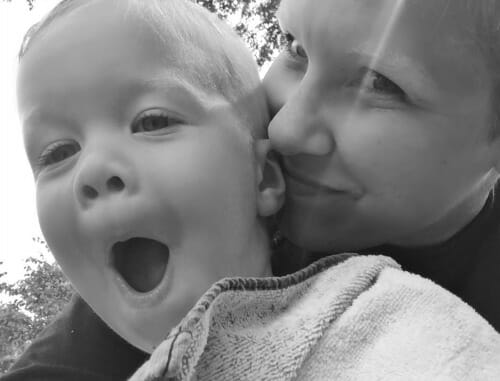 .
We officially celebrated his birthday with our families last weekend — a super low-key party with donuts and fruit on Saturday morning.
As you can tell, big brother and sister were just as excited about the party as James was 🙂
Although James is very stubborn and strong-willed, he is truly one of the happiest little boys I've ever met.
He is quick to smile (especially for the camera), he has an infectious laugh, and he is generally almost always sweet (unless he's really hungry!)
James is the most snuggly of all our kids (especially with me!)
I often joke and say Nora was a clingy baby, Simon was a content baby, and James was a cuddly baby. Even at 2 years old, James still loves to sit on my lap or have me hold him. In fact, sometimes he wakes up in the middle of the night saying "mommy, sit on your wap!" and all he wants to do is have me hold him for a few minutes in the chair in his room.
Yes, it's annoying to be woken up in the middle of the night, but he's so stinkin' cute that I just can't refuse!
.
James and Simon are now officially sharing a bedroom — and it's going better than I anticipated. The first 2 nights were pretty rough, but by the 3rd night, I think they were both tired enough that they fell asleep almost instantly and slept all night long! It's been almost 2 weeks now, and we've hardly had any other issues!
I remember so many people who were shocked when we announced I was pregnant again (Simon was only 8 months). They assumed James was an "oops" — he was not an oops 🙂
Yes, it was a challenging the first 6-8 months with 3 really young kids who all needed me for almost everything, but all 3 kids play so well together now (95% of the time), and I'm really glad the boys are close in age.
I hope Simon and James grow up to be best buds who love sleeping, playing, and living life together!
.
James talks and sings very well for his age. He knows many of his letters and all his shapes and colors.
He loves candy, strawberries, cheese, cauliflower (which he always calls broccoli), lemonade (yemonade), playing outside, anything that involves water or getting wet, anything with a ball, and anything with a car or truck.
He's ALL BOY and then some!
It feels like James has been part of our family forever — I can't believe it's "only" been 2 years! We hope and pray for MANY more years with this sweet little boy.
Happy Birthday James!
Enjoy your last few weeks of being mama's "baby"!