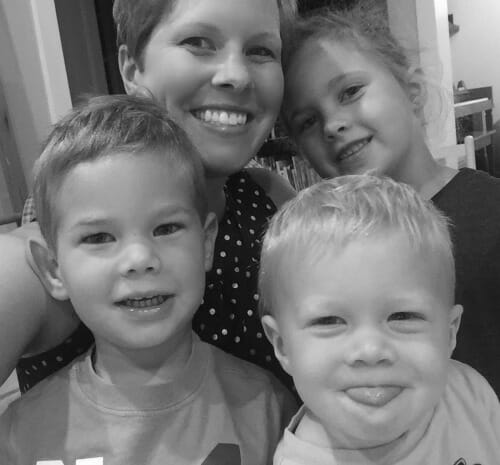 I'm extra excited to share this week's "Week In Review Post" because it's James' birthday week! His actual birthday is tomorrow, so you'll definitely want to come back and see the plethora of cute James pictures then 🙂
In the meantime, here's a look back at what I blogged about this week in previous years… as always, you can follow along with all my Week In Review posts here.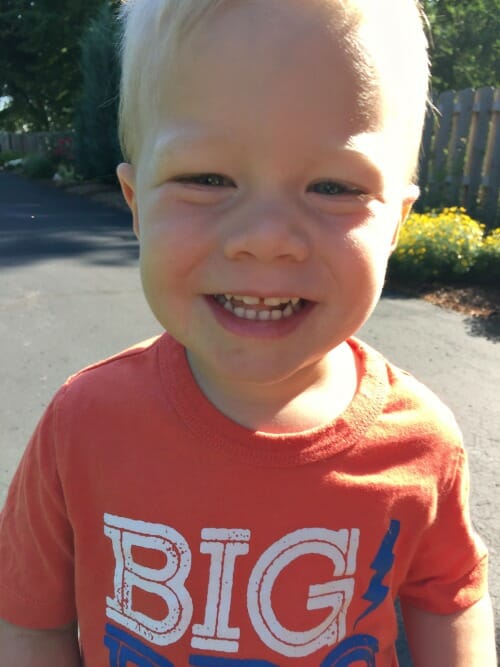 2010:
After a month of blogging, it was time to share my most favorite cookie recipe ever — MONSTER COOKIES!
They are still my favorite, Dave's favorite, and our kids' favorite cookies, and even though I usually only ever make a half batch (the full batch is too much for my hand mixer to handle) we still end up putting dozens and dozens of cookies and several containers of cookie dough in the freezer!
I also shared several tips to keep children clutter-free.
When I originally read the title of that post, I cringed — thinking about what my advice might have been before I was ever even pregnant with our first child.
However, after reading through this 7-year old post, I was pleasantly surprised to realize that almost 4 kids later, I'm actually still using much of my pre-children advice.
Ideas like:
Make a home for everything (even if you have a small space)
Keep clothing at their level if you want them to be able to get dressed on their own.
Use over-the-door shoe organizers for more than just shoes.
Purge regularly
Store toys in a way that makes them easy to pick up again (like just in a big toy box or easy-to-grab bins)
I still do all of these things and more to help keep our kiddos relatively clutter-free!
.
2011:
We put the finishing touches on Nora's nursery closet — and it turned out SO cute!
Interestingly enough, I'll soon be working to get that same closet set up and ready for another little girl!!! I can't wait to wash, fold, and hang all the super cute hand-me-downs I've been given from friends and family members!
I shared my SUPER SIMPLE tip to keep lettuce fresh longer and our family's most-favorite semi-homemade, extremely simple, extremely delicious pasta sauce recipe.
I still use the lettuce tip and this exact sauce recipe on a regular basis 7 years later!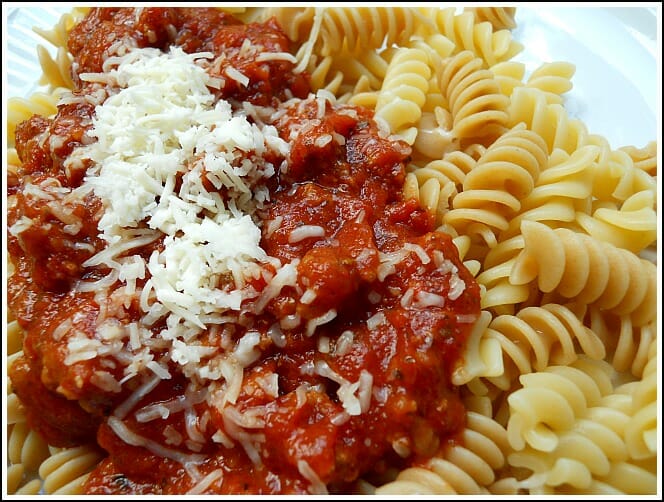 And finally, I wrote about the benefits of NOT owning your dream house — if you're someone who wishes you could be living in your dream house right now, I hope this post will be very encouraging for you!
.
2012:
This post about Saving and Spending in different Seasons of Life is still one of my most favorite posts. I vividly remember writing it — and then reading and responding to so many of the comments.
I also shared our recipe for Pizza Pasta in the slow cooker — perfect for hot summer evenings when you don't want to turn your oven on (or for when you're in the middle of a kitchen renovation like we were that summer!)
Oh, and here's one of my favorite pictures from my sister's wedding (they're celebrating their 5th anniversary today!)
.
2013:
When was the last time you thoroughly checked your dryer for lint build-up? I actually just checked mine 2 weeks ago (and there was SO much extra lint inside the dryer)!
This post shares how I slightly "disassemble" my dryer to remove massive amounts of lint.
Also, if you picked or purchased delicious summer berries but don't necessarily have time to turn them into jam right now, use this super simple tip to preserve the berries until you're ready to can them (NOTE: I often can my own jam in the fall or winter).
If you're looking to save a little money on DIY projects, you might be surprised how helpful sites like Google and YouTube can be — just search for a video related to your topic of concern and I can almost guarantee you will find something to help you. Dave and I have saved so much time, money (and sanity) doing this!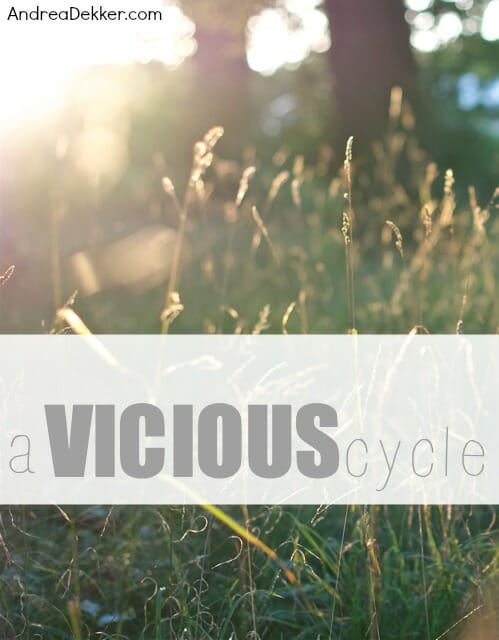 Think about this…
1. When we criticize others, it's often because we are envious of them in some way.

2. When we are envious, we are not content.

3. When we are not content, we don't achieve simple living or enjoy life..

4. When we don't enjoy life, we tend to criticize others more… and then the vicious cycle starts all over again.
I elaborated more on these 4 concepts in this post about a Vicious Cycle.
.
2014:
This week was one week of my 2-week blogging break, so I don't have any blog posts to share. However, I do have a handful of cute pictures from the vacation we took this week in 2014!
This is, hands-down, one of my all-time most favorite pictures of Nora (2.5 years old)!
I miss her sweet curls!
Simon was only 4 months old and still slept pretty much anywhere (including in my arms on the beach)!
And he LOOOOOVED to be carried in a baby carrier!
.
2015:
If you love Glad Press 'n Seal wrap as much as I do, you'll definitely want to read this post about 10 simple and creatives uses for it. Seriously, I use this stuff every single day!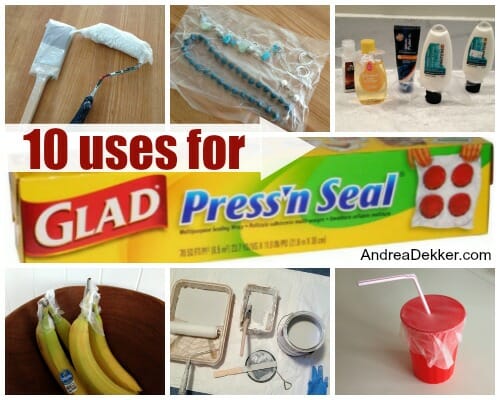 And after waiting and waiting and waiting, Mr. James finally decided to make his grand debut 13 days "late"!
Our photographer took the most amazing newborn photos of our whole family!
.
2016:
I shared a fun post about Dave and my best and worst summer jobs — what a walk down memory lane for both of us!!
I also shared 10 tips for Bringing a Dish to Pass (like at church picnics, summer BBQ's, neighborhood potlucks, or family reunions).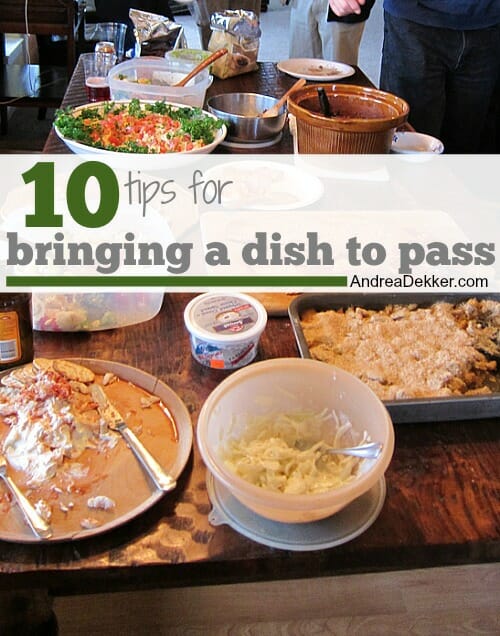 We celebrated James' first birthday — apparently he didn't mind the fact that we never had a party for him (our extended family was gone too much in July!)
I love the opening paragraphs of my post about space and stuff:
Over the last 10 years of running an in-home organizing service, speaking for various women's events across the state, and writing thousands of blog posts, I cannot even begin to count how many times I've heard someone "complain" or bemoan their lack of storage space.

And while I will agree there are many homes, apartments, and offices with VERY poorly designed storage spaces, whenever someone complains about a lack of space, my initial thought is almost always, "You don't have a SPACE problem, you have a STUFF problem".
If this sounds like you, READ THIS POST!!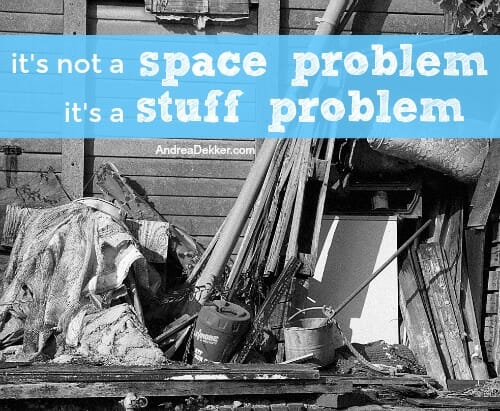 And finally, these 2 pictures pretty much sum-up how Dave and I spent the majority of our summer last year!
.
2017:
So far, our week has been filled with birthday celebrations for James (more on that tomorrow), wrapping up a few little house projects (more on those in a couple weeks), celebrating the arrival of my sister's first baby (a boy), and preparing for an upcoming vacation with Dave's family for his Grandma's 85th birthday!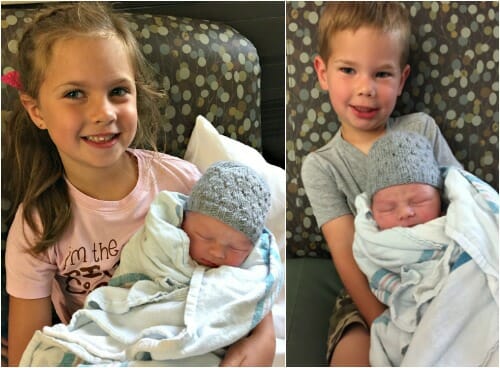 We got a Blue Apron shipment earlier this week, so Dave and I have been enjoying these meals for lunches all week (I decided I wanted to make big meals for lunch instead of dinner this week).
Seriously, even though the ingredients are often ones I've never cooked with before, I don't think we've ever had a bad meal from Blue Apron yet — and it's so fun to try new recipes!
The Catfish with Vegetable Curry was amazing!
And this Salmon with homemade Peach and Corn Salsa was potentially the best meal we've ever gotten from Blue Apron to date!!
Nora officially lost her first tooth — actually, while we were at the hospital visiting her new baby cousin. She could hardly sleep that night with all the excitements of a new baby AND a lost tooth!
She's so excited to show her cousins and all Dave's relatives on our upcoming trip!
She also figured out how to use the camera on the iPad — so I found roughly 55 pictures like THIS one (both of her and Simon) on our iCloud account the other day!
And speaking of Simon — this is how he asks Dave to do his hair every night after their baths — and every morning, he's always bummed when it's "flattened" down again by his pillow 🙂
Popsicles by the pool for this sweaty boy!
James got a sleeping bag for one of his birthday gifts (so he doesn't have to fight over Nora and Simon's anymore). However, he apparently doesn't want to go inside the bag — instead, he lays on top with a blanket and thinks it's the best thing ever!
His current outdoor obsession is "playing ball" — he's actually pretty good too!
And my favorite picture of the week so far… storytime with Dad before bed 🙂
We still have 5 more weeks of full-blown summer gloriousness before Dave starts up with school meetings again… and 9-10 more weeks until we officially meet this baby girl!