Today is Day #2 of my 11 in 2011 Challenge — and I'm in the kitchen!
A few months ago I mentioned how I save time in the kitchen by making double batches of meals and by using my monthly menu planners…but there are still so many days when I'm scrambling to quickly "throw something together" for dinner.
I hate that feeling, don't you?
So, my "goal" for this year is to eat at least one meal a week from the freezer; which means I'll have to keep our freezer stocked with delicious meals, baked goods, and snacks that can be ready at a moment's notice. I feel like once-a-week is a very reasonable goal and I already met this goal last week with these awesome Chicken Enchiladas from the freezer!
Goal #2: Keep the Freezer Stocked
.
Photo Credit: 1900 Farmhouse
If you're looking to start saving time and money by stocking your freezer, keep reading… these amazing recipes might just revolutionize the way you cook!!
---
Fresh, Frozen, Fed – For Less
By: Lauren Reinhardt from It Can Be Done!
Every time I wander the frozen food aisles, I'm always amazed at the offerings. Burritos, pot pies, lasagna and other meals-in-a-bag. Then there is nearly every fruit and vegetable you can imagine…but at a price.
Oh, the cost of convenience!
But there's a better way to utilize frozen foods — make your own!
Successfully freezing food and then using it to feed my family makes me happy, among other things. My freezing journey started after having my first child and freezing breastmilk. I didn't realize it could be frozen, and it really got me thinking about other foods.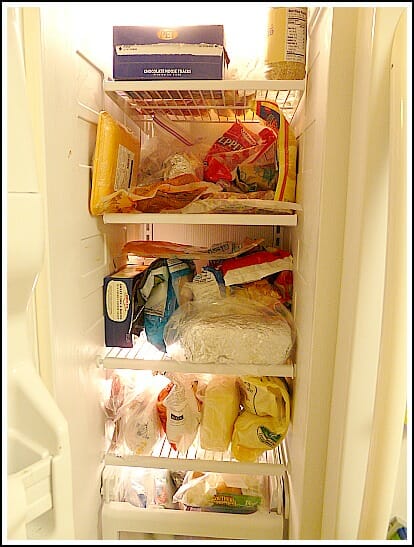 So now I freeze lots of regular foods, as well as entire meals in the freezer!
If you are like me, there are days when you just can't see straight and you're running around with your head very loosely attached to your body. And then you're supposed to cook dinner? Ha, sometimes it seems like a cruel joke. But what a relief to pull a complete meal from the freezer as opposed to the pitiful, naked chicken breast aching for some creative recipe?
And I don't even have to tell you that tasting fresh summer corn in the middle of January is an out-of-body experience!
The protein component in meals is almost always the most expensive, but my husband doesn't think we're really eating if there isn't some kind of animal cooked up and served on his plate. That means I have to buy it when it's on sale. When the ever-simple, boneless chicken breasts are on sale, buy them. If you like split chicken breasts, you can get them for a steal when they are on sale. Lean cuts of beef like London broil or other roasts are a huge value when stocked up on at a sale price! But then what do you do with all that meat?
Grind it, chop it, or keep it whole, depending on what the recipe calls for. The freezer is an awesome marinating assistant. Sometimes I'll do batches of cooking, putting several of the same meal together and freeze it—uncooked. Sure, we store leftovers in the freezer, too, but I think food tastes better when it is frozen before being cooked, rather than defrosted to cook a second time.
Here are a couple of my favorite recipes for easy (almost effortless) freezer to table meals.
Sausage Balls
INGREDIENTS:
1 lb. lean sausage
2 cups grated sharp cheese (at room temperature)
3 cups biscuit mix (like Bisquick)
DIRECTIONS:
Mix all ingredients together
Roll into 1-inch diameter balls
Set on tray and freeze until firm
Put desired number into freezer bags, label, and date.
TO COOK:
Preheat oven to 375 F.
Put frozen or thawed balls on baking sheet lined with foil or parchment paper
Bake thawed balls for 10-15 minutes and frozen balls for 20-25 minutes, depending on your oven.
Make this easier on yourself by using a stand mixer if you have one. I do all the mixing in my KitchenAid. I have done it all with my hands (ew!) and a spoon (ow!), so it was a great relief when I realized my stand mixer could do it all—and much better.
We eat these delicious sausage balls for breakfast, and they are a standing request at all football tailgates.
---
Rotel Chicken Fajitas
In a 1 quart freezer bag combine and mix well:
2 chicken breasts (boneless, skinless)
1 can rotel brand tomatoes
Seal the bag and squeeze as much air out as you can without making a mess!
In a 1 quart freezer bag combine:
1/3 cup Mexi-blend cheese (shredded)
2/3 cup cilantro (chopped/optional)
In a 1 quart freezer bag combine:
1 cup sliced bell pepper
½ cup sliced onions
1 cup sliced mushrooms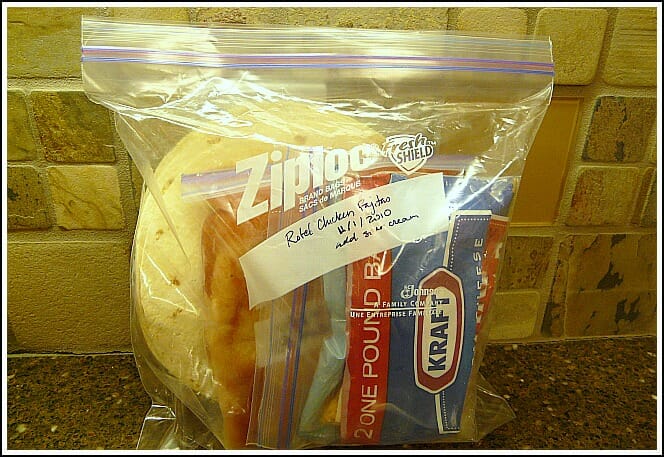 Note, you can vary the veggies to suit your fajita preference. I almost always have onions on hand, so I usually skip them.
Insert all 3 bags into a gallon sized plastic freezer bag, and add 6 (8-inch) flour tortillas.
Then, label or write the recipe title and date on the bag using a Sharpie marker (it's the only brand that doesn't run in the freezer!)
Place the bag in the freezer.
Day of Cooking Directions:
Remove pre-assembled rotel chicken from the freezer and defrost.
In a large nonstick skillet, cook chicken/tomato mixture over medium heat for until no longer pink, stirring occasionally.
In another skillet, heat some olive oil and saute onions, mushrooms, and peppers until just softened.
To Serve:
Spoon chicken mixture in center of each tortilla.
Add veg mixture and top with cheese and cilantro.
You can serve with a salad, or whatever suits your fancy.
Note, you can do this with almost any marinade and veggie combo. You can even pre-cook rice and stick it in a baggie to go with the marinated chicken.
Another simple way to get dinners in the freezer is to make extra as you're preparing whatever meal you already had planned. Just double the recipe; make half tonight and freeze the other half (without cooking it) for later. I do this with meatloaf, lasagna, etc.
What are YOUR favorite freezer recipes?

Lauren Reinhardt is a wife, mom, freelance writer, marketing/BD professional, and lover of learning. Follow her on her blog: It Can Be Done!