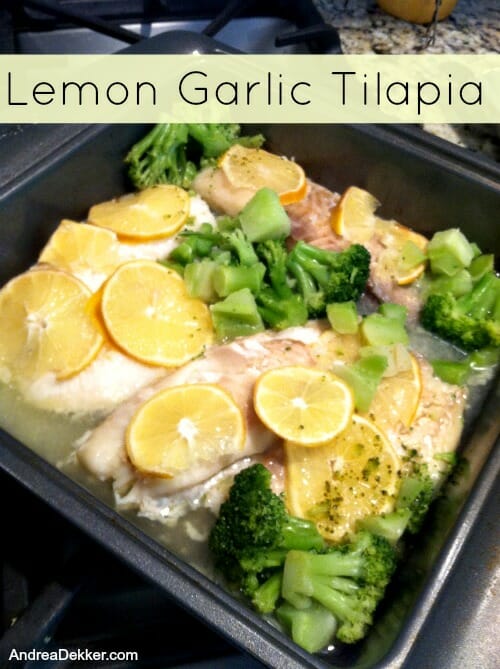 I've alway been intimidated with the thought of making fish at home. My mom never made fish, so I guess that might be part of the reason. Fish also tends to be more expensive than other cuts of meat — and I'll be honest, I don't love the smell of fish in my kitchen!
So over the course of our almost 7-year marriage, I've only made fish ONE time and it was salmon on the grill. The salmon was given to us from a friend, so I didn't have to pay for it and I didn't have to smell it cooking 🙂
However, a couple weeks ago, frozen tilapia fillets were on sale, and since tilapia is one of the few fish I actually enjoy, I thought I'd give it a try.
I found a few different recipes that all sounded really easy, so I mixed and matched some of the ingredients based on what I had in the house and based on the recipe reviews. Less than 10 minutes later, my fish was ready for the oven!
In my somewhat limited experience cooking tilapia, I can confidently say that our house did NOT smell fishy, the finished product was SO delicious, and the recipe could not have been easier (especially with the adjustments I made).
If you'd like to try making fish at home — or even if you're just looking for a new fish recipe, give this one a try… I think you'll like it!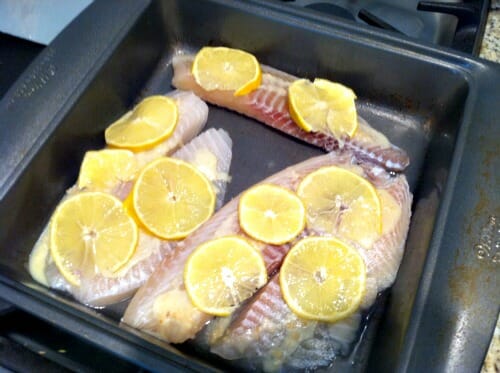 Recipe for Lemon Garlic Tilapia
INGREDIENTS:
3-4 tilapia fillets (roughly about 4 oz. each — and I used frozen)

1 T. butter; melted
1/2 t. salt
1 T. minced garlic (or 1 clove garlic)
1 lemon; sliced
Optional Ingredients:
1/2 t. seafood seasoning (like Old Bay) — you might want to use this in place of the salt

frozen veggies like broccoli, cauliflower, carrots, peppers, peas, etc.
**I did add frozen broccoli because I didn't want to get another pan dirty, but I did not add any seafood seasoning because we didn't have any in the house.
DIRECTIONS:
Preheat oven to 375*F and lightly grease a baking dish
Place tilapia fillets in a single layer on the bottom of the pan (if using frozen, you'll want to defrost them first.)
In a small bowl, mix melted butter, salt (or seafood seasoning), and minced garlic together. Pour mixture over tilapia
Place lemon slices over each fillet
If using veggies, add them to the pan around the tilapia fillets just before putting the pan in the oven.
Bake in preheated oven for 20-25 minutes or until fish flakes easily with a fork.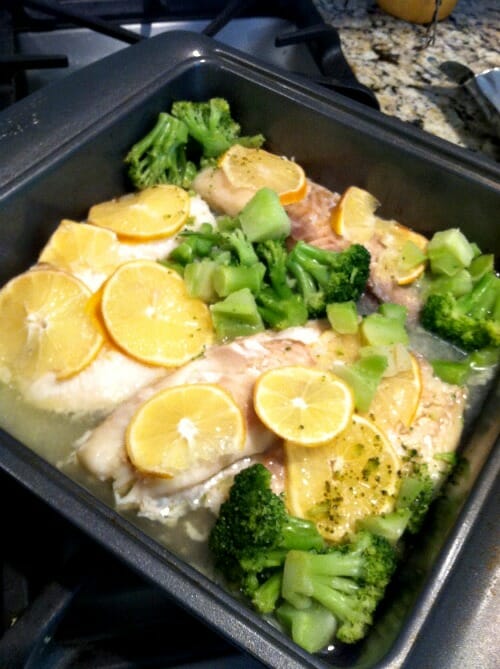 I served our tilapia with baked potatoes, broccoli, and a fresh fruit salad — it was fabulous! I think next time I'll make rice and try a different vegetable.
This recipe is so simple, and I'm thinking it would be great for anyone with food allergies. I'm sure you could eliminate the butter if you are dairy-free (or just watching your weight) and I don't think garlic or lemon are big allergy triggers.
I will most definitely be adding this recipe to our weekly meal plan the next time tilapia goes on sale.
Do you have any simple (non-smelly) fish recipes to share? If so, I'd love to give them a try!
Visit my virtual recipe box for more simple, delicious, family friendly recipes!