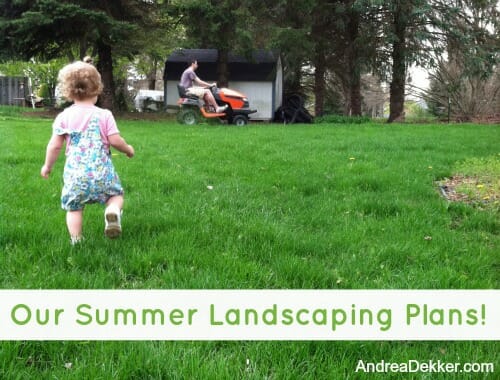 At the beginning of 2012, Dave and I decided that we would spend the summer of 2012 working on our yard. Then the summer of 2013 renovating our kitchen.
However, in April of 2012, we started having a bunch of problems with our kitchen and all our appliances seemed to be on their last leg (not to mention the kitchen was totally unpractical and ugly).
So we changed our plans and did a full-blown kitchen renovation last summer… which means we're tackling the yard this year.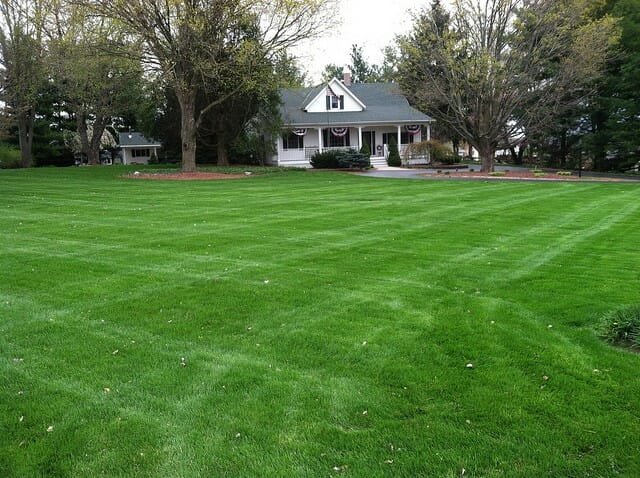 As you can see by the picture above, our yard looks just fine from the road… but when you get a bit closer, it's a different story.
EVERYTHING is getting really over-grown, there are a bunch of huge dead (or almost dead) trees, the grass in the back yard is basically all weeds and dirt, the front yard has an explosion of Bent Grass that we need to kill off, and the planting beds have been taken over by ivy and other invasive ground covers.
The picture below shows a bit of the "over-growth" I'm talking about. It looks somewhat quaint with the lovely blooms and green grass, but it's seriously so stuffed full of plants that nothing has room to breathe (and this photo was taken 2 summers ago so it's worse now!)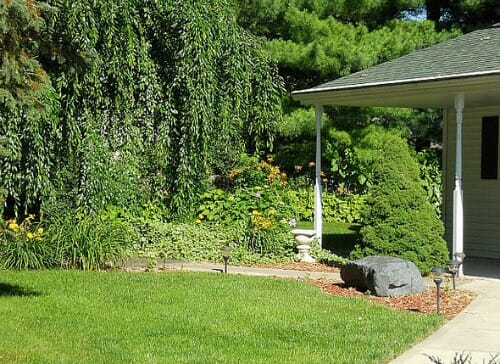 It could definitely be worse, but since Dave and I really do enjoy yard work, and since we have such a great yard for summer entertaining, we decided it was time for a total yard over-haul. We're starting from the ground up (pun intended!) and hopefully, by the end of the summer, we'll have a some lovely before and after pictures to share!
The Demolition:
We've already done a significant amount of demolition — so our yard actually looks MUCH worse than it did a few weeks ago. I guess that's almost always the case with big projects though.
We started by having about 15 trees cut down and then having the stumps ground out (all by a professional company). Some of the trees were small to medium size, but some were massive, 150+ year old trees that were starting to die — and only about 15 feet from our house! Yup, they had to go.
We're also removing most of the existing bushes, ornamental trees, ground cover, and ivy because they just aren't our style and they are all SO overgrown.
The Design:
Dave and I completely re-landscaped our first home… but it took us about 3 tries before we produced results that actually looked good. Apparently, we don't have great spacial sense when it comes to planting beds 🙂
Our first try looked absolutely awful — I still wonder what our neighbors must have thought! Then the next summer, we tried again and made some improvements, but it wasn't until the 3rd try that we got it to look nice.
After that lengthly (and costly) process, we decided that the next time we took on a large landscaping project, we would have the over-all design done by a professional.
So a couple months ago, we contacted a local Landscape Architect who came and got our ideas, measured our property, and drew up a FABULOUS plan. Seriously, it's so lovely! It fits our home and our needs just perfectly.
Here's a tiny sneak peek!
And for those of you who think it sounds expensive to hire a Landscape Architect — let me assure you, it's WAY cheaper (and less time-consuming) than re-landscaping your yard 3 different times. Plus, it's probably better for our marriage too 🙂
Our particular design only cost $300 — and we have a full acre property to landscape.
The architect drew out every last detail, which means we can now implement her design as slowly or as quickly as we like over the next couple of summers. We can also do as much or as little of the work as we want. Of course, it will be more expensive if we hire the landscaping company to do the work — but at least we have options.
The Implementation:
Our plan is to fully transform all the planting beds around the house and garage this summer. We're also going to plant a handful of trees in the front yard.
Then next summer, we're hoping to finish the planting beds down each side of our yard as well as a vegetable garden. Depending on how things look and how much we accomplish in the first two summers, we'll finish up the remaining work the 3rd summer.
This summer will be the most expensive of the 3 summers — partially because the actual plants and trees we're using are somewhat costly, but also because we have to hire out a bunch of the the work (like cutting down trees, grinding out stumps, and planting the new trees). We aren't capable of doing those huge jobs and they need to be done — so we really have no choice but to hire them out.
The next 2 summers, we'll hopefully be able to do most (if not all) the work ourselves.
The Plants:
Our current landscape has some really nice Hostas, Azaleas, Lilacs, Rhododendrons and Hydrangeas (and we'll be keeping most of those), but pretty much everything else has to go.
I'll be sharing lots more about our plant selection once the renovations are finished, but for now, here's a list of the plants we'll be including in our new design.
Norway Spruce Trees
River Birch Trees
Ornamental Pear Trees
Shrub Roses
Boxwoods
Limelight Hydrangeas
PeeGee Hydrangeas
Lilacs (a cool double bloom variety)
Coreopsis
Spirea
Salvia
Astilbe
Coral Bells
Coneflowers
Bleeding Hearts
Rhododendrons
Hameln Grasses
Maiden Grass
Holly
Peonies
Hostas
Sounds like an awesome mix for a lovely farmhouse landscape doesn't it!!
Oh, and if you have no idea what any of these plants are, check out the Growing Garden Flowers website — it has lots of pictures, and you can simply select the type of flower you want to see from the right hand column.
The Extras:
We've already been doing a lot of these "extra projects" as I call them — and it feels SO good to cross a bunch of them off our list (especially since many of them have been on our list since we bought the house 2.5 years ago!)
We had our roof cleaned — it was literally growing things!
We had our house professionally power washed — our nice white siding is white once again
Our front porch and back deck are now power washed, stained, sealed, and (almost) all repainted
We cleaned out our garage and will soon be installing a new organizing system (more on this later)
We're in the process of putting up a wooden fence to enclose part of our backyard and keep Nora from running away 🙂
We're getting a new front door that will fit our farmhouse a lot better than the current door with brassy gold accents and decorative glass patters (I'm planning to go a lot simpler with the new door)
We're hoping to turn a small corner of our backyard into a "kids area". We already have a swing set and a picnic table, but we'd like to incorporate a sandbox, a kiddie pool, and maybe some kid-friendly plants for Nora and all her neighbor friends.
I think that's it… for now.
Obviously we have a lot going on right now, but Dave will be finished with school next week and then we can both get to work — well actually, we'll take turns working while the other one plays with Nora, but you get the idea!
I'm sure it will be stressful and trying at times, but at least we can leave our mess outside and not have to deal with it 24/7 like we did last year with the kitchen renovation.
I'll continue to share updates over the next several weeks… and I'm sure I'll be posting lots of pictures on my Facebook page!
Have you ever done any big yard projects?
If so, do you have any words of wisdom to share? Or would you like to come help us work? I'll pay you in monster cookies and strawberry lemonade!