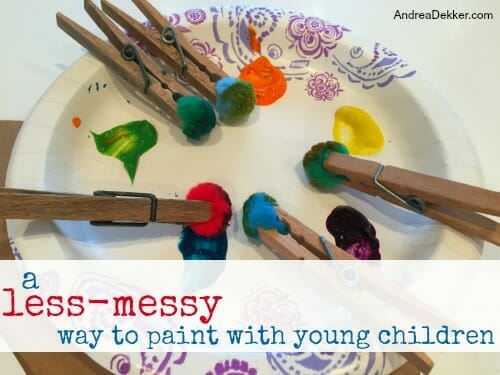 While I usually try to stick with relatively mess-free crafts and activities for my young children, there is just something about painting that is SO exciting for them — and they ask to paint ALLLLLLLLL the time.
Sometimes, I can convince them to color with crayons or markers instead, but usually they insist on painting… and yes, it's messy (even with a brush!)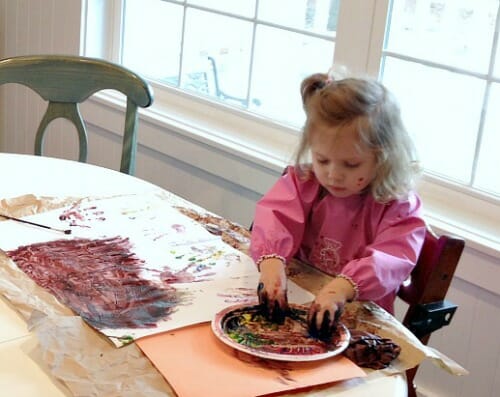 Nora is old enough that she is relatively careful when she paints. I told her I don't care if it gets on the table or her smock, but I don't want it dripping on the floor, and she needs to wash her hands before getting down from the table (I give her a wet rag).
However, Simon is a different story! He has been very into painting recently — and he is basically a tasmanian devil with a paintbrush. Paint ends up in the craziest places when he gets ahold of a paintbrush!
I've been putting a tablecloth under his chair and some paper bags under his painting paper, but he flings his brush around and ends up splattering paint all over the place.
I was almost to the point of only letting Nora paint when Simon was napping… until I came up with a less-messy idea for painting after watching what Simon did with one of his speech therapists.
I really don't know what they were doing, but she had him use clothespins to pick up colored puff balls and then dip the puff balls in a small bowl of water. Almost instantly, I thought "maybe that would work with paint too!"
And wouldn't you know… it does!
I'm not sure what it is about the clothespins versus the paintbrushes, but Simon has had several relatively mess-free painting sessions since we've started using the puff balls — and of course, Nora thinks it's pretty fun too!
Maybe it's the fact that they aren't quite strong enough to open the clothespin, or that the paint doesn't splatter with the puff balls like it does with the brushes. Also, I think the smaller, fatter clothespins are easier for small hands to hold onto and maneuver.
Whatever the case, we will most definitely continue using this method with Simon until he's a little older and can handle a paintbrush!
.
One of our recent painting sessions turned into an Easter craft as Nora wanted to "paint Easter Eggs". I didn't think she would go for my simple idea, but apparently drawing a giant egg shape on a piece of white cardstock was good enough for her!
Not too bad for 10 seconds of effort on my part!
.
One thing I should mention is that I DID try this with cotton balls, but it doesn't work well at all. The cotton balls absorb too much of the paint, get all stretched out and soggy, and they leave strings of cotton in the paint. Puff balls are far superior!
So it looks like we can still enjoy fun painting crafts (even with Simon) without tons of extra clean-up 🙂
Oh, and I still have no idea why the speech therapist had Simon using the clothespins and puff balls — but I'm sure glad I saw it!
Do you have any other simple less-messy crafting ideas for kids?
Here are a few of our favorite relatively mess-free crafts and activities for young children.