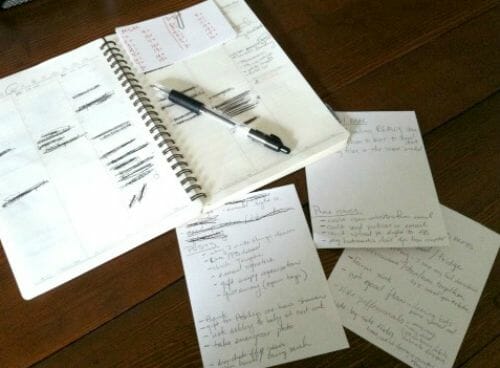 I know many of you can relate to having a very FULL schedule and feeling quite pressed for time… right?!
Whether you're working multiple jobs, raising children at home, starting up a business, taking care of elderly relatives, moving, working on house projects, planning upcoming events, or involved with various church, school, and community programs… there are so many wonderful ways to spend our time that it's easy to overbook our schedules.
Believe me, I get it!
Although I do actually enjoy having a lot on my plate, I have really been working hard to hone my skill of "saying no" when certain requests for my time don't line up with the goals I have for myself, my family, my home, my business, etc. It's not fun, it's not easy, and I hate letting people down, but for my own sanity, and for the happiness of my family, I have to say no more often than I'd like these days.
That said, even after I say no, there are still so many requests for my time — from my children, my business, housework, church and school activities, etc. that I still sometimes feel a bit "overbooked" and not sure if I will be able to fit everything into one 24-hour period.
When I start to feel like there aren't enough hours in the day to do everything I want and need to do, I've noticed that for me, it often comes down to little things that are slipping through the cracks or small tasks that I'm procrastinating on until they turn into big tasks.
For example…
I neglected to clean all 3 of our bathrooms one weekend and then we were gone the next weekend. Suddenly, a quick little cleanup turned into a major job that took much longer than if I had just done it right away.
I had a couple extra blog projects I wanted to work on over the summer. My plan was to tackle one extra project a week for a few weeks, but after 3 weeks of not doing any of them, I ended up doing 4 extra projects in one week, and although I felt accomplished, I was also slightly burnt out when everything was finished.
A few weeks ago, I put off responding to a bunch of non-urgent emails longer than I normally do (I always try to respond the same day if possible) and before I knew it, my inbox had a bunch of urgent emails I needed to attend to quickly, along with all those non-urgent emails that still needed my attention. I ended up spending a couple hours weeding through my emails, when it usually only takes me a few minutes if I stay on top of it.
Although I'm usually VERY diligent with staying on top of the laundry, there have a been a few times this summer when I've had to do 5 or more loads in one day (that's a lot for us) because I put it off for too long. It felt like an all-day laundry marathon and I could tell I was much more frustrated with the kids "helping" than I am when there are just 1 or 2 loads to fold and put away.
Weeding — I don't think I even need to explain how long Dave and I let this chore go undone. Just look at the picture below 🙂
It often seems that when small, seemingly unimportant tasks catch up with us, the larger, more important tasks start to feel too big and overwhelming for us to tackle — which makes it even easier to procrastinate.
And I don't think I need to explain why procrastinating on the big important tasks isn't such a great idea…
.
How often don't big issues start with small issues?
If you think about it, so many big issues and problems start with really small issues and problems that are left undone for too long. These smaller issues are less time-consuming, less expensive, and less overwhelming if we just do them right away.
A few examples that immediately come to mind are:
laundry and other household cleaning chores that seem to pile up so quickly
forgetting to pay the bills
slowly acquiring more and more debt
gaining a few pounds here and there
letting our healthy habits go by the wayside
making a small pile of papers for "later"
going out to eat (again) because you didn't make a meal plan for the week
not sticking to your budget for one week… and then two weeks…
I could go on and on, but I think you get the idea.
For me, it all comes back to the little things.
Maybe it's just me… but I know that when I do a good job staying on top of all those millions of little (and seemingly unimportant) tasks, the big important tasks on my list don't seem as overwhelming, and my days seem to run much smoother.
The nice thing about this is that the little tasks usually don't take much time or energy to complete. The issue comes because these tasks are the perfect type of tasks to procrastinate on.
After all, nothing too horrible will happen if you make one tiny little pile of papers, or push the laundry off one more day… right? No, probably not. However, if you have the same thoughts tomorrow, and the next day, and the next day, you will eventually run into issues when you realize you have mountains of papers covering your desk and absolutely no clean clothes to wear 🙂
Do yourself a favor and make a goal to stay on top of all those little things every day. Then, carve out a little time to plug away at some of your bigger tasks, and before you know it, you'll be crossing off to-do's left and right!
What small tasks have you been putting off?