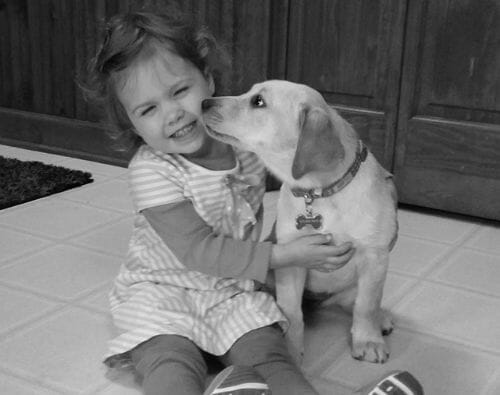 TRUE STORY: we almost got a dog… 4 days before James was born! (Not the dog in the photo — that's just a cute picture of Nora from a couple years ago.)
Right now, I have a feeling that anyone who knows me is thinking, "how on earth could Dave ever convince Andrea to get a dog?" and those of you who don't know me that well are probably thinking, "who in their right mind would get a dog right before having their 3rd baby?"
I promise, I wasn't totally delusional.
Here's the whole story…
I've always said that I would never get a dog unless we found one that met all of the following criteria:
it was non-shedding
it was a small-medium size indoor dog
it was completely "potty trained"
it had all it's shots and was in good health
it was spayed or neutered
it was well behaved and good around kids
it was FREE 🙂
I'm certainly open to the idea of getting a dog once our kids are old enough to play with it, take it for walks, etc. but right now, there is no way on the face of the earth I'm getting a dog… because what was the likelihood that we'd find a dog that met my ridiculous list of criteria. Right?
Plus, all of Dave and my siblings have dogs so our kids can just play with their dogs for now!
.
Well, about a week before James was born (I was already 1 week overdue) my sister emailed me a picture of a 5-year-old labradoodle, and said it was "free to a good home".
I figured something must be wrong… but I emailed her back anyway.
Well, she had done it — she had found a free dog that met every single thing on my list.
it was non-shedding
it was a "bread" dog and the owner had all the paperwork
it was smallish and an indoor dog
it had all it's shots and was in really good health
it was spayed
it was great with kids and really well behaved
and it was free!
On top of all that, the current owners were going to give us the kennel, the collar, the leash, the toys, the extra food, etc. and get it groomed one more time before they gave it to us.
And, just to sweeten the deal, they said they would keep the dog until we had the baby and life settled down a bit.
.
Dave and I talked about it and thought that aside from the horrible timing, this sounded like the perfect situation and the perfect dog for our family. We even took Nora and Simon to go play with the dog (Abbey) and they seemed to hit it off.
We asked the owners to give us a couple days to think about it… but Dave and I were actually pretty excited and planning to say "yes".
However, then I remembered the post I wrote several months ago about The True Cost of Our Stuff.
I went back and re-read that blog post, and the following message really hit home:
I'm sure some of you might be thinking how boring, or un-fun, or super cheap I sound right now — but the fact of the matter is that even inexpensive (or free) items usually come with hidden costs that might end up being a burden later on.

For example, when you bring something into your home, you'll eventually need to:

Find a spot to put it
Clean it (or around it)
Organize it (or around it)
Maintain it
Feed it (think of those "free pets" you see on Craigslist)
Water it (plants)
Put batteries in it or pay for electricity to run it
Buy accessories to go with it
Fix it if/when it breaks
Move it (if you move or change locations)
etc. etc.

So even getting a fabulous deal or an awesome freebie almost always ends up using many MANY resources over it's lifetime in your home.
.
After reading that post, I told Dave I didn't think it was great timing for a dog — and believe it or not, he actually agreed with me. He said he had been second-guessing it as well, so we both willingly put the kibosh on our free dog.
The fact of the matter was that even before having James, I was fully aware of how crazy and tiring and unstructured life would be in the months following his birth. I had already brought 2 babies home from the hospital and I knew how busy it was going to be. I couldn't possibly fathom adding a new dog to our family right in the middle of that crazy time!
I ended up going into labor that night and called the dog owners from the hospital the next day to let them know that we would not be able to take the dog.
They completely understood and I'm sure they had no trouble finding new owners for their freebie dog.
.
Now, 2 months later, I honestly can not even imagine making the time to care for a dog — feeding, walking, playing, picking up poop, washing her, cleaning up the house after her, etc.
I'm sure our kids would have thought the dog was cool for the first 2 weeks, but then it would have been ME doing everything for the dog while the kids ignored her.
.
We will probably get a dog someday… just not right now!
Our kids have enough fun with their stuffed dogs and their "cousin dogs" 🙂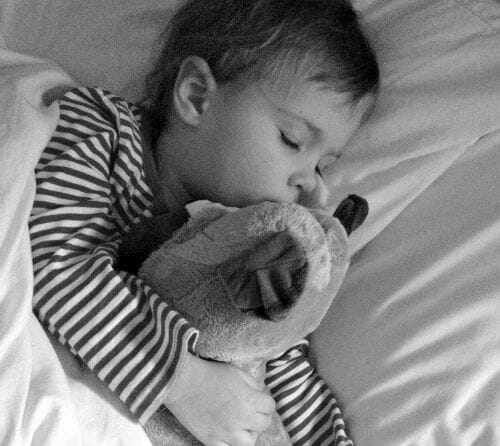 The moral of the story: Free isn't always free.
Even if you get something for free (or very inexpensively) there are still so many "costs" of maintaining that thing, caring for it, cleaning up after it, making a space for it in your home, etc. etc.
So while I'm certainly not trying to sway you from finding a great deal (or getting a dog), I would encourage you to really stop and think about any hidden costs (financial costs, time costs, energy costs, and space costs) before you bring something into your home.
In my opinion, we would all have a lot less clutter, a lot more time, and a lot more energy if we thought about the true cost of our stuff a little bit more!
Also, if you haven't read my post about The True Cost of Our Stuff, you can read it here.