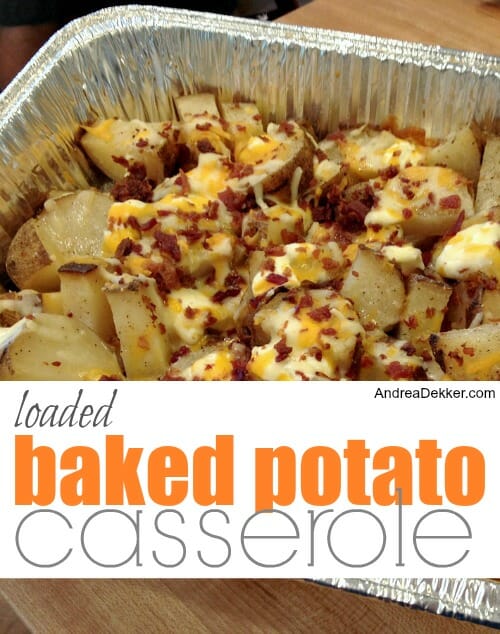 A couple weeks ago, we ended up with LOTS of extra baked potatoes after a party we had at our house.
I was thinking of ways to potentially freeze them (my dad suggested shredding them for hashbrown potatoes, but I personally don't love the texture of frozen potatoes… so I was hoping to come up with a better idea.
Then I remembered that about a month ago, Dave's mom made a potato dish with leftover baked potatoes… and it was really good. I didn't have the recipe — but the concept was simple enough that it was fairly easy to recreate just by "winging it".
The results were really tasty — so tasty that I ended up making it 3 times in about 2 weeks!
The Dekkers LOVE potatoes!
Anyway, since this recipe is SO simple and since you can essentially use whatever ingredients you have in the house or whatever ingredients your family likes, I figured it was another perfect recipe to share on the blog!
If you're looking for a great way to use up extra baked potatoes — or even if you're just looking for a really yummy make-ahead potato dish for your next family gathering, this one is sure to please.
Recipe for Loaded Baked Potato Casserole
INGREDIENTS:
leftover baked potatoes
salt
pepper
garlic powder
sour cream
butter
cheese
bacon
chives
DIRECTIONS:
Cut leftover (already baked) potatoes into large chunks and place in a greased pan
Sprinkle with salt, pepper, garlic, and any other spices or seasonings to taste
Place small pats of butter and/or scoops of sour cream over the top of the potatoes
Sprinkle with cheese, bacon, chives, and any other toppings you desire
Bake at 350*F for 20-30 minutes, or until potatoes are heated through and cheese is very melted
Of course, if you don't have "leftover baked potatoes" you can always just bake your potatoes first, let them cool a bit, add the toppings, and then pop them back in the oven to melt the cheese and get nice and gooey.
You could even bake the potatoes the day before, make the up the casserole the morning of, and just throw it in the oven about 30 minutes before you're ready to eat. (Gotta loves those make-ahead side dishes!)
Oh, and I think this recipe would also work really well in a slowcooker. I've personally never tried it, but I'm almost positive that after 2-4 hours on low, it would be ooey-gooey and ready to go!
This recipe will definitely be one of my new go-to potato recipes any time we have leftover baked potatoes. In fact, I might start intentionally making a few extra baked potatoes to assure we have leftovers 🙂
What are your favorite ways to use up extra potatoes?
Visit my virtual recipe box for more simple, delicious, family friendly recipes!