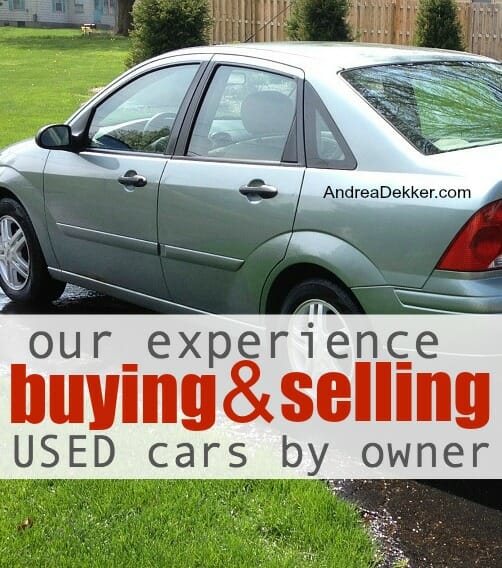 I don't want to say "never", but at this point in our lives, I highly doubt Dave and I will be buying a brand new, off-the-lot vehicle any time soon.
Yes, we could technically afford to pay cash for a more basic new vehicle… and of course, we could always take out a loan to buy a fancier one, but neither one of us is a "car person", so paying for new just seems like a waste of money to us.
Side Note: If you're wondering if you should buy a new or used vehicle, here's handy online calculator that will help you decide.
We really don't care about the make or model of the car — as long as it's practical for our stage of life. We don't care too much about color (although we are partial to black!) and we don't have a long list of "must have features" that would make shopping for a used car more difficult.
Basically, as long as it's a decent car that has been properly maintained, isn't full of rust, and has lower mileage, we're OK with many different used car options.
As I mentioned a few weeks ago, over the course of our 9-year marriage, Dave and I have have had very good experiences buying and selling used cars by owner.
I don't want to "jinx" anything, but we've honestly never had any issues with our used car purchases or sales. We've purchased 3 cars and sold 2 — all on Craigslist. The 3rd car that we WOULD have sold was totaled in a freak accident.
Anyway, after mentioning our different used car sales and purchases here on the blog, I've gotten SEVERAL questions asking more about what we do to sell our cars so quickly, what we look for when buying a used car (specifically a used car from owner), how to know if we're getting a good deal, what scams to potentially watch out for, etc. etc.
They are all great questions — but since neither Dave nor I are super knowledgeable when it comes to cars, I thought that instead of giving you specific tips or "how-to advice", I'd simply share MY answers to some of the questions I've been getting… and then offer some additional advice from more knowledgeable online resources.
Sound good?
Please make sure you do your own used car research as well!
Why did you sell your cars? And why by owner?
The main reasons were because we either wanted to upgrade (good bye high school + college junker!) or we needed more space for our growing family (try fitting 3 carseats in the back of a tiny Ford Focus!)
And we chose to sell our cars by owner simply because we could make a lot more money than if we just traded them in or sold them through a dealer. Plus, you all know how much I love selling things online!!
How did you go about selling your cars by owner?
As with pretty much everything I sell, I turn to Craigslist!
However, before we list anything, we clean up the inside and outside of the car REALLY well. Then we take a bunch of high-quality pictures (I edit them as well for size, sharpness, lighting using PicMonkey.com), and list a fair amount of details about the car (but not so much that it's totally overwhelming).
I also link to the Kelly Blue Book listing and provide full information about ANYTHING that is potentially wrong with the vehicle (just so no one thinks we're trying to scam them).
We ALWAYS require cash or a cashier's check for ALL Craigslist purchases.
I get ALL the paperwork for the car together in one folder (insurance information, title, registration, maintenance records, etc.) just in case the buyer wants to look over anything.
When people contact us, I'll set up a time for them to come look at the car and test drive it (usually that same day) and then basically wait to see what they decide.
I've found that usually with used cars (at least our used cars) the potential buyer will make their decision on the spot and either drive away with the car or give us a deposit and then come back later that day to pick it up.
We always keep insurance on the car for at least 24 hours after the car sells — but then we call our insurance company and cancel so we don't pay any extras!
What do you look for when buying a used car?
For us, it's a combination of a few things
1. Price — obviously, we have a budget to stick to!
2. Mileage — we really prefer cars with lower mileage.
3. Style — it has to be something that will accommodate at least 3 carseats and offer some storage for our gear.
4. Features — we don't need all the fancy bells and whistles, but we do have some options we always look for in a used car — like power locks and windows, rear temperature control, and a DVD player.
5. Year — while mileage is more important to us than the year of the car, this is still obviously something we consider, especially how it factors into the price of the car.
6. Condition — we don't need new or beautiful, but we also don't want rust or chipping paint on the outside or rips and stains on the inside. We want things to be working properly and for the vehicle to be from a NON SMOKING (and preferably non-pet-owning) seller.
We do a fair amount of online research when buying a used car (it's amazing all the information out there today!)
If you're in the market for a used vehicle, I would HIGHLY recommend reading through this article from the Allstate blog. It shares some of the ins and outs of what to look for when buying a used vehicle — including this helpful VIN decoding resource (it's really cool!)
Do you get an inspection or print a CARFAX report?
We personally have not gotten any of our used cars professionally inspected before buying them. We also have never used CARFAX — however, many of the people who have purchased cars from use have used CARFAX and said it was helpful for their decision-making process.
I do think an inspection is a really good idea — however, if you know even a little about cars, you can probably do a decent inspection on your own.
This article from the Allstate Blog offers 10 things to look for (inside and outside the car) when doing a used car inspection.
even the kid's toy car was purchased used on Craigslist 🙂
Have you ever felt like you were being scammed?
Honestly, no.
As I mentioned above, we have had really great car buying and selling experiences (which is probably why I'm such an advocate for used cars).
In general, I would say to trust your gut and if you feel like something is off, just wait another day or two before making your decision. If the seller is trying to pressure you into acting quickly, then it's probably not the right deal for you.
Also, if you sense the seller is trying to hide something, maybe take an extra day to check out the CARFAX report to verify the details are correct.
Some of the more common used car buying scams are Odometer Fraud, VIN Cloning, Title Washing, Curbstoning, and AirBag Fraud. You can check out this article for advice to avoid these potential scams.
In my opinion, buying quality used cars is one of the ways Dave and I are able to save HUGE amounts of money — especially since vehicles depreciate so quickly. We'd rather spend the money on our house and yard — but like I said earlier, neither one of us are "car people"!
Do you have any other tips, advice, or comments about buying or selling used vehicles by owner?
This post was written as part of the Allstate Influencer Program and sponsored by Allstate. All opinions are mine. As the nation's largest publicly held insurance company, Allstate is dedicated not only to protecting what matters most–but to guiding people to live the Good Life, every day.