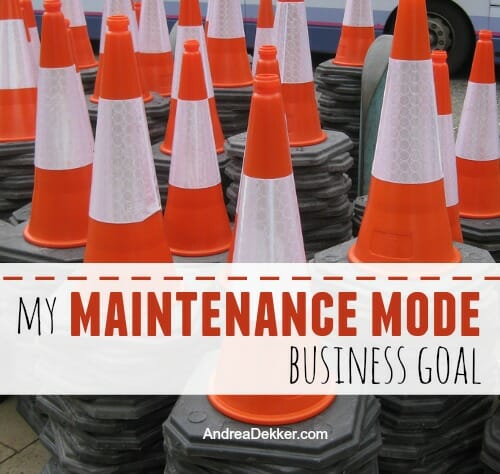 When I first started my in-home organizing business at the age of 21 (just months out of college), I had visions of building a huge clientele and growing as quickly as I possibly could.
Now, 10 years, 3 children, and 1 website later, my business no longer includes in-home organizing or speaking for various events — and my goal is no longer huge growth.
Instead, my main goal is simply to maintain what I already have.
More specifically, to maintain what I already have while working fewer hours.
.
I am so grateful for the countless hours I put into my business those first few years. There were many times I wanted to throw in the towel because I had almost nothing to show for days, weeks, months, and even years of hard work.
Thankfully, I enjoyed what I was doing enough to continue working hard without much income to show for it. I didn't have children at the time, nor did I have many other outside commitments or obligations, so I could put in massive amounts of "blood, sweat, and tears" without adding too much stress to my life.
By the time I was pregnant with Nora (about 4 years after I started my business) I was finally making a good part-time income, and I knew I could stay home with with my soon-to-be new baby — if that was what I decided I wanted to do.
.
After Nora was born, I worked hard for a couple more years to achieve a good full-time income; but right before Simon was born, I decided I just didn't want to devote as much time to my business anymore.
I still loved what I did… I just didn't want to do quite as much of it.
So I cut back on work to make more room in my life for new babies, growing toddlers, and lots of house and yard projects!
For the past 3 years (seriously, how is Simon almost THREE!) I've been slowly and consistently cutting back on the number of work-related things I say "yes" to.
I stopped accepting any organizing clients and passed my current clients to other area organizers.
I stopped accepting any new virtual assistant jobs, and I quit all but the 2 VA jobs I've had since the very beginning.
I stopped speaking for local events.
I stopped doing all social media, except Facebook.
I stopped doing weekly giveaway posts and now write 5 posts per week instead of 6.
I haven't made any major changes to my blog since I changed the name in 2013.
I don't do any email marketing and I'm not trying to grow my email subscriptions in any way.
I don't actively seek out advertisers or sponsored posts, and I end up saying "not right now" to many of the companies who contact me.
I don't go to conferences or do any traveling whatsoever for my business.
I don't do anything that requires meetings or specific time-sensitive appointments or obligations.
I don't commit to anything between 5:00 and 8:00pm so we can eat dinner together and put the kids to bed.
Obviously, I've been able to free up A LOT of time by eliminating all those tasks from my plate… but I'll be the first to admit this probably isn't the best business plan 🙂
However, I'm OK with my not-so-great business plan because it's a great "simple living plan" for my current stage of life.
.
With 3 young children at home and a handful of house and yard projects we still want to cross off our list, this is NOT the season of life for me to be actively pursuing huge business growth. (For the record, Dave has significantly cut back on his "extra" responsibilities at school too.)
Instead, by working in "maintenance mode" for a while, I get to do something I'm passionate about, work at my own pace, interact with amazing people from all over the world without ever leaving my house (an introvert's dream!), and I can do it all without paying for daycare or constantly feeling stressed about the huge mountain of to-dos I have waiting for me.
.
So often, we talk about "maintenance mode" in a negative way — as in "I'm so busy, I have no time for anything. I'm simply in 'maintenance mode' trying to hold the pieces together."
That is NOT the type of maintenance mode I'm referring to, though. Instead, I am making a conscious effort to simplify, to cut back, to minimize my commitments so I can continue to use my gifts to do something I enjoy, while keeping a decent balance between my work life and my home life.
This doesn't mean I just sit home and do nothing — I'm working hard to complete my blog work and VA work every week while still making time for household chores, errands, and family. However, I'm not going to push myself to the point of exhaustion just to keep up with other bloggers or business people who are growing or doing more.
.
Yes I make a little less income than I did before, and yes, there's a tiny part of me that will forever want "more growth"; but I continually remind myself that the fact I'm able to make any amount of money working from home, doing something I'm so passionate about, while taking care of the people I love most is something I honestly never dreamed I would be able to do.
Sure, it sounds exciting to have a huge blog following, but I know that would require a lot more effort on my part — potentially hiring on additional help (and all the management headaches that could bring with it).
I would love to get back to speaking for local women's events, but that would require childcare, traveling, and lots of prep work in the days leading up to the event.
I would enjoy working with in-home organizing clients again, but I don't want to deal with the hassle of last-minute cancellations, constantly-changing schedules, and putting in extra hours away from home with 3 young children.
I know I could pick up more VA work if I wanted to make the time, but more hours on my computer isn't the best use of my time right now.
I wouldn't be surprised if I resumed many of these activities once our children are all in school; but until then, I'm simply planning to enjoy this period of "maintenance mode" for my business.
If you are at a point in your life when "growth" is what you need (business, personal, spiritual, emotional etc.), then push yourself to grow and learn as much as you can.

However, if you feel the need to slow down a bit and put parts of your life into "maintenance mode", I don't think you'll regret taking that step back. After all, it's a better alternative than burning out and quitting altogether!
Are any parts of your life in "maintenance mode" right now?