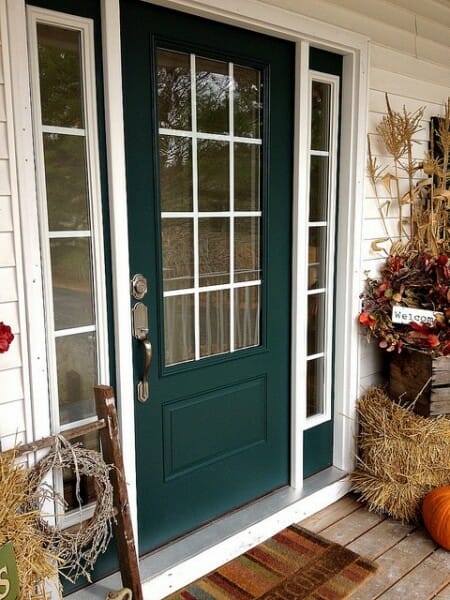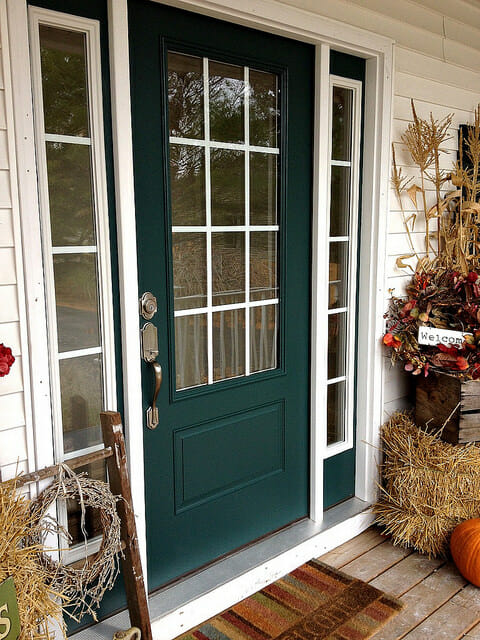 It's official, my friends… after over 2 years of living with a front door that opens directly into a wall (and creating a very awkward situation for all our guests) we FINALLY have a front door that opens the right way! Not to mention, no more fancy glass or brass accents!
Here is the BEFORE picture:
A couple PROGRESS pictures:
And the AFTER pictures — with a little dust and dirt left behind on the porch:
The whole installation process took approximately 2 hours… and since the door was delivered a couple weeks later than we had planned, we finally installed our new door less than 48 hours before freezing temperatures and about 10″ of snow hit West Michigan!
Thankfully, I had the door all painted and ready to go before we installed it — otherwise, it definitely would have been too cold to paint it out in the elements and I would have been stuck with a white door until spring.
And speaking of painting the door….
Several weeks ago, I asked my Facebook friends for suggestions as to what color we should paint our front door. Dave and I both really love the idea of a non-matching but still coordinating front door color (like red!); however, we weren't sure we could pull off a red door since our shutters, our roof, and all our other doors are painted a dark green.
Many people seemed to think red (or another color) would work fine — but since we were running short on time and just wanted to make sure it looked good right now, we opted to stick with the original green color. There's a good chance that we might change things up in the future… but for this winter, we're very thankful for our green door that opens the right way!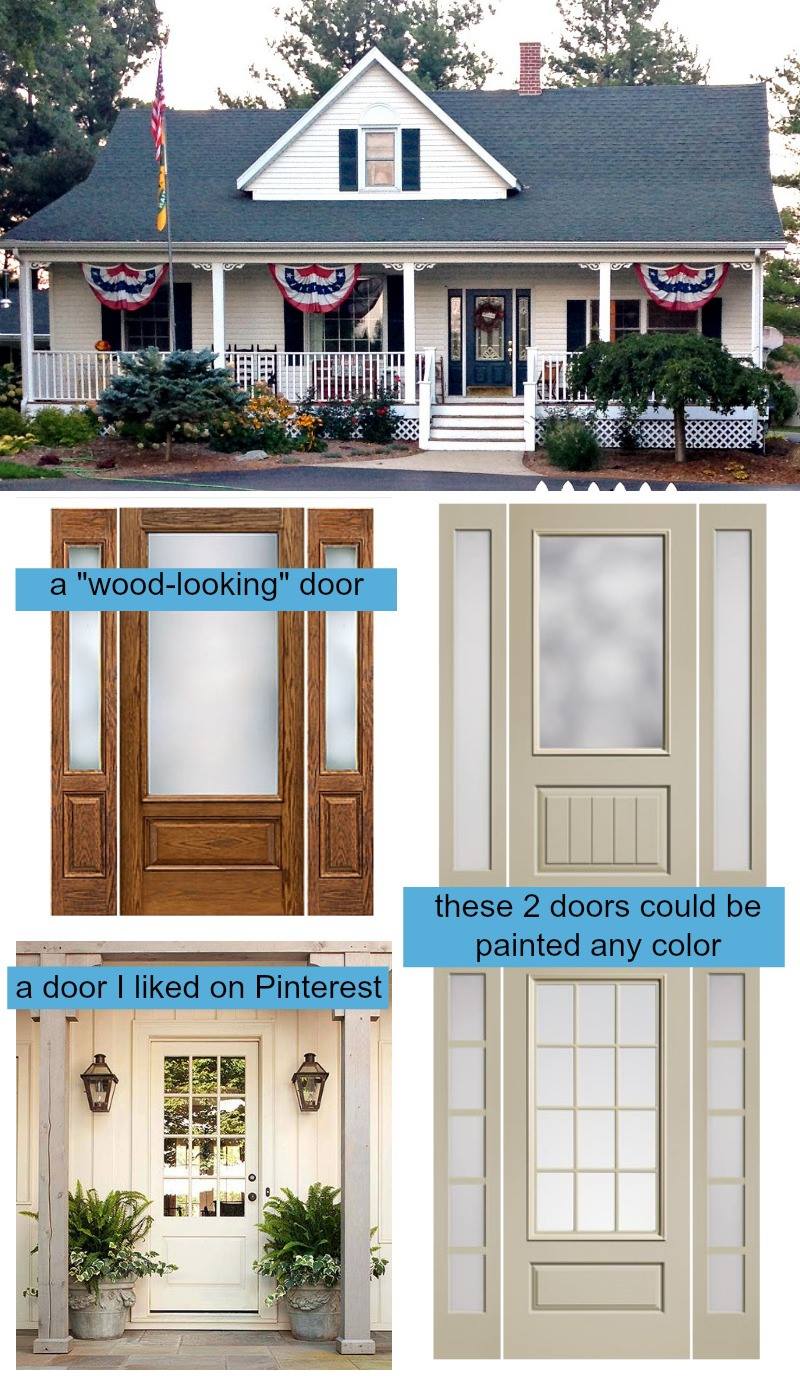 The photo above is what I shared on Facebook — obviously, we ended up going with the door on the bottom right. So far, we are extremely happy with our selection!
.
As I was thinking of writing this post and how excited I was to have our new front door, I realized that over the past few months, we've changed every single entrance point of our home, garage, and outbuilding in some way.
Obviously, the new front door is one of the more noticeable changes…. but the mudroom addition on the back of the house was also a fabulous reason to get a brand new back door.
Yes, I finally got around to painting that door too!
Then we had our deck project with a wider staircase that made it even easier to access the double doors to our office. Not to mention I did a little touch-up paint on the door, meticulously cleaned all the windows, and installed new brushed nickel door handles to match the rest of our new doors.
And speaking of new door knobs and handles — we figured now would be a good time to replace all our very flashy (and chipped) brass door knobs with more subdued brushed nickel knobs and handles.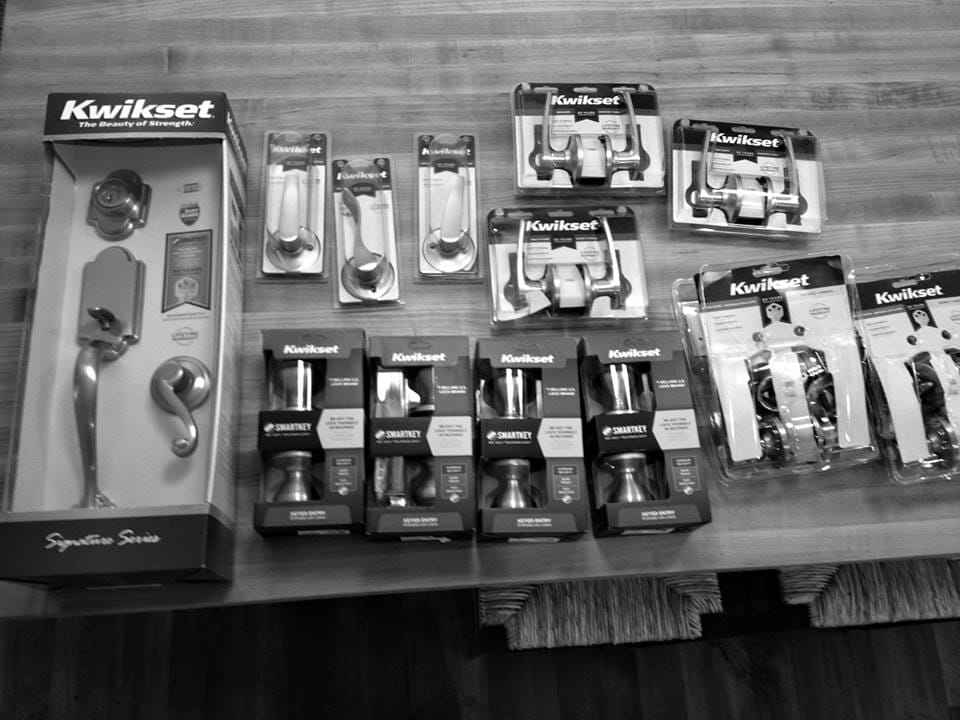 Since we replaced all the doorknobs for our house, garage, and outbuilding, it was a large expense… but it's SO nice to have everything matching and to have one key work for every single door (we had them all keyed the same — which was a free service at Lowes).
It definitely simplifies things around our house — plus, they look so much nicer!
Since the door took a bit longer than expected to arrive, I was getting nervous that we might not get it installed before cold weather hit our area — thankfully, the weather held off and we'll be able to enjoy our new door all winter long!
Here's one more before and after picture…