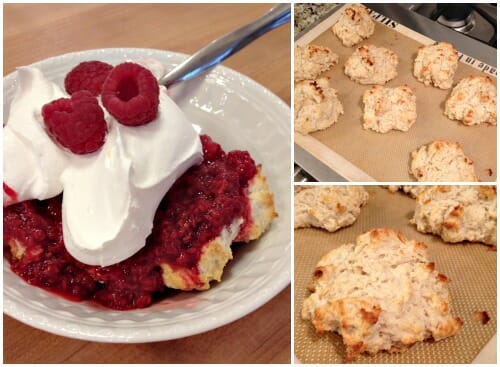 Baking Powder Drop Biscuits were (and still are) one of my Dad's favorite desserts — topped with freshly mashed and sugared strawberries… and Cool Whip.
He said that when he was a kid, he would sometimes eat a huge bowl of strawberry shortcake (using these baking powder biscuits as the "shortcake") for his entire dinner before a summer night baseball game.
Needless to say, I've eaten many of these baking powder biscuits growing up!
After I met Dave, he said he preferred raspberry shortcake over strawberry shortcake — and the first time I whipped up a batch of baking powder biscuits for his raspberry shortcake, he was hooked.
He said he never had it "my way" before — but that he would keep eating it if I kept making it 🙂
Last week, raspberries were ridiculously cheap at the grocery store — so I stocked up (I bought 22 containers!) When Dave saw them all, he almost immediately requested raspberry shortcake… and I told him it was on my baking list.
The next day, I whipped up baking powder biscuits.
As I was making them, I instantly realized how extremely simple this recipe was — as well as how easily it could be adapted to almost every allergy restriction (no eggs for starters!) — so I knew I had to share it here on the blog!
It takes me less than 10 minutes to have the biscuits ready for the oven, and I usually mash up the berries while the biscuits bake. I add a little sugar to the berries, open a container of Cool Whip, and dessert is ready!
If you're looking for an impossibly easy dessert recipe that everyone will love, give these baking powder drop biscuits a try.
Recipe for Baking Powder Drop Biscuits
Serves 8.
INGREDIENTS:
2 c. all-purpose flour
1 T. baking powder
1/2 t. salt
1 T. sugar (optional)
1/2 c. shortening
1 c. milk
**Note: You could easily substitute gluten-free flour, your favorite "fat" of choice, and non-dairy milk in place of all-purpose flour, shortening, and milk. And you can also omit the sugar altogether depending on your diet.
DIRECTIONS:
Preheat oven to 450*F. Line a baking sheet with parchment paper or a silpat mat.
In a medium bowl, mix flour, baking powder, salt, and sugar together.
Cut in shortening with a fork or pastry cutter until mixture is crumbly.
Add milk and stir until combined (batter will be very thick.
Drop into small mounds on baking sheet (I usually do 8, but you can make them smaller or larger if you'd like)
Bake for 12-15 minutes, or until tops are golden brown.
We serve our biscuits topped with mashed berries and whipped cream — however, any toppings you love would probably work.
Also, if you leave the sugar out, you might consider adding in some herbs and/or cheese to make it more of a savory biscuit that you might eat with a meal.
Either way, these baking powder biscuits are a winner around our table!
What are your favorite recipes from your childhood?
Visit my virtual recipe box for more simple, delicious, family friendly recipes!