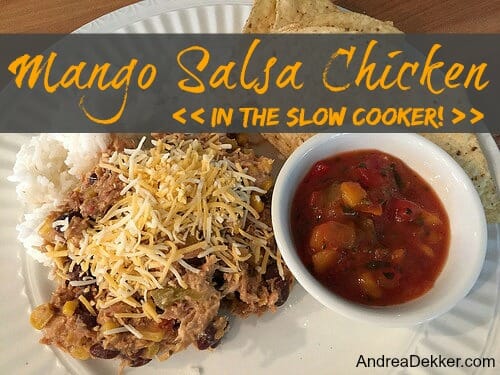 Although slow cooker meals are often perceived as those "comfort foods" we tend to make in Fall or Winter months, I use my slow cooker on a regular basis throughout the Spring and Summer months to make simple, home-cooked meals without much time in the kitchen (and without adding extra heat to the kitchen).
I might not make as many soups or stews as I would in colder months… but I assure you, slow cooker recipes are not just for cold weather!
Today's recipe is a family favorite — and it's perfect for warmer weather.
This mango chicken salsa can be eaten with a side of rice, rolled up in a tortilla for a tasty wrap, or even eaten as a dip for tortilla chips. It's so quick and easy to make, it only uses a few ingredients, and it's a great option for a busy weeknight when the family is running to and from various activities.
Recipe for Mango Salsa Chicken
Serves 6-8
INGREDIENTS:
1.5 lbs chicken breasts (or any type of boneless, skinless chicken pieces)
1.5 c. mango salsa (or any type of salsa)
1 can (15 oz.) black beans — rinsed and drained
1 c. frozen corn
1 t. salt
1/2 t. pepper
extra seasonings (as desired, and optional)
4 oz. cream cheese
1 – 2 c. shredded cheese
DIRECTIONS:
Place chicken, salsa, beans, corn, salt, pepper, and any extra seasonings into a medium-size slow cooker.
Cover and cook on low for 6-8 hours.
After chicken is cooked through, use forks to shred the chicken and stir it into the salsa, beans, and corn.
Stir cream cheese and shredded cheese into chicken mixture until melted.
Serve with rice, in a tortilla, or as a dip for chips.
Refrigerate or freeze leftovers.
When I make this meal, I usually dump everything into the slow cooker as I'm cleaning up our second breakfast (usually around 10:00am) but if you want to do it first thing in the morning, I'm sure it would be completely fine to add a couple hours onto the cooking time.
Also, if you're taking this to a party, or if you just have extra time before you're ready to eat, simply cover the slow cooker and turn it on warm — it will keep the cheese nice and melty for hours!
Of course, any type of salsa will work — we just LOVE the peach mango salsa from Costco, and mango salsa seems more "springy" to me. And if you like your food spicy, feel free to add in a bunch of spices to liven things up a bit. We keep seasonings pretty tame since our kids don't like any spice, but I'm sure this dish would be fabulous with a little heat!
Either way, it's a super simple, super versatile slow cooker meal that is perfect any time of year (even the Spring!)
Do you use your slow cookers all year long?
Visit my virtual recipe box for more simple, delicious, family friendly recipes!