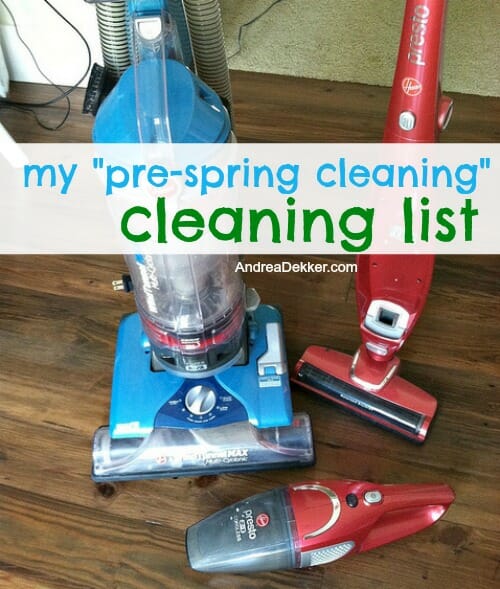 I've never been the type of person to do a lot of extra cleaning in the Spring… partially because I prefer to spread out my bigger cleaning projects throughout the year, but also because by the time Spring weather finally hits West Michigan, I want to be OUTSIDE!
So from January through March, I make a point to tackle some of the things on my annual and semi-annual cleaning lists (these are just mental lists, I don't have anything actually written down) so I don't have to do them when Spring finally arrives.
Another benefit of this "pre-spring cleaning" method is that I can do little projects continually over time — which is MUCH more doable when I'm trying to work around naptimes, preschool drop-off, and other small pockets of time.
While it is nice to have that feeling that the entire house is SUPER clean all at one time, that's just not realistic for me right now — unless I paid a company to do it for me!
Since I'm not planning to hire out my spring cleaning anytime soon, here are a few of the projects I'll be plugging away on over the next 3 months.
1. Wash all pillows, blankets, and comforters.
Yes, you can wash your pillows — I do it a couple times every year (or as necessary if people are sick or they get dirty).
And even though all our comforters and duvets say "dry clean only", I always wash them all in our washing machine.
2. Dust the tops of door frames and windows.
I realize I should probably do this A LOT more regularly than I do — but I don't 🙂
I usually get around to doing it twice a year, and I figure no one is tall enough to really see the tops of our window or door frames so it's really not hurting anything to have a little dust sitting up there!
3. Wash the windows.
This is another thing I should do much more than once or twice a year, but it's another thing that I just don't care enough about to do it more often.
I do spot-clean the windows as necessary (especially ones on the south side of the house where the sunshine pours in), and then I clean both the inside and the outsides of the all the windows when the weather is warmer (our windows fold in for easy cleaning).
However, when the weather is cold, I'm not going to open the windows, so I just clean the inside.
4. Wipe down random areas.
I'm not sure if I ever really did this before having kids — but now that I have 6 little hands touching EVERYTHING in my house, I find messes in really random places.
Some of the random areas I try to wipe are:
the legs of kitchen and office chairs
all door knobs and light switches (I do these all quite regularly)
the fronts of all dressers and chests of drawers
the fronts of all my kitchen and bathroom cabinets
the knobs and drawer pulls on all kitchen and bathroom cabinets
5. Clean all kitchen appliances.
I'm usually pretty good at staying on top of small messes in the refrigerator and oven; and I do clean the sink, dishwasher, stovetop, and microwave fairly regularly… however, I'm not as good about cleaning my small appliances.
I usually try to tackle them all in one-week's time, and it never takes me nearly as long as I think it will.
Coffee Maker (run a cycle of vinegar through it and then several cycles of cold water)
Toaster (clean out the massive amount of crumbs in the bottom)
Toaster Oven (same as the toaster)
Hand Mixer (wipe it down to remove splatters)
All our other small appliances can be put directly into the dishwasher.
6. Go through every closet.
In general, I usually have some small organizing project going on all the time — which, in my opinion, makes it easier to keep going. However, this time of year, I intentionally make a point to get into every single closet in our entire house and sort, purge, and organize.
Since I just do one closet at a time (and since I do this regularly) it is NOT an overwhelming project at all. It usually takes less than 1 hour per closet — and that includes going through the dressers in conjunction with the bedroom closets as well.
I usually do this twice a year for the kids since they grow out of their clothing so quickly. I also do it twice a year for the mudroom closet in order to swap out the winter and summer items as necessary.
7. Clean out the garage.
Since we try to keep our garage quite clean all year round, this really isn't a huge project. It mainly involves sweeping and scrubbing the floor — and maybe rearranging or purging a few items.
8. Clean out the cars.
If you ever see me driving around town, chances are the outside of my car will be quite dirty. However, the inside will almost always be picked up and clutter free.
I like to keep the inside very nice and neat — but after a several months of 3 kids using and abusing it, I just need to take 30 minutes or so and vacuum everything out (including the carseats). I also wipe down the dashboard and clean the inside of the windows.
Getting a new minivan earlier this week was a pretty good incentive to clean up our cars!
It's nice that none of these projects are really time-sensitive… so I can simply tackle them when I have the time, here and there, throughout the next few months.
I don't get stressed out about finishing them, because I know they always get done sooner or later… and by working ahead now, I have a few less things to make time for in the Spring.
Hopefully, that will mean I have a little extra free time to put towards our new, bigger vegetable garden!
When do you tackle your "Spring Cleaning"?