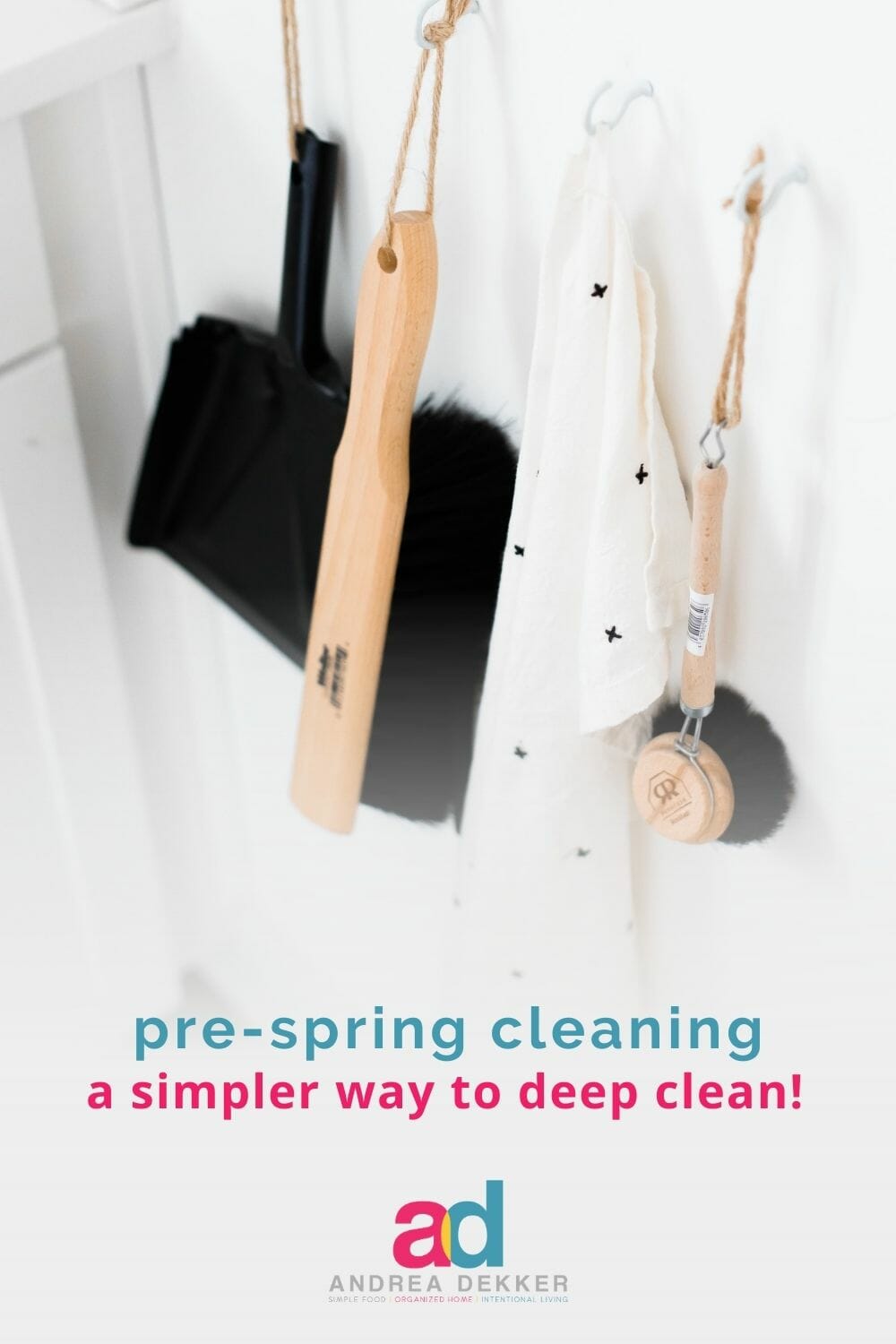 Do you enjoy a thoroughly deep-cleaned home but don't have the time or energy for a proper top-to-bottom "Spring Cleaning"? If so, you'll love my pre-spring cleaning method. It's a fantastically simple way to deep clean your home in no time at all!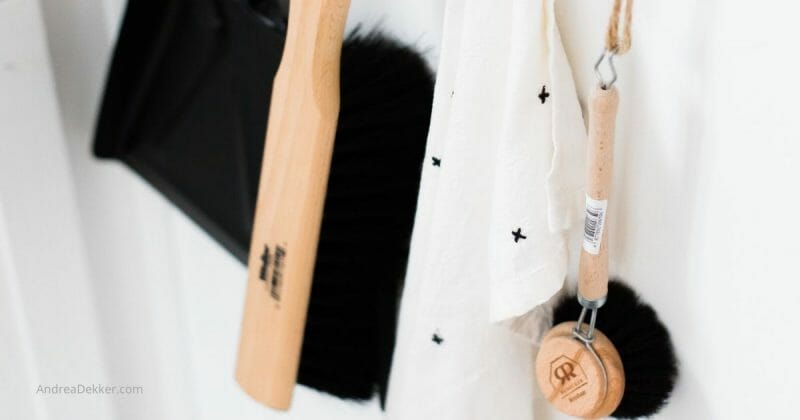 As a born and raised West Michigander, I have a fondness for all 4 seasons… but often with anxious anticipation for the end of our looooooong, grey, dreary winter.
When the first few hints of Spring finally arrive, you better believe I don't want to spend one more minute inside — yet, I strongly value a neat, clean, organized, and peaceful home.
As a result, I decided years ago that I would do the vast majority of my deep cleaning (a.k.a. "Spring Cleaning") in late Winter… instead of actually waiting until Spring.
Of course, this shift is doable in our modern era where we no longer need to clean our homes from top to bottom after a long winter of burning coal or wood in inefficient stoves.
Thankfully, our homes aren't nearly as dirty, dusty, greasy, or grimey as they were in past centuries (although they might be more cluttered!)😁
NOTE: if you're interested in a bit of history on the practice of Spring Cleaning, I found some interesting information here.
During the 8 weeks from mid-January through mid-March, I make a point to tackle some of the bigger home maintenance tasks on my mental list — things I often do once or twice a year — allowing extra time outside once Spring eventually arrives here in West Michigan!
Want to join in on the pre-spring cleaning fun?
Here are a few projects I hope to tackle over the next 8 weeks.
1. Dust baseboards, door frames, and windows.
I dust occasionally throughout the year — but certainly not on any type of weekly basis. I usually only think of dusting when I see a visibly dusty area (true story).
Maybe our air filters are extra efficient or maybe I simply have a high tolerance for the appearance of dust, but dusting has never been a priority for me.
I'd much rather devote my time and energy to the bathrooms, kitchens, and floors (and general decluttering.)
However, I give all surfaces a good dusting in the winter — especially the baseboards, door frames, and window frames.
Related Resources:
---
2. Wash windows.
Yes, I know winter is a strange time to wash windows, but I choose a sunny, above-freezing day and I work quickly.
Honestly, the blast of cold air is refreshing!
All our windows "fold in" on themselves, so they are fairly quick and easy to wipe down, especially since I only use this window cloth and water (no buckets or sprays to wrangle).
I rinse out the cloth after each window and wash it when I'm finished with the entire house.
I then use the same cloth to clean mirrors each week — and to wipe down various windows and doors as necessary all year long.
Related Resources:
---
3. Wash all pillows and comforters.
I have a love-hate relationship with linens… as in, I love the feeling of freshly washed bedding, but I hate the process of washing it all!
I wash our pillowcases weekly, and the sheets, blankets, and mattress pads monthly.
Then twice a year (in the winter and the summer) I wash the comforters, quilts, bedspreads, and pillows (yes you can wash pillows). It's a lot of extra laundry in one week, but I'm convinced it has greatly extended the life of our pillows — and we have really nice pillows!
Related Resources:
---
4. Clean ceiling fans and bathroom vent fans.
In just a few minutes, I can quickly wipe down the blades of each ceiling fan… and then it's done again for quite a while. They are surprisingly dustier than I expect every time!
The bathroom vent fans aren't as quick and easy, but I need to clean them at least twice a year, or they get pretty gross looking.
I fully remove all the vent covers and wash them in soapy water in our kitchen sink (use a good degreaser like the blue Dawn).
Then I use a damp microfiber cloth to wipe down the tiny fan blades and the inside of the fan compartment.
This small effort makes a huge difference in the appearance of our vent fans, and I'm certain it also improves the performance.
---
5. Snake the drains in our sinks, showers, and bathtub.
We didn't have nearly as many issues with clogged drains before we had children (specifically girls with LONG hair!)
Thankfully, at-home drain snakes are inexpensive so I always keep a few on-hand for emergencies.
However, I also add this task to my pre-spring cleaning checklist — using a cold winter afternoon to thoroughly clean the drains for each bathroom sink, shower, and tub.
It's not a glamours job, but I'm always glad when it's finished!
Related Resources:
---
6. Clean all kitchen appliances.
I try to stay on top of small messes in the kitchen on a daily basis — wiping down the refrigerator and stovetop regularly, scrubbing the sink almost nightly, and keeping the counter as clear as I can.
However, I like to give the appliances a good "deep clean" at some point each winter.
I usually try to tackle them all in one week because it never takes me nearly as long as I think, and then everything is relatively clean at the same time (at least for that week!)
Related Resources:
After I finish the big appliances, I like to touch up our small appliances as well:
Coffee Maker (run a cycle of vinegar through it and then several cycles of cold water)
Toaster (clean out the massive amount of crumbs in the bottom)
Toaster Oven (same as the toaster)
Hand Mixer and Stand Mixer (wipe it down to remove splatters)
Immersion Blender (run all attachments through the dishwasher)
I spend a lot of time in the kitchen each week, so clean appliances make my job faster and easier. Plus, regular maintenance extends the life of our appliances (which were a pretty hefty investment).
---
7. Eat through our pantry and freezer.
Although I love having a well-stocked pantry and freezer, I also get super excited to eat only from the pantry and freezer once or twice a year.
This self-imposed challenge is a fun way to force a little more creativity in the kitchen and it prevents lots of potentially wasted food that gets lost in the back of the pantry and freezer.
Plus, we save a few hundred bucks by not buying groceries for roughly 2 weeks!
If you've never tried an eat-from-the-pantry-challenge, I encourage you to try one this winter. The resources below might help.
NOTE: once you've eaten through your freezer stash, it's an ideal time to defrost your freezer.
Related Resources:
---
8. Go through every closet.
It's not uncommon to find me randomly working on a small organizing project in the middle of the day — that's just how my brain is wired.
However, this time of year, I intentionally make a point to sort, organize, and declutter each closet in our home (bedrooms, mudroom, extra storage closet, game closet, etc.)
I don't force myself to move quickly, but rather work at whatever pace fits that day — depending largely on how many children are home with me!
These closet "deep cleaning" sessions are a good time to take note of what we might need for Spring/Summer (I do the same thing in late Summer to evaluate what we need for Fall/Winter).
Related Resources:
---
Miscellaneous
I don't know about you, but I always have a growing mental list of "little things I need/want to do when I have the time".
Things like:
change the batteries in all the smoke alarms, clocks, etc.
replace various light bulbs
swap out new pictures in certain frames
call to get the carpets cleaned
take bags/boxes to the local donation center
back up computers (I try to do this monthly… but don't always remember)
I use my "pre-spring cleaning" time to cross off a few of these miscellaneous projects as well.
---
Why I love pre-spring cleaning:
These projects are not time-sensitive — I can work at my own pace, doing a little more each day and each week because I'm 'stuck' inside anyway.
Our home is cleaner and more organized without huge amounts of time and stress on my part.
Our things last longer with proper care and regular maintenance — meaning we save more time and money in the long-run and are better stewards of what we've been given.
I personally appreciate and value our home more after a thorough deep clean.
I have significantly more free time once the warm weather arrives!
Give it a try…
Look over the next 8 weeks on your calendar and assign one pre-spring cleaning task to each week.
I think you'll be surprised how quickly the weeks fly by… and how much cleaner your home is without all that much extra effort!
Make sure you let me know if you try it (or if you've tried it in the past.)