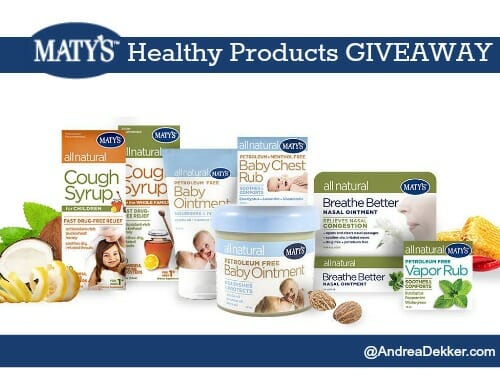 I was recently introduced to Maty's Healthy Products — a company that specializes in all-natural health products made from food-based ingredients right here in the USA. And while I'm not normally a "natural health" blogger, I figured that the upcoming cold and flu season (which sounds like it's going to be a doozy) would be the perfect time to share these fabulous products with you — and of course, offer a fun giveaway!
As a leading manufacturer of all-natural health products, Maty's provides a safe alternative to traditional medications with no side effects or drug interactions. Their products are free from artificial preservatives, color additives and artificial sweeteners; no corn, dairy, wheat, soy or yeast is added.
They have a variety of products for the whole family, available nationwide in over 32,000 stores and on their website.
Although our family as a whole hardly ever gets sick, we all got hit with coughs and colds the weekend after our Maty's products arrived in the mail. Obviously, I wasn't thrilled that we were sick, but it did give me the perfect opportunity to test out some of the Maty's products for this blog post 🙂
I was the first one to give the products a try — the Buckwheat Honey All Natural Cough Syrup. Normally, I will steer clear of all cough syrups because they make me gag — but I figured I had to give the Maty's cough syrup a try.
As I opened the container, I could instantly tell this cough syrup would be MUCH different than anything else I had tried in the past. It was SO thick and dark brown — it basically looked like apple butter, and thanks to the Apple Cider Vinegar, it also smelled like apple butter!
I took 1 tsp. (the recommended amount) and it was super easy to swallow — I didn't even need to choke it down.
Later, I was talking to Carolyn (the founder) and told her my experience. She said that often times, parents will spread this cough syrup on pancakes or toast for their sick kids — because it's so yummy!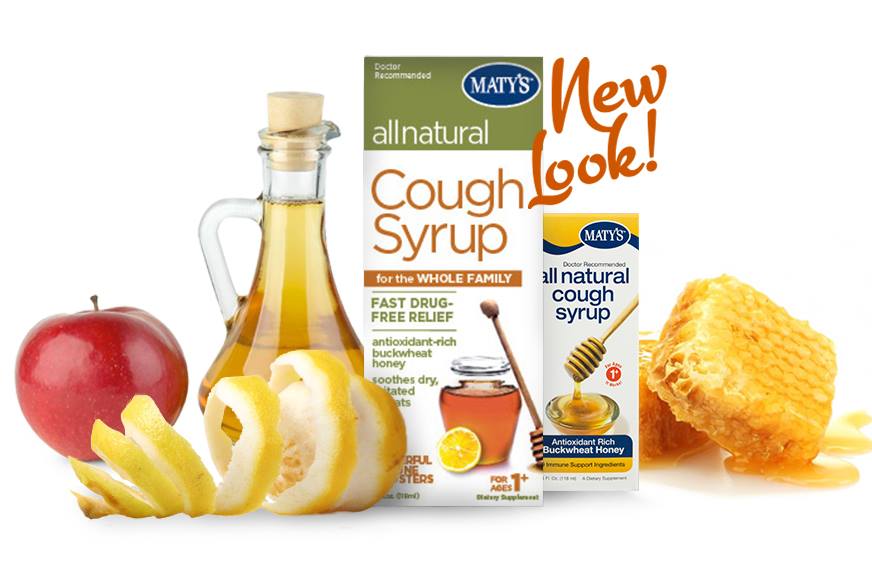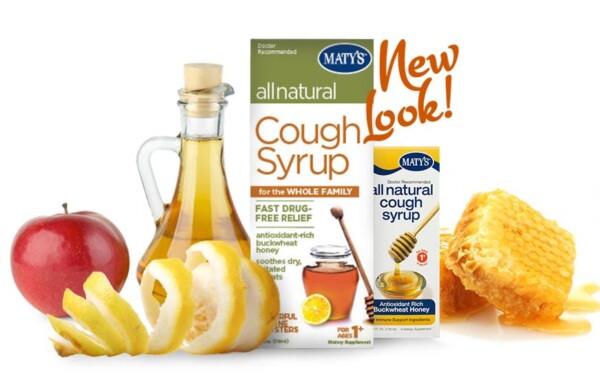 We used the All Natural Vapor Rub on Nora's chest for a few nights to help her stuffy nose. At first, she wouldn't let us touch her with the vapor rub (she usually freaks out about any creams or ointments touching her skin) but when I showed her how I put it on myself, she decided she would try it. She now asks for the "special sick cream" whenever she has even a hint of a stuffy nose.
This might sound like a silly story, but it is a big deal for Nora to actually ask for some type of cream or medicine — a BIG DEAL! Add to the fact that the Maty's products are all natural and reasonably priced… and I don't think I'll be buying any more store-bought vapor creams!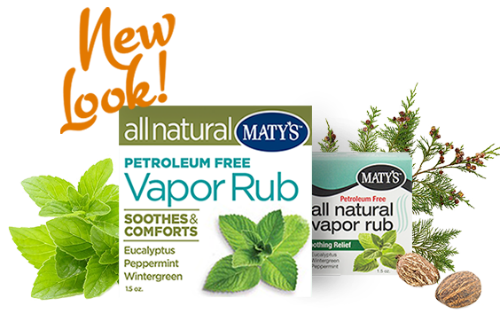 More about the Maty's Healthy Products:
Maty's Healthy Products is a family-owned and operated company dedicated to promoting holistic health and wellness with natural, safe and effective all-natural health products.
Maty's was launched back in 2008, but the story started way back in 1996 when Carolyn Harrington (Maty's founder) gave birth to a little girl with severe heart defects and a weakened immune system.
From that point on, Carolyn devoted hours upon hours to find the best and most effective natural remedies for her little girl. She ended up going back to school to become a certified Applied Kinesiologists and Holistic Health Practitioner and has since helped thousands and thousands of families world-wide with her natural health products.
Read the entire story here (seriously, it's a great story)
Visit Maty's on the Web:
Visit their website: http://MatysHealthyProducts
Facebook: Maty's HP
Twitter: @MatysHP
Pinterest: Maty's Healthy Products
Google+: Maty's Healthy Products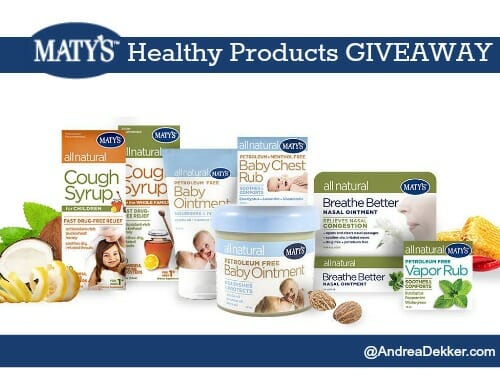 Enter To Win This Giveaway!
Today, one lucky reader will win a $50 gift card, good towards any Maty's Healthy Products.
To enter, simply use the Rafflecopter widget below (it might take a second to load).
a Rafflecopter giveaway

This giveaway ends at 11:59 pm EST, Monday, 11/3/2014 and is open to US residents, 18 years or older. The winner will be randomly selected via Rafflecopter and notified via email. I received a duplicate prize package in exchange for hosting this giveaway — all opinions are 100% my own. Please see my full disclosure policy and contact me with any questions you have. Good luck!